Cobb school board members punted on a resolution condemning racism Thursday after hours of discussion and at times tense debate.
Argument over varying ideas of what language should be included in the resolution at moments pushed board members to call each other liars and left one member asking for a formal apology.
Board members Randy Scamihorn and Dr. Jaha Howard presented resolutions, though only Scamihorn's was on the board's discussion agenda.
The board expects to consider a new resolution after Scamihorn and Howard work together to combine language from each of theirs at its meeting next month.
Language a sticking point
During the board's afternoon work session, Scamihorn said he'd done his "homework" before introducing his proposed resolution earlier this week.
He said he'd found that other governing bodies in Cobb, including Smyrna, Acworth, Marietta, Kennesaw and the Cobb County Board of Commissioners, had "overwhelmingly and unanimously approved" resolutions in recent weeks, and that the elected representatives from those bodies "all concurred with the message of unity and working together."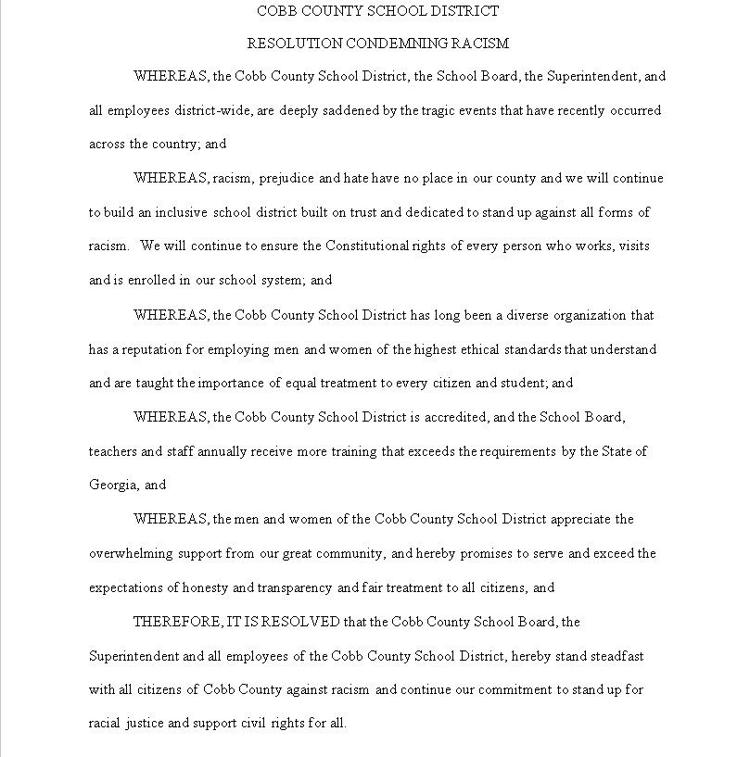 "We have an opportunity to speak with one voice, to take a positive step together and teach our children a good lesson about unity," he said before yielding for discussion. "I'm looking forward to the resolution being received in the positive spirit it is intended."
But the conversation following was not always positive.
First in line to offer comments were Howard and Charisse Davis. The two Democrats pointed out that Howard had drafted his own resolution and they together had drafted a "call to action" that provided specific references to the death of George Floyd in Minneapolis and committed to implementing specific measures regarding racial equity in the school district.
Since taking their seats on the majority Republican school board in January 2019, Howard and Davis have pushed for measures including districtwide implicit bias training, hiring of a chief equity officer and study of Black students' disproportionate referrals for discipline.
The two board members, both Black, questioned why Scamihorn hadn't asked them for input in drafting a resolution concerning race relations.
"I would hope that you would've taken the input from people that are your colleagues and particularly people that experience this every single day," Davis said. "So I hope that you will reconsider putting this up for a vote as it is."
Davis also pointed to other school boards that had approved resolutions admitting they had room to improve and committing to doing so. She said Scamihorn's resolution seemed to avoid responsibility.
"The way this resolution read to me — it just seems like we're condemning racism somewhere, at sometime, you know, (in) some far away place," Davis said, noting that while Scamihorn's resolution makes reference to "tragic events," it does not specifically name George Floyd, whose death sparked protests for reform that spread around the globe. "It does not acknowledge the racism that's right here, in our own house, and then also the fact that there's no commitment to any type of improvement."
In his comments, Howard pointed to his own resolution, which used the phrase "systemic racism" to acknowledge a system of government, policing, education and other areas built in a way that disproportionately disadvantaged and mistreated people of color.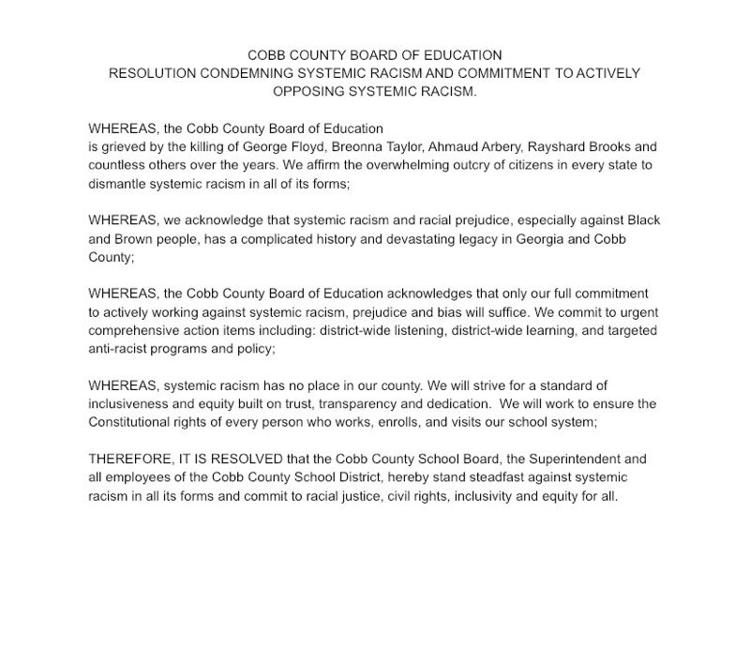 Scamihorn was opposed to the language that Howard and Davis said was vital, calling it an "indictment" of a well-run school district.
Scamihorn said his resolution condemned racism, "whether it was 1,000 years ago or 1,000 years hence" rather than "singling out a specific thing."
"Though you weren't old enough, I was old enough to watch in horror in the '60s as a young man becoming a teenager … things that were happening back then that got us to where we are today," Scamihorn said, addressing Davis. "Do we have more to do? Much more, yes. But I'm focused on, 'What can we do as a school board and a school system?'"
Evidence and procedure
Pointing again to the use of the term "systemic," Davis gave local examples of what she meant. Though she did not name the school, she said she has seen a school that she represents with a 5% Black student population levy 20% of suspensions on Black students.
"When you say there's no evidence, I think what's happening is that we're just ignoring the evidence, and we have, again, work to do right here in our own house, in our own school district," she said. "And if we're going to take the time to discuss these matters, to put words on paper, then why would we not take this opportunity to let everyone know and let ourselves know that we want to do better, we want to improve? ... We know from research that if a Black kid and a white kid do the same exact behavior, the Black kid gets noticed and gets punished well before anything happens to the other child. I know that these are uncomfortable things to talk about … but this is education in America."
To that, Scamihorn said there are already policies and procedures in place to address racism, and they work.
On a note of procedure, Scamihorn also took exception to Howard and Davis' claims that he'd never given them opportunity for input. That's why the proposed resolution went to all seven board members by email, he said.
Calling it an "ultimatum letter," Scamihorn said Howard's resolution was broadcast to the public before other board members had a chance to comment.
He said Howard and Davis claim to follow correct procedure and have a desire to have productive conversations, but instead do neither.
"So to come on and give the general public one impression — and that impression is a false impression — is just not acceptable," Scamihorn said. "You can try to cross-examine me, you can try to trip me up, which you both have tried. Ms. Davis said that we have denied that there's a problem. No, we have discipline problems, but we also have a process that says if we're not doing something right, then let's work on the policies."
Policies, Davis fired back, are what she is trying to address.
"That's what we're trying to have a conversation about. So it just seems like as long as it's coming out of someone's mouth, then it's appropriate. I'm fine with not being on the same page, to say the least, about this, but you are just flat-out lying, Randy. We talk so much, especially when I first got on the board," she said. "Don't act like no one's talking to you, Randy. That's just insulting."
Responded Scamihorn: "Excuse me, that's so conflated. We didn't talk about a resolution four months ago or three months ago, and Mr. Chair ... I will not sit here and be called a liar. That is absolutely outrageous and unprofessional."
Scamihorn later called for a "formal apology" and support from the board's attorney Clem Doyle to enforce it, but was told there was no legal authority to do so.
Tensions fizzle and board punts
As conversation continued on, board members began to come to a consensus that there would be no consensus, at which point, board member David Morgan offered his two cents.
Morgan said he'd talked with Wheeler in the days prior to the meeting, and both men had expressed the importance they placed on the board passing a resolution unanimously.
"If a resolution passes, but there's still a fractured spirit amongst us, then we're not going to be where we need to be," he said, adding that both resolutions were solid.
Morgan suggested the board delay a vote on Scamihorn's resolution to allow Howard and Scamihorn time to discuss how to craft a resolution together. A compromised resolution could then be brought back before the board, he said.
"I think that would be so powerful," he said.
"It's obvious that we look at this thing from different lenses, and if we want to sit in one corner and the other corner, then we're not going to go anywhere," Wheeler said. "We need a common spot to go from. ... This needs to be 7-0."
As a final note, Scamihorn asked Morgan if he would mediate discussion when he and Howard are to come together to draft their combined resolution.
"Whatever it takes," Morgan said as he and other board members chuckled and grinned.
The board's next meeting will be July 16.