Statewide ACT scores are out, and both the Cobb and Marietta school districts showed improvement from 2020.
The ACT, one of the most common tests requested on college admissions, is scored by subject and then with an average composite score. The maximum score is 36.
Cobb Schools' average composite for 2021 was 24.3, up from 23.2 in 2020. Marietta High School, meanwhile, earned an average composite for 2021 of 23, up from 22.4 in 2020.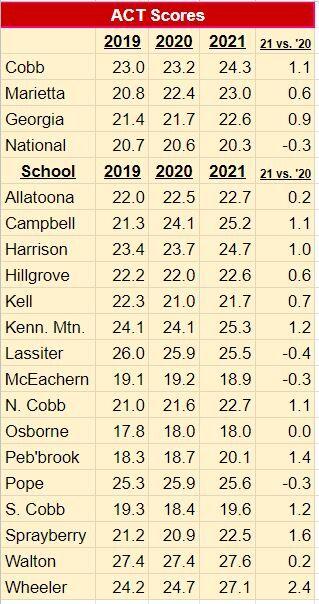 Both districts also outscored the state and national averages for 2021. The composite average in Georgia was 22.6, and the national average was 20.3.
Cobb students outpaced state and national peers in each test category — English, math, reading, and science — while Marietta students outpaced those averages except in science, where they trailed the state average by two-tenths of a point.
Marietta High also showed improvement in English, math and reading in 2021, while scores dropped slightly in science. The school's test takers scored 23.5 in English (+1.1 from 2020), 22 in math (+.6), 23.7 in reading (+.9) and 22.2 in science (-.3).
Among student sub-groups, MCS composite scores for Black and Hispanic students also saw slight gains from 2020 and both sub-groups outpaced the nation by approximately three points each, the district reported.
Three Marietta students earned a nearly perfect 35 on their ACTs.
"In a year of challenges and unpredictability related to the pandemic, our Marietta High School students and staff continued to strive for success and achievement," said Marietta Schools Superintendent Grant Rivera. "I am proud of the accomplishments of the Class of 2021, and I am grateful for the dedication of the staff and administration who diligently support our students and their goals."
In Cobb Schools, Walton and Wheeler high school students posted the highest scores — 27.6 and 27.1, respectively.
Eight Cobb schools increased their ACT score by at least 1 point compared to 2020: Wheeler High School (2.4), Sprayberry High School (1.6), Pebblebrook High School (1.4), South Cobb High School (1.2), Kennesaw Mountain High School (1.2), Campbell High School (1.1), North Cobb High School (1.1).
Fifteen students at six Cobb high schools scored perfect composite scores of 36.0. Seven of those students attended Walton High School. Four students graduated from Wheeler High School and two from Lassiter High School. Pope High School and Sprayberry High School each had one student post a perfect ACT score.
"Our team is committed to providing a world-class education to all Cobb students and living up to our District's reputation for student success that exceeds state and national averages," said Cobb Schools Superintendent Chris Ragsdale. "As a result of our team's work, Cobb students have been able to overcome the pandemic-related obstacles and repeatedly achieve success at a higher rate than their state and national peers."
Like on the SAT, both districts saw a significant drop in the number of ACT test-takers because of the pandemic.
In 2020, Cobb reported 3,276 students who took the ACT, while in 2021, the district reported 2,027 test takers. In Marietta, those numbers were 208 in 2020 and 102 in 2021.