As the Rev. Raphael Warnock and Jon Ossoff declared victory Wednesday morning in Georgia's Senate runoffs, Democrats were jubilant, hailing their get-out-the-vote efforts as key to their success. Both Ossoff and Warnock posted strong showings in Cobb County, winning the county with 55% and 56% of the vote, respectively.
As of Wednesday afternoon, Ossoff led incumbent U.S. Sen. David Perdue in Cobb with 195,600 votes, to Perdue's 155,245. Raphael Warnock led Sen. Kelly Loeffler in Cobb with 198,376 votes, to Loeffler's 152,409.
The MDJ took a look at some of Tuesday's voting trends in Cobb, how they compare with the November general election, and what gave Democrats the edge.
Turnout drops, but not by much
Runoff elections in Georgia have historically boded well for Republicans and poorly for Democrats. According to the Georgia Secretary of State's office, Democrats have won just one out of eight statewide runoff contests since 1992. That wasn't the case Tuesday. Georgia broke its runoff turnout record prior to Election Day, and Cobb wasn't far behind.
As of Wednesday, 350,845 ballots had been tallied in Cobb County alone, compared with almost 391,000 in November — meaning that Cobb hit 90% of its general election turnout on Tuesday. By contrast, just 40% of Cobb's general election voters showed up for the 2018 statewide runoff between Secretary of State candidates Brad Raffensperger and John Barrow.
Election Day voting
gets a boost
After most polling places in Cobb saw few lines and short wait times Tuesday, one might have assumed that the vast majority of voters cast their ballots prior to Election Day. That was still true, but Cobb in fact saw a significant jump in Election Day turnout from November.
Two months ago, just 18% of voters cast their ballots on Election Day in Cobb. On Tuesday, the total number of Election Day voters jumped by nearly 46,000, bringing their share to a full third of ballots cast.
The reason for the boost isn't clear, but a possible explanation is the limited number of early voting sites available for the runoff. Cobb decreased its early voting locations from 11 to just five for the runoff election, before adding two more after facing criticism from lawmakers.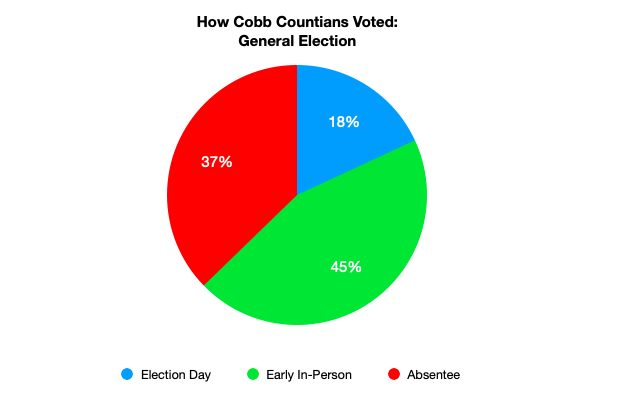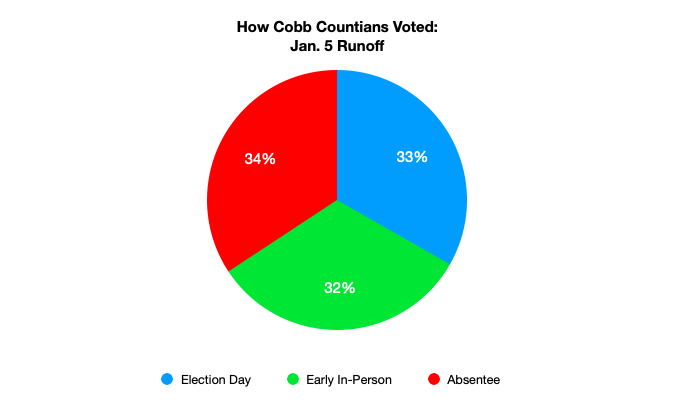 Cobb still loves
vote by mail
In spite of the boost to Election Day turnout, absentee voting became the most popular way to vote for the January runoffs for Cobb Countians.
Of the 350,845 Cobb voters who voted in the runoff, over 120,000 completed absentee ballots, not including over 7,000 more that were to be counted Wednesday afternoon.
Those absentee votes also broke two to one for Democrats, an even bigger margin than in November.
Absentee Ballot Vote Totals for Cobb County
| Candidate | Absentee Votes Received |
| --- | --- |
| Jon Ossoff (D) | 80,072 |
| David Perdue (R) | 40,152 |
| Raphael Warnock (D) | 81,115 |
| Kelly Loeffler (R) | 39,092 |
Ossoff trails Warnock
by a hair
Warnock's race was the first to be called, as he ran slightly ahead of Jon Ossoff across the state. That held true in Cobb, though it wasn't enough to give Perdue the edge that he needed to secure re-election.
In Cobb, Ossoff received just over 3,000 fewer votes than Warnock.
But that shook out to less than a percentage point, tracking almost identically with statewide outcomes.
A smooth election with a few ballots outstanding
As of Wednesday afternoon, the Cobb County Board of Elections announced that they still had 7,263 absentee ballots to process at Jim R. Miller Park. The county expected to have those ballots uploaded by Wednesday night. Given Warnock and Ossoff's margins of victory, the outstanding ballots are not expected to have an effect on the outcome of the election.