Cobb County is moving back toward what public health experts consider the "high community spread" mark of COVID-19 cases, according to county officials.
The county announced on its Facebook page on Saturday that Cobb was approaching the 100 cases per 100,000 residents mark. Cases have been on the rise recently in Cobb and elsewhere as communities see an increase in Delta variant COVID-19 cases and continue to push for more residents to get vaccinated.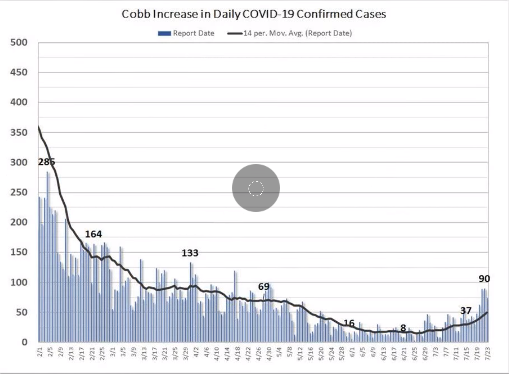 County officials said public health experts have reported increases in cases among younger demographics and that "the majority of their cases are among those who are un-vaccinated."
In a recent COVID-19 update, Cobb & Douglas Public Health Director Dr. Janet Memark warned residents of the more contagious Delta variant and continued to urge for more people to get vaccinated.
"The vaccines continue to show protection against this variant," she said, noting that hospitalizations have also grown as of late. "Almost all hospitalizations and deaths from COVID-19 continue to be unvaccinated people."
If you cannot get vaccinated, Memark said, "please continue to exercise caution by wearing your mask and keeping your distance when gathering in crowds."
As of Friday, the latest available data, Georgia Department of Public Health reported Cobb had seen more than 63,000 confirmed cases of the virus, more than 3,600 hospitalizations and confirmed 1,025 COVID-19 deaths.
Georgia DPH reports 52% of Cobb residents had received at least one dose of a COVID-19 vaccine, and 47% were fully vaccinated as of Friday.
Meanwhile, 45% of Georgians have received at least one dose of a COVID-19 vaccine, while 40% are fully vaccinated, according to the state. Both Cobb and Georgia lag behind the Centers for Disease Control and Prevention's report of 56.6% of the American population having received at least one vaccine dose and 49% being fully vaccinated.
National data can be found at the Centers for Disease Control and Prevention's website at cdc.gov.