CUMBERLAND — For pulling people out of burning cars and buildings, administering CPR to heart attack victims, dodging bullets to apprehend armed robbers and saving a woman and her young daughter from a gun-wielding, murderous ex-boyfriend, the best of Cobb's public safety enforcement personnel have been honored.
Money cards for diamonds, wooden plaques and even a Glock handgun were given out with awards presented to seven winning individuals and teams from Cobb law enforcement and public safety departments at the 2019 annual Public Safety Awards hosted by the Cobb Chamber of Commerce at the Cobb Galleria Centre on Monday morning.
Detective Meredith Holt, an 18-year public safety veteran working with the Smyrna police, received the Public Safety Employee of the Year award for her work investigating human trafficking.
Holt is known as a statewide expert in the field and recently testified before the Georgia General Assembly to help get a new law passed to make pimping a felony.
"I very much feel like it's a calling," Holt said of her job. "To be able to work these types of cases with human trafficking."
Holt is "a lighthouse in the storm" for other law enforcement personnel in the field, who she trains and mentors, her nomination information stated.
She received a glass sculpture crafted in Smyrna, a gift from the Cumberland Diamond Exchange, and a Glock handgun as the main award recipient.
Cobb Sheriff's Deputy Stephen Arsenault received a merit award for saving a woman who was having a heart attack in her vehicle on Barrett Parkway on March 6.
Arsenault, a public servant of 13 years, was flagged down in his patrol car by the woman's husband. The deputy quickly got the woman out of the car, administered CPR and called for backup.
Arsenault also visited the couple in the hospital and escorted them home a few weeks later.
"Instances like this will change your life," he said. "If I can make a difference, I don't hesitate."
The five-member Cobb County SWAT team also received a merit award in relation to an incident in Mableton on Oct. 2, 2018, when the team responded to reports of gunshots fired in a house.
Officers Brett Gossett, Caleb Reid, Zachary Day, J.C. Tranquille and David Cavendar found an elderly female gunshot victim inside the kitchen, shot by her granddaughter's ex-boyfriend, who had forced his ex-girlfriend and her seven-year-old daughter into an upstairs bedroom.
When they heard a shot from inside the bedroom, SWAT officers used their bodies to bust through the barricaded door. They found the child standing in the corner by a bed, looking at a closet.
Officers safely removed the child from the room and opened the closet, where the suspect was sitting with his ex-girlfriend between his legs, pointing a gun to her head.
SWAT officers "quickly responded, incapacitating the suspect," the team's nomination stated.
Kennesaw police officers Timothy Burns and Armando Sanchez each received the medal of valor award for an incident during the morning of Oct. 1, 2018, when they were shot at by armed robbery suspects outside a Texaco gas station near Interstate 75.
Having noticed the gas station alarm was on despite the business being closed, the officers confronted the armed robbery suspects inside, engaging in gunfire and a subsequent vehicle pursuit.
The suspects were apprehended and linked to a gang responsible for multiple commercial burglaries in metro Atlanta.
Marietta Police Officer Paul Hill, who is one of the department's main points of contact for the community, received the Outstanding Community Contribution Award.
He manages the department's citizens academy and has worked to build special relationships with criminologists and professors at colleges and universities so students can work alongside Marietta law enforcement professionals while learning.
"We can't do anything without citizens," Hill said. "We always need their help. I thoroughly enjoy teaching kids."
Three members of the Marietta Fire Department Engine 55-C crew were also given Medal of Valor awards for their work responding to a Sept. 5, 2018 vehicle rollover on South Cobb Drive near Cobb Parkway.
Lt. Lars Marvin, firefighter Paul Molinaro and engineer James Walker safely rescued a woman who was trapped in the car, which had smoke and flames billowing from the engine.
The seventh award, for Distinguished Achievement, went to MetroAtlanta Ambulance Service director Marty Billings for his work overall.
Cobb District Attorney Joyette Holmes was the keynote speaker at the sold-out awards ceremony, attended by over 500 public safety personnel, elected officials, military leaders and sponsors.
Holmes said it was a humbling and sobering honor to speak about "all the debt that gets paid and that we should pay forwards," in relation to law enforcement personnel.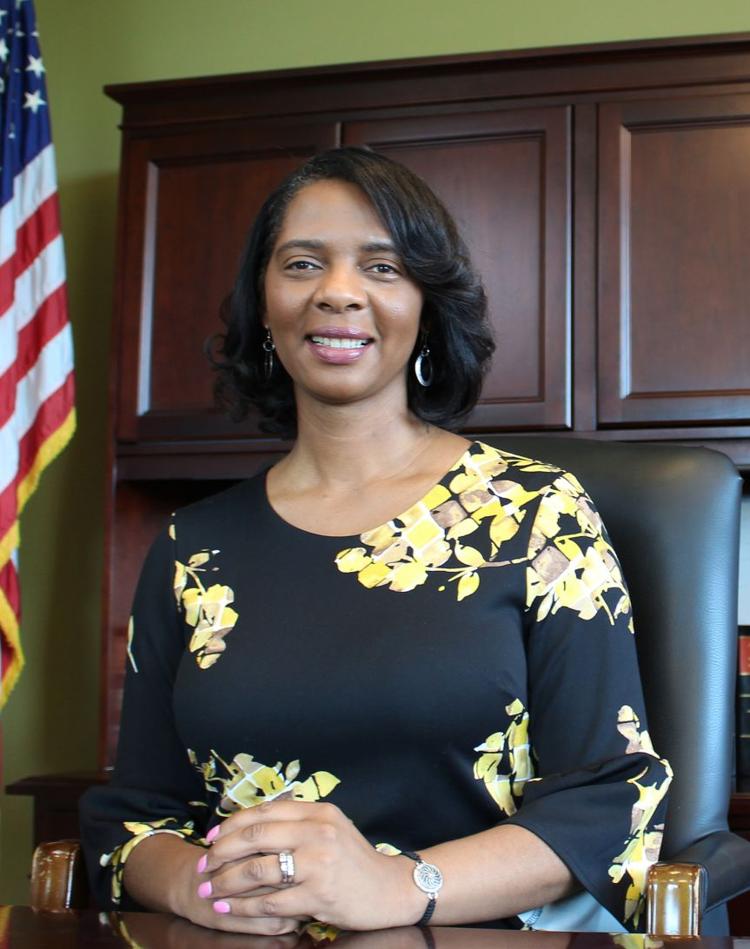 "They go out to protect us, the people of this community, on a daily basis. They're doing the job every day so we don't see hundreds more incidents of violence or risk to us. They are the first responders and we owe them a debt of gratitude," Holmes said.
Sixteen Cobb law enforcement officers who have lost their lives were also honored at the ceremony.
♦ Lt Frank Romano and firefighters Justin Farmer and Blake Milican, of the Smyrna Fire Department, who saved a semi-conscious person they found 15 feet away from a kitchen fire inside an apartment complex.
♦ Acworth Police Officer Nicolas Parker, who dealt with a difficult situation involving a man with bipolar disorder, without any harm coming to the man or responding officers, on Aug. 24, 2018.
♦ Cobb County Emergency Communications Officer Desmond Harris, who answered a 911 call on March 26 from a female Uber driver being threatened by a male passenger. The driver spoke to Harris as though he were a friend so as not to raise the suspicion of the threatening passenger, and Harris managed to play along and get her help.
♦ Cobb County Emergency Communications Officer Julie Johnson, who answered a call on Oct. 10, 2018 by a man whose wife was giving birth. Johnson was able to calm him down and give instructions so he could successfully deliver the baby and provide infant CPR when it stopped breathing.
♦ Cobb County Fire and Emergency Services engineer Sean Cook, who in August 2018 responded to an overturned 8,000-gallon fuel tanker on I-20 and helped prevent it from exploding.
♦ Cobb Police Sgt. Steve Gaynor who facilitates community programs and projects to benefit children and families in need and build relationships between law enforcement officers and residents.
♦ Cobb Police Detective Ben Jackson, who recently investigated a criminal gang, developing an extensive network of contacts and sources, to help apprehend a wide range of suspects for theft, fraud, forgery and more.
♦ Lt. Michael Wilson, of the Cobb School District police, who implemented and operates a program to teach students the best way they can interact with law enforcement officers and authority figures.
♦ Retired Col. Janet Prince, of the Cobb sheriff's office, who served in the office for over 28 years before retiring in April. She was involved in several endeavors and was instrumental in getting multiple federal certifications for the sheriff's office.
♦ Kennesaw Police Officer Michael O'Brien, who in 2018 took leave from the department to travel to areas affected by Hurricane Florence to help recover people who were stuck. He also founded a nonprofit to help people affected by natural disasters.
♦ Marietta Police Officer Paul Reynolds, who works with the FBI and recently led an investigation into a gang of 14 students at a Cobb high school, helping them steer their lives away from crime. He also coordinated an operation in February targeting another gang.
♦ Paramedic Steve Fearon, of the Metr♦ oAtlanta Ambulance Service, who helps teach and train those new to the field.
♦ Powder Springs Police Officer Josh Davis, who on Sept. 19, 2018 responded to a suspect firing shots next to a roadway and over moving vehicles. He convinced the suspect to safely surrender his firearm and be taken into custody without incident.