EAST COBB — A severe thunderstorm system brought heavy rain and flooding to Cobb late Tuesday night into early Wednesday morning, flooding roadways, disabling vehicles and in some cases collapsing streets.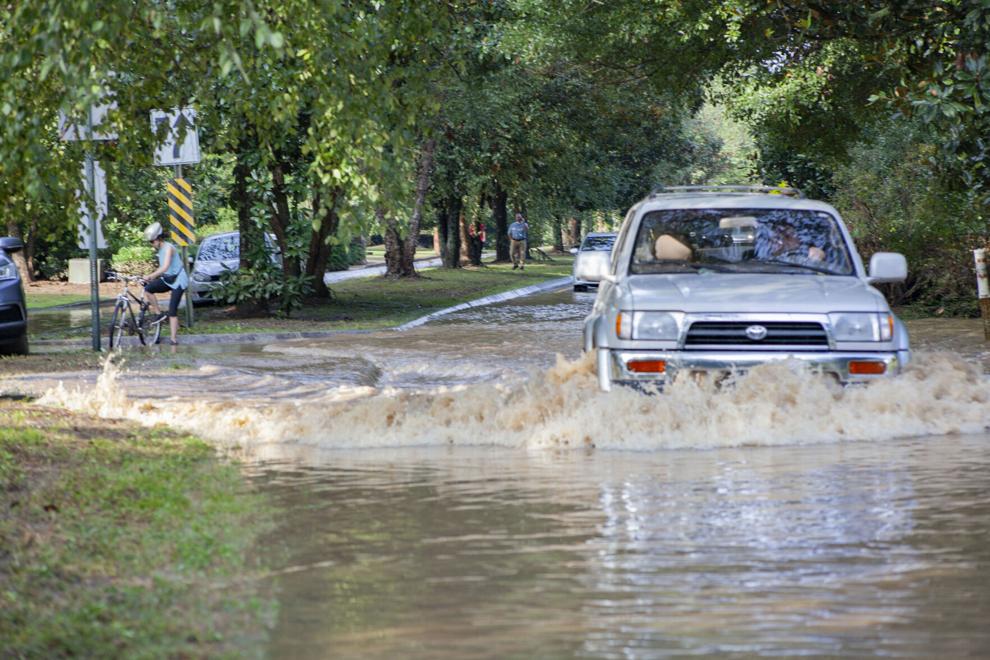 The rains came in a period of around two hours, according to forecasters, dousing parts of the county in up to 6 inches of rain.
Cobb County government said around midnight that some roadway flooding had been reported and advised residents to avoid travel in all of east Cobb.
On Wednesday evening, the county reported on social media that its department of transportation responded to more than two dozen flooded roadways overnight and cleared eight streets closed by fallen trees. Cobb first responders also rescued several people trapped in their cars.
The flooded roadways have been reopened, but the cleanup will take the rest of the week, the county said. Meanwhile, the Cobb County Gymnastics Center on Fairgrounds Street is closed due to flooding, and some parks sustained damage. Six Cobb government buildings also received flood damage.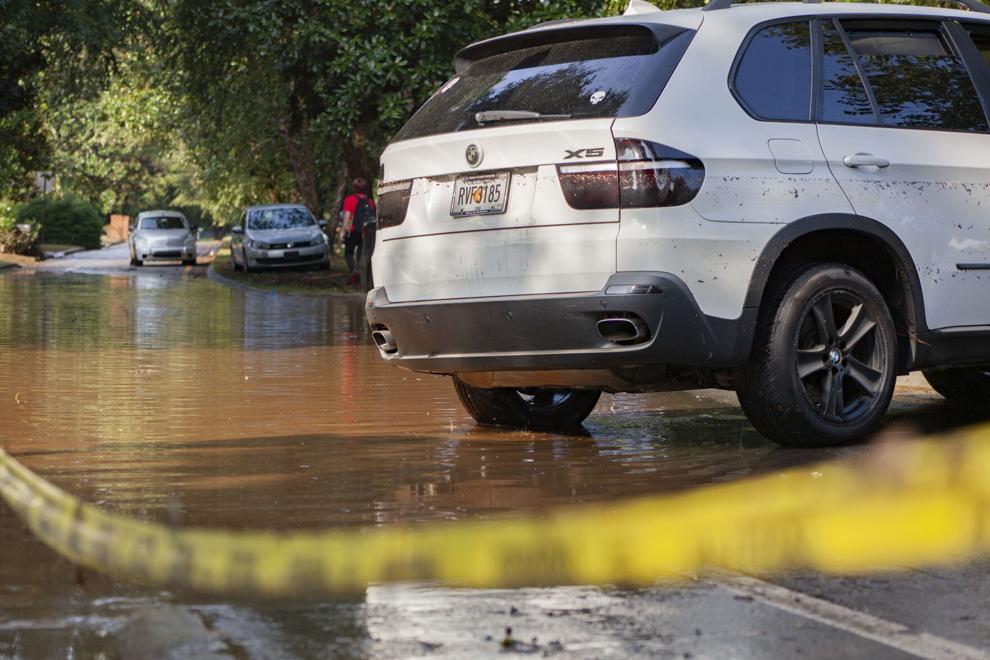 The Georgia Red Cross said Wednesday afternoon it was working with 10 Cobb County families following the heavy downpour in metro Atlanta.
Ruby Ramirez, a regional spokesperson, said volunteers are assisting Marietta families who saw flooding in their homes with immediate needs including temporary lodging, food, clothing, personal items and healthcare.
Roads impassable, collapsed
Among the flood damage observed by the MDJ on Wednesday morning and afternoon was Columns Drive, an area off Johnson Ferry Road along the Chattahoochee River.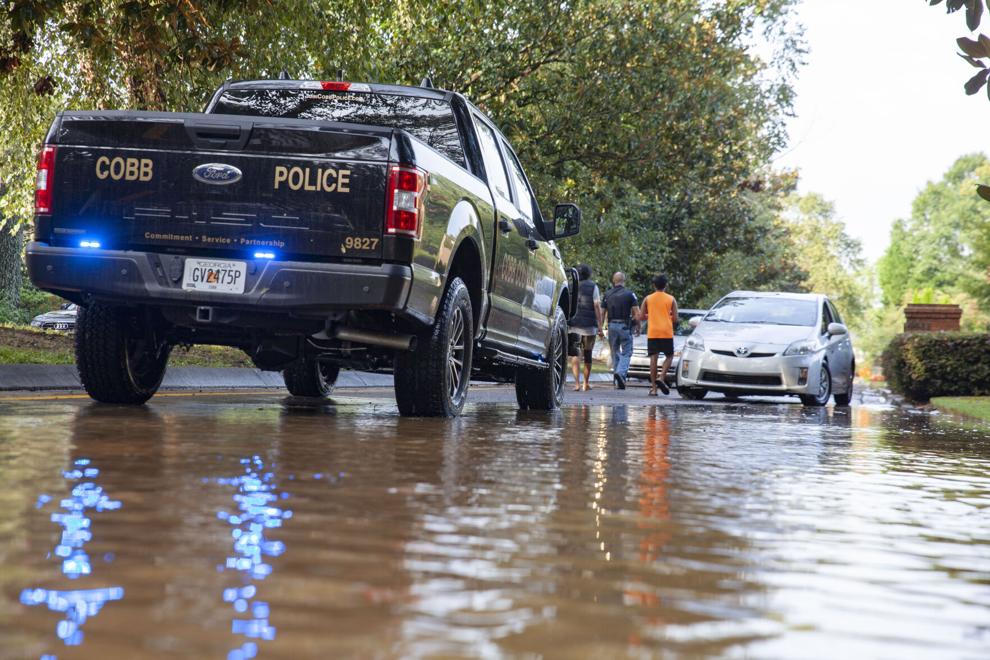 Columns Drive began flooding late Tuesday night, according to residents of the area, and some portions remained flooded at least until the early afternoon hours.
Residents of homes along Columns Drive stood in their driveways Wednesday morning, staring at the knee-deep water blocking many motorists from passing. Several abandoned vehicles sat disabled along the road, some temporarily blocking traffic. A wrecker was brought around 10:30 a.m. to tow the vehicles away, and lines of muck along the vehicles' doors showed how high the water had risen overnight.
Cobb Department of Transportation crews also responded with a vacuum truck around 10:30 a.m. Wednesday morning, hoping to suction out some of the flood waters to make the road passable.
Some with cars high enough off the ground drove through the water around 10 a.m. on their way to work, to run errands or just to get out of the neighborhood. Police on scene attempted to stop many motorists and tell them to go back home and wait the "two or three hours" it would take to clear the area.
But Raj Muppalla, who has lived on Columns Drive for 20 years, said he needed to be allowed past as soon as possible. Muppalla said he'd packed his entire home, save a plastic chair and few other items, the night before and taken them to Carey, a nearly three-hour drive, where he and his family are moving. He needed to be able to get through the roads to get to his belongings, and to get food for his elderly mother who lives with them on Columns Drive.
"And my mom is diabetic, I am diabetic. So I have to get out," he said. Muppalla added he'd also already moved the beds out of the home and couldn't make his 80-year-old mother sleep on the floor.
He said he'd seen worse flooding in the neighborhood before, but not in the area where it was Wednesday morning. Normally, he said, he can at least make it up to the outlet at Atlanta Country Club Road to get out a different way.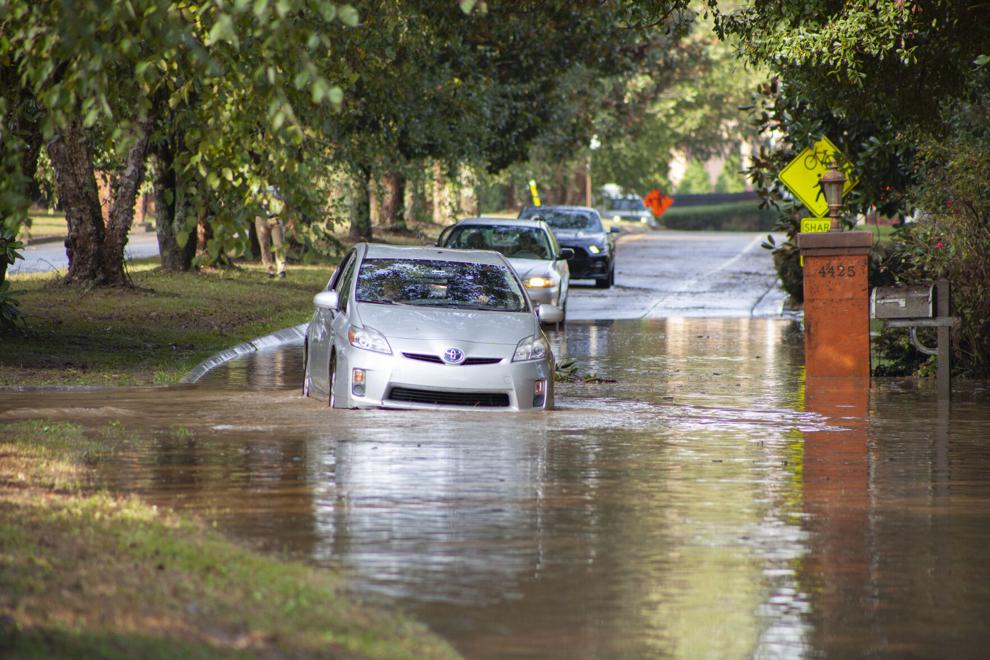 As the MDJ reported on scene, Muppalla attempted to drive his Toyota Prius through the flooded area, but backed out when he said the water began seeping in slightly around his feet. He said he planned to see if authorities would let him drive through the park farther down Columns Drive to get out.
A woman who said she preferred not to provide her name also told the MDJ school buses hadn't been able to pick her children up for school Wednesday morning. Her car had been disabled as she tried to make it back from work through the flooding around midnight the night before, so her children had to miss school Wednesday, she said.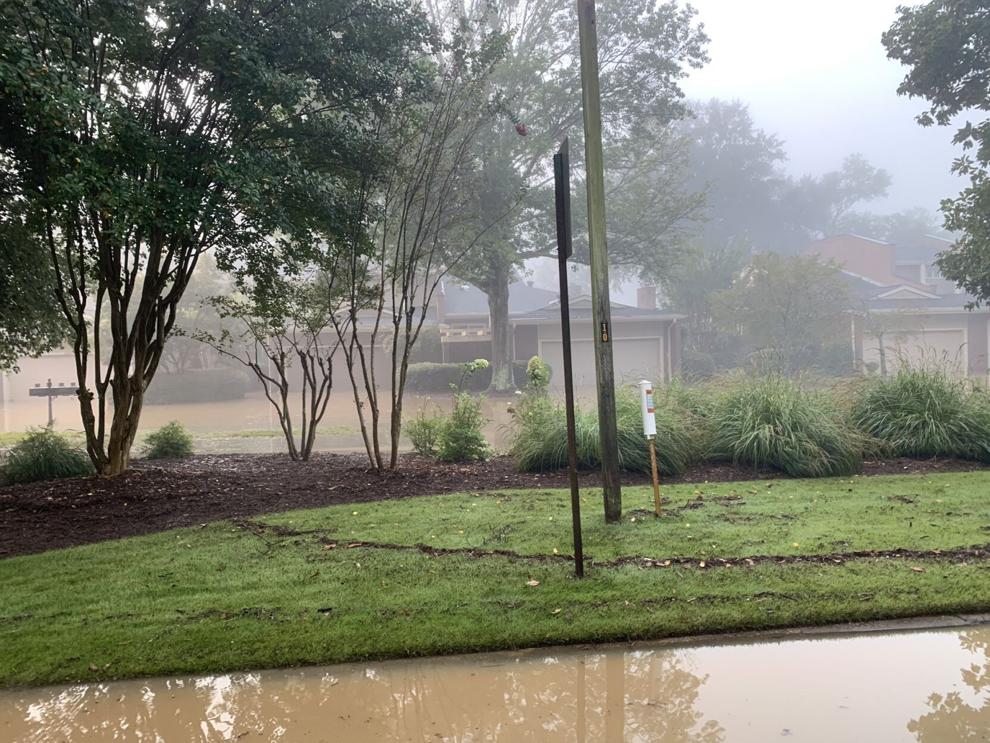 In an emailed statement, Cobb School District spokeswoman Nan Kiel confirmed that some buses were not able to pick up some students.
"Transportation worked with Cobb County to determine the safety of routes for afternoon bus routes," she said.
At Kennesaw State University's Marietta campus, KSU spokeswoman Tammy DeMel said there had been "localized flooding" in a small parking lot and residential area, but that no flooding had made its way into buildings.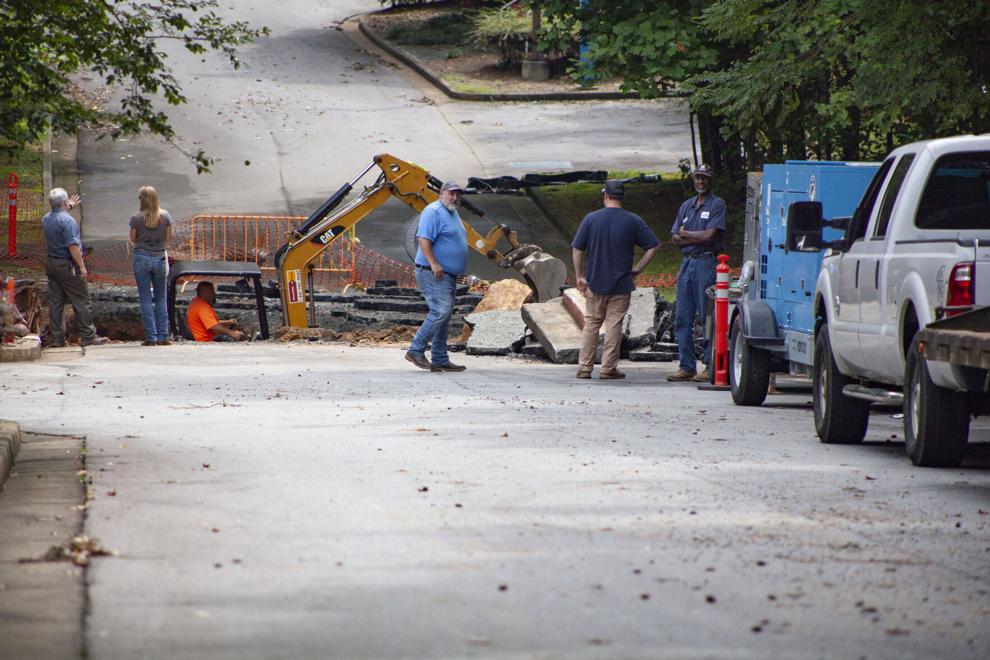 Near the intersection of Goat Path and Alumni Drive on the Marietta campus, just off South Cobb Drive, crews closed a road that had been washed out and collapsed as a result of the rains. When the MDJ arrived on scene Wednesday afternoon, there were two backhoes in the ditch created by the collapsed road — one was on its side in the hole.
Crews said the backhoe had fallen as it worked on the collapsed road.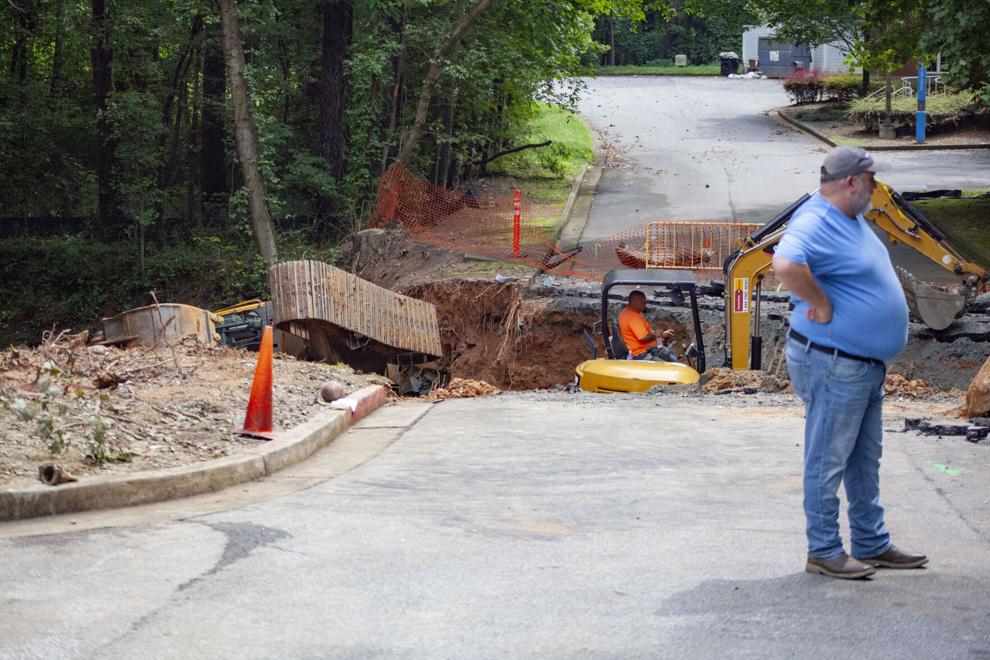 A similar road collapse shut down an entrance to the Watermark At East Cobb by Cortland apartment complex just off Roswell Road. The East Lake Parkway entrance was cut off after the creek below overflowed and washed the road out. Crews on scene Wednesday afternoon said water to the apartments had been cut off as they figured out how to make repairs.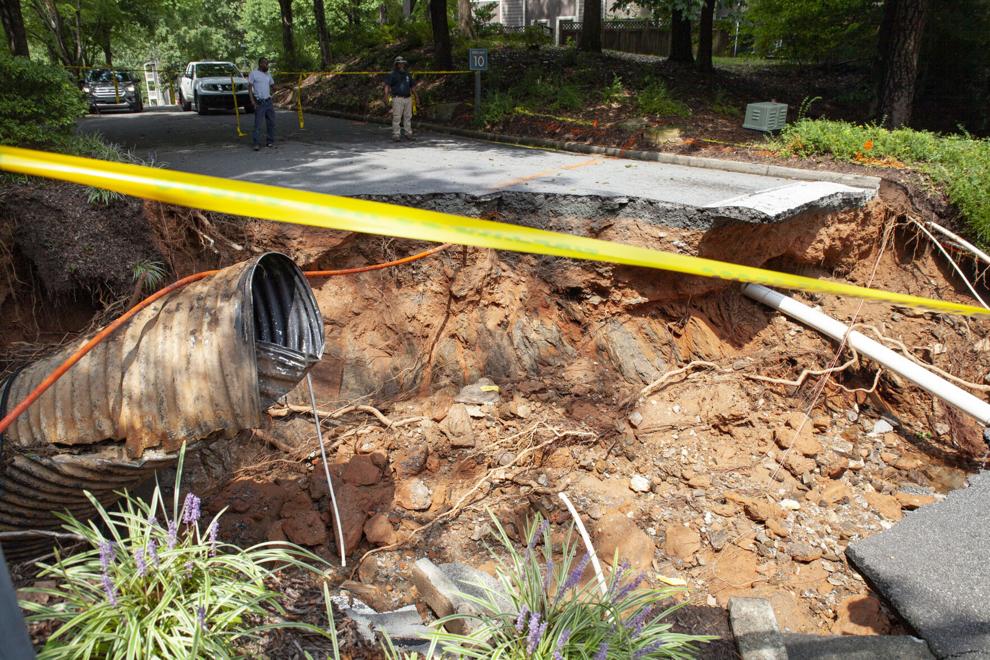 Likewise, on Pickens Industrial Drive, off Allgood Road in north Marietta, stormwater resulted in a "complete collapse" of the roadway, the city said. Utilities in the area were affected, authorities say.
By around 11 a.m., crews had made that road through the industrial business park passable again, piling up what looked like gravel to allow large trucks and Marietta wreckers to make it over the gap. However, a "road closed" sign remained, and crews continued working.
The Interstate 75 Express Lanes were also briefly closed Wednesday morning following a power outage near Terrell Mill Road. Service had been restored with southbound lanes open at 10 a.m.
Cobb County government also reported Wednesday afternoon that a lightning strike near the East Cobb Government Center at 4400 Lower Roswell Road knocked out its power during the overnight storms and forced the closure of the facility on Wednesday. The county said residents who need the tag office services inside the center should visit bit.ly/3l2Z4dH for alternate locations.
Apartment complex floods, damaging vehicles, some units
Matt Wojcik, a resident of the Marietta Crossing apartment complex on Powers Ferry Road, said he noticed a common area at the complex slowly turning into a pond late Tuesday night.
Wojcik, a KSU sophomore, said he and his roommate decided they should move their cars to higher ground when they noticed the water continuing to rise late that night. He said they moved the vehicles just in time. An hour later, the parking lot was "waist-deep in water," and in other areas, scores of vehicles were nearly or completely submerged.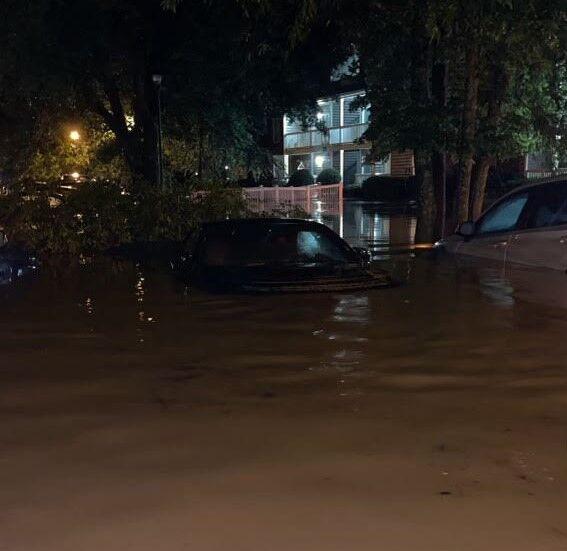 Once they'd moved their cars and gotten completely soaked, Wojcik said he and his roommate gave up trying to stay out of the water. So, between 1 and 2 a.m. after the rain had let up, a video shows Wojcik going for a swim in what was a parking lot.
Wojcik said he lives on the first floor, but thankfully the water never quite reached the inside of his apartment.
"There was a point when we were going out to move our cars that the water had risen probably 2 or 3 feet in the span of about 15 minutes. That's when we thought, 'Yeah, we might have to start pushing water out of our apartment,'" he said. "Luckily, it got close to the door … but no water ever got in. So we're thankful for that."
Others, he said, may not have been so lucky. At a nearby building, he said he'd seen carpet cleaning crews coming to vacuum out water.
NWS: 'Stay on guard'
Katie Martin, a meteorologist with the National Weather Service's Peachtree City office, said it's not uncommon for thunderstorms to pop up in the summertime, but this one parked itself over portions of metro Atlanta and slammed the area with significant flash flooding.
Rain in Cobb began around 10:30 p.m. Tuesday and ended around 1 a.m. Wednesday, Martin said. The NWS has received reports in Cobb of damaged roads and apartments flooded with several inches of water on ground floors.
Though most of the rain on the radar in the near future appears to stay south of Interstate 20, Martin said, there are still slight chances for scattered showers in metro Atlanta, including the areas hardest hit by flooding. So, she said, it's important to "stay on guard, avoid those roadways that are still flooded and heed the flood warnings or flash flood warnings, should they be issued."
—MDJ reporter Chart Riggall contributed to this report.