Marietta resident Sarah Allen primed the pump for her toddler son Aidan's gastrostomy tube. She tried to stay focused. She couldn't let her anxiety and fear get the better of her, even though the reality of losing what precious little she had — including her 3-year-old son — occupied her mind relentlessly.
In six weeks, Sarah and her medically fragile child could be homeless and likely be torn apart.
The now-single mom has few resources and no place to go once she's forced to leave the small house where they've been living for the past nine months. While Sarah could find a women's shelter, her son's complex medical condition would be too much of a liability for a shelter to accommodate. Aidan would likely become a ward of the state and be relocated to foster care or a nursing home.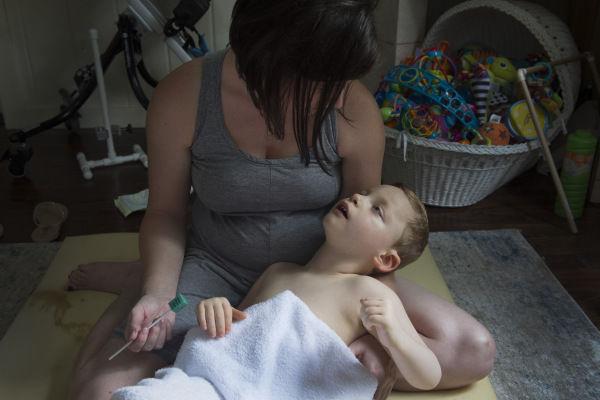 Aidan was born with cerebral palsy. He has a number of neurological and developmental issues due to a cytomegalovirus, a common but not well-recognized virus that can be devastating to unborn children. He is nonverbal and unable to crawl or walk. His vision is limited. He has difficulty swallowing. He requires high-calorie liquid nourishment through a portable pump and tube that leads directly into his stomach, feeding him continuously for 20 hours a day.
Aidan's complex medical needs require 24-hour care and supervision. Though not a trained nurse, Sarah is Aidan's primary caregiver. Other than brief respites when a registered nurse or certified nurse assistant comes to their home to help, Sarah is constantly by Aidan's side.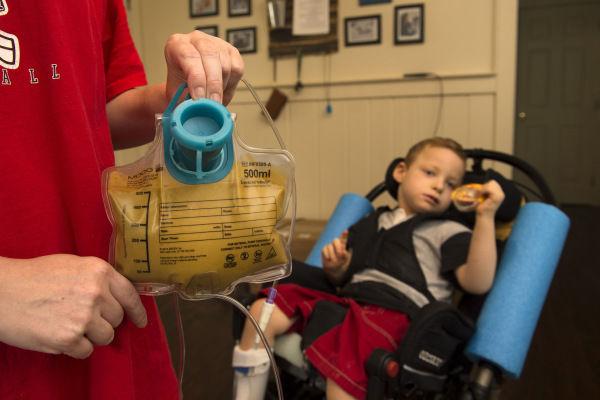 For Sarah, it's a full-time job that pays nothing. Mother and son live on food stamps and $860 a month in child support and Social Security benefits because of Aidan's disability.
Before Aidan was born, Sarah married the man she considered her soul mate. She was working and looking toward a happy family life. "Things were perfect," she recalled. Several months after their wedding, Sarah was pregnant, eagerly anticipating her role as a mother. After years growing up in an abusive, dysfunctional, drugs-and-alcohol drenched family, "I finally had my family," she said.
SHATTERED HOPES
That dream came to an abrupt detour when a doctor's exam detected serious medical issues with their unborn son. Aidan was considered "high risk."
"The perinatologist encouraged me to terminate my pregnancy. I was told he would likely not survive birth. If he did, he would be born deaf, blind and disabled." Aidan would likely experience multiple seizures, the doctor told her.
Sarah refused to terminate the pregnancy. "I had to give my son a chance at life," she said.
Aidan's father left soon after that for job training in Germany. "He was supposed to come home in six weeks. He never did," she said.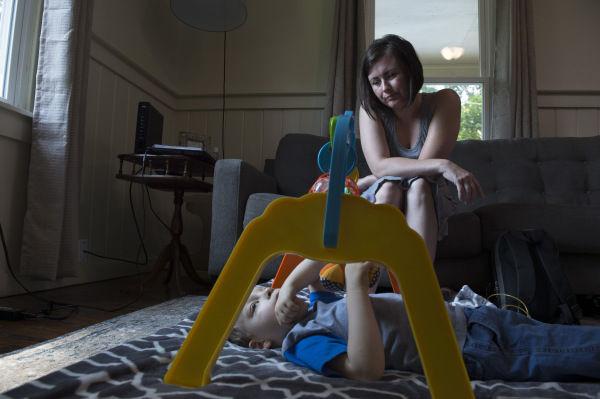 Aidan was born at Northside Hospital in Cumming with the umbilical cord around his neck. He has several brain malformations, with lesions and scars throughout. He suffered a stroke. He has enlarged ventricles, liver and spleen. He has hundreds of seizures every day and his vision is seriously impaired. He doesn't crawl or walk, and is wheelchair dependent. He is non-verbal and eats with a G-tube throughout the day, she explained.
Now 28 years old, abandoned by her husband and the life she thought she had — with a medically fragile infant who needed constant care — Sarah moved from place to place and tried to get on with her life.
Growing up, she had fled a dysfunctional family of addicts and felons. She moved 38 times while a teen. Her father died earlier this year and she is estranged from her mother, leaving her with no family support.
She moved to Cobb County in 2015 hoping to put down roots, but constantly caring for Aidan has left her little time to become involved in church or have a social life.
"I knew I had to find a way to support us. I didn't have anyone to watch him, so working a regular job wasn't possible. I had to be able to drop what I was doing at any time to tend to his seizures so working specific hours from home online wouldn't work. SSI takes almost 40 percent of your income anyway, so the money wouldn't have been much."
"I came to the conclusion that being an online student would not only enable me to gain an education, but I could also use the student loans for living expenses," she explained. She signed up for some online courses at Darton State College and thought it was a good idea at first.
"I was able to put down my books and tend to him when he needed it. But then my grades began to suffer. I failed a class. I wasn't sleeping and it was taking its toll. In order to receive loans, you have to be a full-time student. Being a full-time student with a normal child is different because your child can go to day care, a family member or a friend. They don't need special training for their care. But being a parent to a medically fragile child and being in school full time is an entirely different story. Standard day cares won't take him."
LACK OF DAY CARE OPTIONS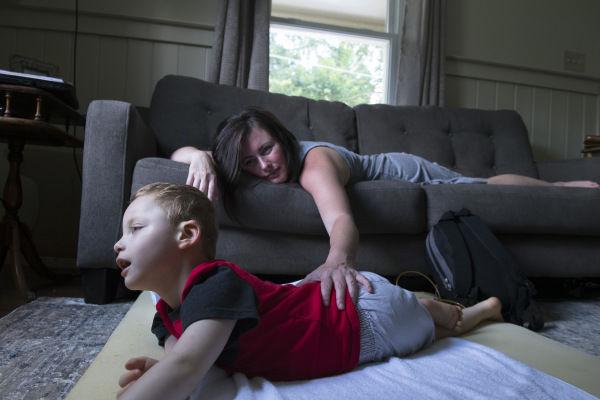 There used to be day care centers in Georgia for medically fragile children, staffed by registered nurses who could provide the required care while parents worked. Cuts in Medicaid funding caused those centers to close in 2015.
State Rep. Sharon Cooper, R-east Cobb, who chairs the State House Health and Human Services Committee, said one reason the day care centers for medically fragile children closed in 2015 was because they were "not financially sustainable — they were a business model that just wasn't viable." The centers had to be staffed with medical professionals and became prohibitively expensive to operate, she said.
"The federal government audited Georgia's program and we got in trouble for being too lenient," Cooper said. "In other words, we were not strictly following the federal guidelines that decided which fragile children were eligible for the program. The feds had also started pushing in-home care rather than group situations."
As state Medicaid requirements tightened, fewer medically fragile children were approved for continued funding for the care despite physicians' orders, according to disability rights advocates.
Cooper, a physician's widow and a registered nurse, said she is personally troubled with both federal and state rules that often seem to get in the way of a disabled child's needs.
"Unfortunately the government can't do everything. Some people get caught in unfortunate circumstances. Solutions need to come from both the public and private sectors," she added.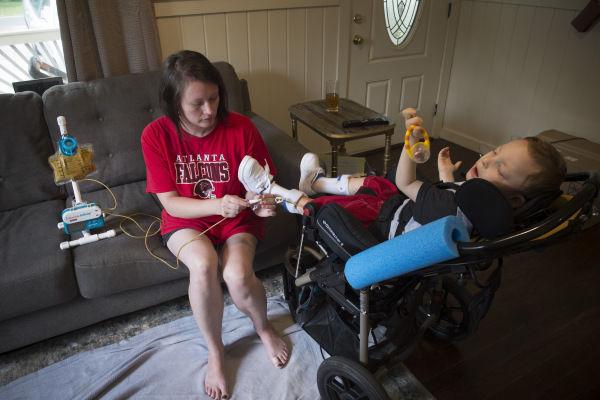 Cooper is pushing the state's community health offices to find at least a temporary solution to Sarah and Aidan's dire circumstances. She admitted that federal Section 8 public housing regulations can unfairly limit a person's access to public housing and noted that the waiting list is "in the thousands."
SEEKING SHELTER
To find shelter for her and son, Sarah applied for what is known as "Section 8" public assistance housing through the Marietta Housing Authority and also through Acworth. She was told the state wait list is long and no handicapped accessible housing was available.
"There was at least a three-year waiting list," Sarah recalled. "I understand. There are lots of handicapped people who need housing. I just wish these wait lists were a thing of the past."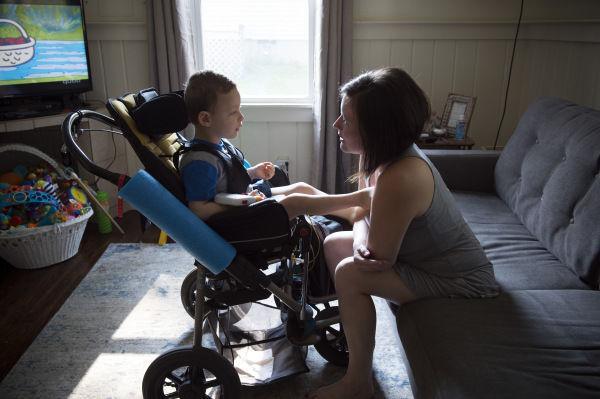 She met a man through an online dating service. As they talked over lunch, Sarah shared her story. "That relationship didn't go anywhere, but he offered this house to me as a place for Aidan and me to live so we wouldn't go homeless," she said. Small and clean, it was accessible by Aidan's wheelchair and not far from Kennestone hospital.
"We had a home. I could take care of my son. We didn't have much, but we survived," Sarah reflected.
NURSING CARE
Though Aidan's doctor prescribed a consistent and sufficient level of in-home nursing as a medical necessity for Aidan, the Georgia Pediatric Program that manages that support consistently ignored those orders. That support is funded with Medicaid dollars.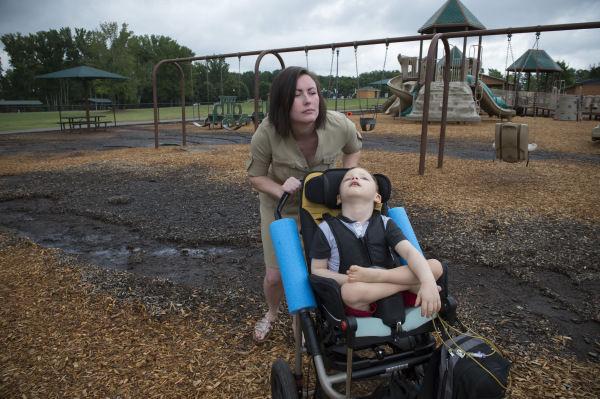 "I fought and fought for it, but only received 8 hours per week. Sadly, the six nurses I went through in 4 months were no-show or very late for every shift," she said. "It became extremely stressful, inconvenient and time consuming to have to train a whole new nurse all over again. After joining a few Facebook support groups for special needs, I learned that's sadly very common," she continued.
Because of his cerebral palsy, Aidan is reliant upon assistive equipment. He receives weekly physical, occupational and speech therapies through private companies who take Medicaid.
"Sometimes he needs supplemental oxygen. I always keep a suction machine and pulse oximeter nearby, just in case. He sleeps with me, or at least very close to me, because he requires monitoring 24 hours a day, seven days a week. I haven't slept a full night since he was born. He feeds at a slow rate continuously because he can't tolerate a lot of food in his stomach," she explained.
Aidan is covered by Medicaid for medical bills and disability equipment. They receive EBT food stamps from the state. Aidan's special formula costs are covered by Medicaid.
But she is frustrated and angry with the state system that many observers say is woefully broken.
THE TOLL ON CAREGIVERS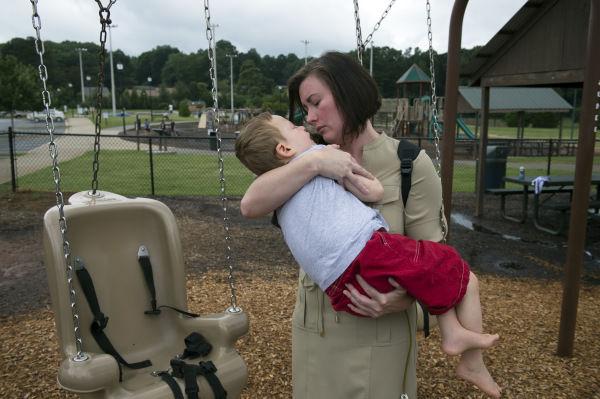 "I need help to care for Aidan. I've pleaded for more hours for nursing care. I can't do it alone like I have been," she added, noting that her own health is not good either. Sarah's father died of congestive heart failure. Though she appears to be a vibrant and energetic young woman, Sarah was diagnosed with serious heart issues herself.
Serving Aidan as his primary caregiver without adequate help is placing her physical and emotional health at risk and that affects Aidan as well, her doctor told her.
The program's most recent review of Aidan's case reduced his in-home care to eight hours a week.
"I guess they figure as long as I'm caring for Aidan, they don't need to," Sarah said. "I'm a full-time nurse without a nursing license, keeping track, grinding up and administering all his medications and working 20 hours a day without income because that's what my son needs. And the state agency that's supposed to help simply won't do what the laws say they must do."
"I'm wearing out. I'm performing nursing level care and it is very scary because I could mess up," she added.
Children are entitled to receive care so that their medical condition does not deteriorate, notes Ruby Moore, director of the Georgia Advocacy Office, a nonprofit organization based in Decatur that advocates for the developmentally disabled in Georgia.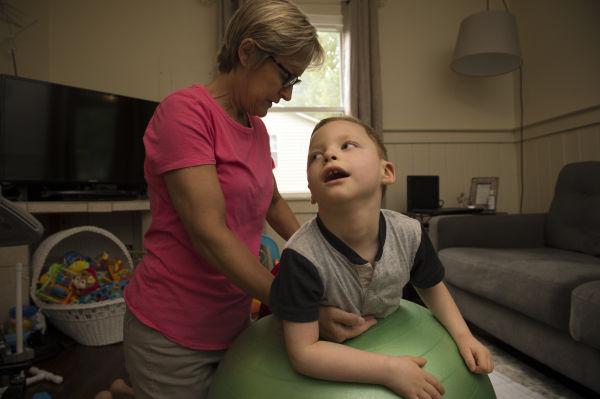 "In-home skilled nursing services are one of the many federally mandated services that enable children to remain at home with their families thereby avoiding the risk of placement in an institution," she said.
"The Department of Community Health conducts periodic reviews of hours provided and regularly decreases hours of skilled nursing — contrary to doctor's prescriptions," she continued.
"The arbitrary reduction of a child's skilled nursing services puts the child at risk for unnecessary medical complications, including death or institutionalization," she cautioned.
While families have the right to appeal the reduction of services, they often are not successful as they cannot afford a lawyer, she noted. "In failing to provide children with the right to necessary medical care, the State is putting the children and the State of Georgia at risk," she said.
Children subject to these arbitrary decisions are at risk of becoming wards of the state or at risk of entering nursing facilities at government expense. "As the state is liable for violating the rights of these children, Georgia is at risk for greater liability as a result of its implementation of these willful and irresponsible practices," she continued.
UNCERTAIN FUTURE
Meanwhile, Sarah takes life day by day, entertaining her son as best she can with trips to Swift-Cantrell Park in Kennesaw, a local park. A television in the small living room pulls in a scratchy signal from one of the few broadcast stations in Atlanta. Sarah can't afford cable television or internet. She's built some of the furniture in the house herself. She struggles with loneliness and isolation. She longs for friends she can "hang with, someone to just call up and talk," she said.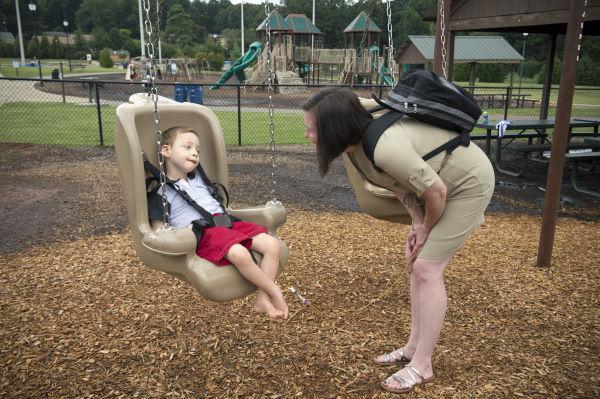 But even when — or if — the state provides more hours for in-home care, Sarah can't really leave for more than an hour or two at a time.
"Registered nurses and CNAs are not allowed to lift more than 40 pounds by themselves, so it takes two people," she said. Sarah's own health problems are both a concern and restriction.
Still, she remains hopeful.
Sarah tries to stay focused on her son's care, though the two will soon be forced to leave their home. They will likely be separated.
"I am extremely thankful that we have a roof over our head. But the owner needs to sell this place in a matter of weeks. I don't know where we will go. Maybe God will find a way to give us a home of our own, for the first time in both our lives."
"I still wake up with a smile on my face. I have a happy toddler to love for as long as I can," she added." I may not have him forever, but I want him to be happy for the time he is here. I want my son to know love and live in a home — not an institution."