At 2 a.m. on Monday morning, most people in Cobb were sleeping in preparation for what could have been a very long day on Monday.
Not Sandra Cook.
The Marietta chef, who owns Catered Southern Events, was turning off her alarm clock on that dark hour so that she could make her way to her catering kitchen on Allgood Road in time to prep enough food to feed more than 70 people breakfast.
Cook was supposed to be on a fabulous vacation with her cousin, a trip that would have taken them through the Florida Keys, Bahamas and Puerto Rico. But on Saturday, when she was driving to pick up their rental car, she was hearing more and more about residents evacuating Florida and the destruction that was already happening in their vacation destinations.
"(Kennesaw Police) Chief (Bill) Westenberger told me NorthStar Church was opening their doors to help people who were displaced from the hurricane so I just canceled the car and the trip and felt called to help," Cook said. "It's a passion of mine to feed people who have been displaced and first responders during things like this so I just made the decision then and there and put out the call to volunteers."
In a Facebook post Cook wrote Saturday morning, Cook asked for help with cooking and carrying the food, which included breakfast, lunch and dinner.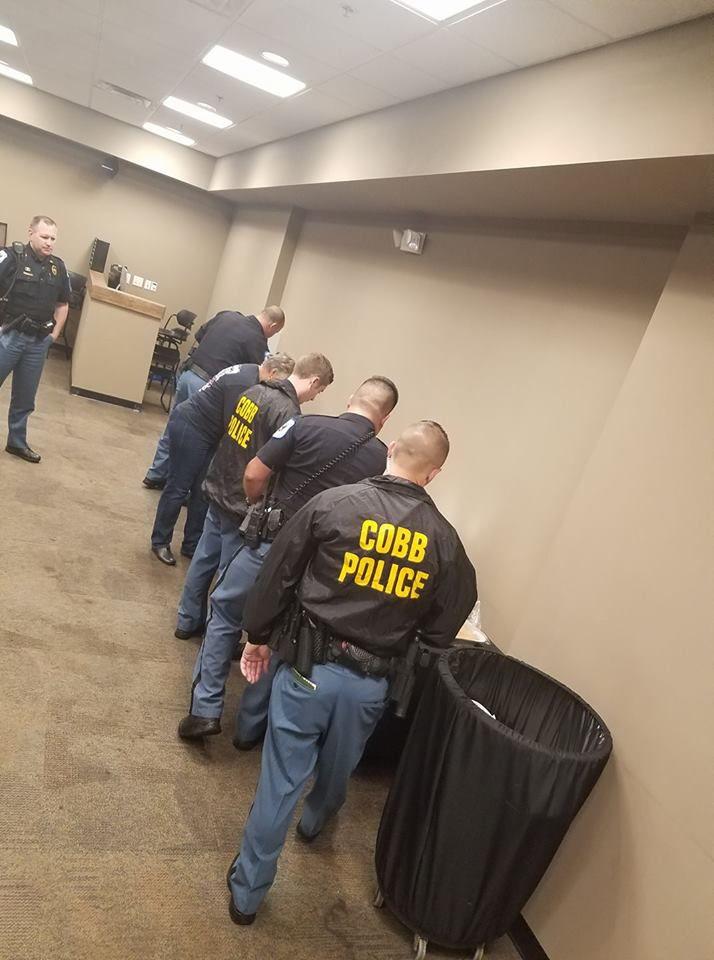 "So ... God changes our plans when he sees my heart . Since everywhere that I wanted to go had been hit with Irma , I have canceled my vacation. But in the mist of the storm , God has really spoke to my spirit and with the talents that he has given me and others we are opening my kitchen to cook for first responders and displaced visitors … If anyone feels led to help out , no cooking experience required, we will need help in the kitchen and also delivering food. Please pm me and let me know what you could do and not only that , who might need food," Cook wrote.
The result was around 11 volunteers in the kitchen, including Mike and Amy Russell, who transported food from Cook's kitchen; hundreds fed from her food and her talents; and even more leftover food that was sent via truck to Florida to help victims recovering from the hurricane as well as to other food ministries in the county. And these weren't just your average peanut butter and jelly sandwiches: the meals included a hashbrown casserole, pastries, muffins, honey-cranberry chicken salad croissants, dill potato salad, meatloaf, garlic mashed potatoes and more.
"Everyone who helped me had a servant's heart," Cook said. "There was a lot of laughter in my kitchen. It didn't matter if you knew how to cook or not. We even needed somebody to wash dishes! It's just about taking care of others, and never lost power in the kitchen. Thank you, Lord!"
Thank YOU, Sandra, as well as all of the wonderful people who helped her and whom she helped.
From social media:
On Saturday, Sept. 9, neighbor Leigh Ann Worden wrote on the Kennesaw Ave Historic District Neighborhood group that the VRBO house next to them was rented to a family of Florida evacuees. It was two sisters with their families and mother. One of the women was overdue pregnant so they were thankful to be so close to Kennestone! They had called 31 hotels before they found a home for rent on our sweet street. Once Leigh Ann announced their arrival to our neighborhood, the family was greeted by many neighbors bringing by homemade treats, gift cards and toys for the kids. They were so grateful and the village of Marietta left its mark on their hearts forever!
Laura Higginbothom, Marietta
♦ ♦ ♦
Today, Sept. 8, marks the four-year anniversary of my being paralyzed. The medical emergency that should have killed me didn't. Thanks to surgeons at Emory Hospital, I lived, but was left paralyzed from the waist down.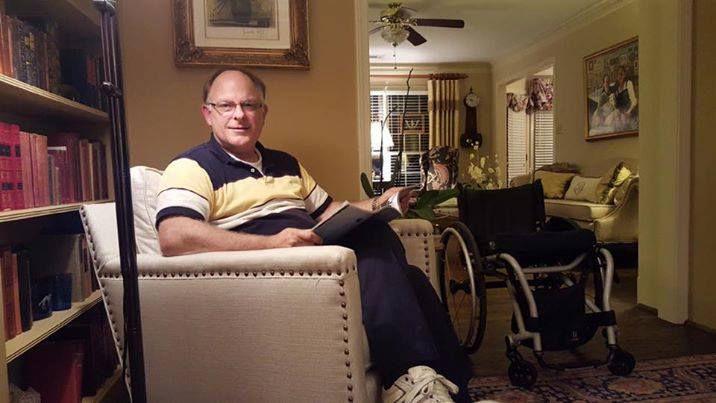 The last four years have seen my wife, Cathy, and I pick up our lives out of tragedy and begin a new journey. This journey has taken us through great disappointment and unbelievable joy. Through it all, God has been with us, never leaving us, never forsaking us, giving us strength as a couple and a family to continue on this journey. We're growing stronger and more confident every day.
Why am I celebrating four years of being in a wheelchair? Because I am alive! Because I wake up every day expecting the day to show me something of myself that I didn't know before.
Paralysis isn't a death sentence. It's a way of living that redefines my life, my relationships, my work, my God. In an instant any of our lives can change for better or worse. What we do with these changes defines who we are and what we will become.
So, this fourth anniversary of living in a wheelchair, I choose to celebrate being alive and being given every new day to celebrate Christ's work in my life and the opportunity to forge new roads into unknown territories where Cathy and I can experience life! Wheelchair and all!
Ken Johnson, Marietta
♦ ♦ ♦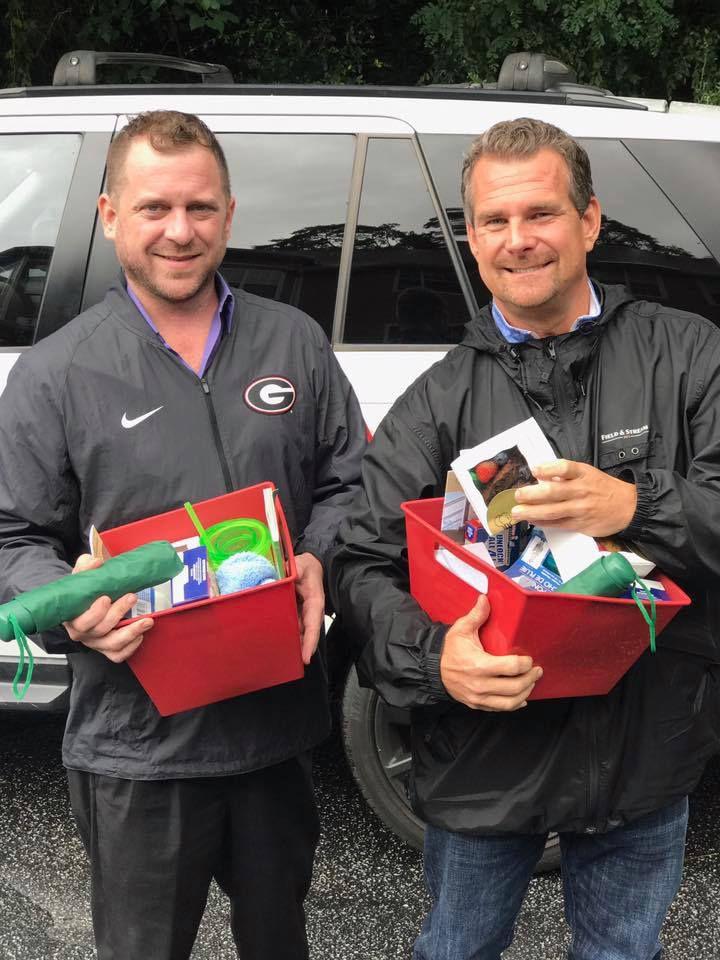 Hurricane Home visits courtesy of Winnwood Retirement and Southeastern Retirement the past two days in Cobb County. Trying to keep the spirits up of many seniors living alone. Prayers to all those that these terrible storms have affected.
John Rauls, vice president, Winnwood Retirement Community of Marietta
From the inbox:
Moved by the devastation he saw on television when Hurricane Harvey made landfall recently in Texas, Marietta High School International Baccalaureate tenth-grader Marcos Rios organized a creative service project to help Harvey's victims, while also bringing schools and business partners throughout the metro Atlanta area together.
"Here in Marietta, we all know about the first day of school tradition where the senior class comes together and 'rolls' the campus," said Rios. "I wanted to put a twist on that idea and show that we also know how to use our voices in a time of need. Collecting rolls of toilet tissue to send to Texas after Hurricane Harvey seemed like the right thing to do."
With the support of educators Kelly Herrero, Chelsea Bargallo, and Tamara Edwards, along with the high school's ten feeder elementary and middle schools and the Marietta community at large, Rios saw his vision come to life earlier this week, but the big push came when MHS alumnus Sarah Laniel (Class of 2002), an employee at Georgia Pacific, heard about the project. "Marietta Schools is all about community, and when I heard that students and parents were trying to support Harvey victims, I asked my company to step up in a big way...and they did," said Laniel.
Georgia Pacific is generously donating 1,040 cases of tissue to the effort, in addition to their earlier $1M donation to Harvey relief, taking the project to a new level. The first tractor-trailer donated by Pilot Freight picked up a portion of the donation at Georgia Pacific's McDonough warehouse and is currently on the road to Texas. A second pick up will take place today, Friday, September 8, between noon and 2 p.m., at Marietta High School. A total of 38,000 rolls of toilet paper will be sent to Texas when the project is complete.
Mark Woolard, Marietta