Distance-wise, we are far away from Hurricane Harvey and the flooding it has caused in Texas, Louisiana and other areas. However, many people in Cobb County likely remember the flooding we experienced in 2009, when the county was doused with 20 inches of rain in not much more than 24 hours.
I was just a few months into my position as a special assignments reporter for the Marietta Daily Journal on Sept. 20, 2009 and, after driving through south Cobb for several hours to take photos and interview residents, I found myself being closed in by the very same waters that had reached many of their roofs. With the help of our newsroom manager Damon Poirier, who was familiar with the area and able to guide me through it over the telephone, I found my way safely back to the MDJ headquarters.
But many were not so lucky. For the next few weeks, even months, most of the headlines perched above my byline were of devastation, displacement, recovery and hope. Many residents are likely still recovering from that horrible flood.
Thankfully, there are many great and wonderful people who helped their nearby neighbors affected by flooding then, and are helping their far-off neighbors trying to survive flooding now.
Exactly a year ago, Steve Welsh, Steve Welsh, Jeff Daxe, John Loud, Shawn Murphy and Don Keller had planned a guys' weekend. Instead, they decided to grab a truck and take supplies to those who were affected by the sudden flooding in Baton Rouge, Louisiana.
"Little did they know that their call out for supplies would turn into them taking two, 27-foot trucks and a 12-foot trailer filled to the brim," Dr. Cris Eaton-Welsh, wife of Steve and a local chiropractor, explained to me. "The Venue on Main and WHI Kennesaw (both owned by Cris) donated the space and the labor for the venture. When Houston was hit this week, the conversation started up again."
Cris' mother, Pam Eaton, told her there was a need for blood donations, but organizing a blood drive can often be a 10- to 12-week process. Still, Pam persisted.
In less than a week, Cris, Pam, Steve and their team of supporters worked with the Red Cross to schedule and organize a blood drive, yet again at Cris' space, at 2847 South Main St. in downtown Kennesaw. The blood drive will take place from 11 a.m. to 4 p.m. on Friday, Sept. 1 and donated blood will be sent to victims of Hurricane Harvey and its resulting floods.
To join the blood drive, contact the office at 770-429-9733.
"We can't do everything, but we all can do something," Cris said.
Indeed, there is always a way to help others, even when they are hundreds of miles away. You never know when those in need might be our very own neighbors, once again.
♦ ♦ ♦
Volunteers are needed to meet and help stitch quilts for the group, Quilts for Veterans. According to Patricia Kilmark, the group is trying to get as many quilts finished as they can by Veteran's Day on Nov. 11. The group will meet from 9 a.m. to 3 p.m. on Thursday, Sept. 14 and again on Thursday, Oct. 12, at the East Cobb Government Center, at 4400 Lower Roswell Road in Marietta. For more information or to volunteer, call Patricia at 404-281-9354.
From the inbox:
Marietta Art in the Park is pleased to announce the One Piece Project. During this Labor Day Festival, each participating artist will place a One Piece Project ribbon on the artwork of their choice. When the art piece is sold, the artist will donate 10 percent of the sale to the Art in the Park Festival. The Festival will collect and forward the proceeds to the selected benefactors on behalf of the Festival and each of the participating artists. The selected benefactors for the inaugural 2017 One Piece Project will include the "Inspired by the heArt" art show and gallery exhibit and Keep Marietta Beautiful. The "Inspired by the heArt" art show is an event that began in 2013, allowing Cobb County students with mild to severe intellectual disabilities to create, celebrate and display their artistic skills. Last year, over 200 students participated in the event in which no one is turned away. Keep Marietta Beautiful's mission is to generate an environmental pride and a sense of ownership within the Marietta community through events which reduce waste, recycle and beautify the community.
Carolyn Morris
♦ ♦ ♦
Whitefield Academy's school community came out in a big way on Saturday, Aug. 26 with its inaugural Great Day of Service. More than 800 volunteers composed of students, parents, faculty, alumni and even grandparents involved with the Smyrna private school joined together in serving 36 local charitable organizations around Cobb and metro Atlanta on 43 separate project teams. They tackled needs ranging from packing food and organizing shelves at local food pantries, to planting trees, cleaning up, serving meals to those in need, and much more.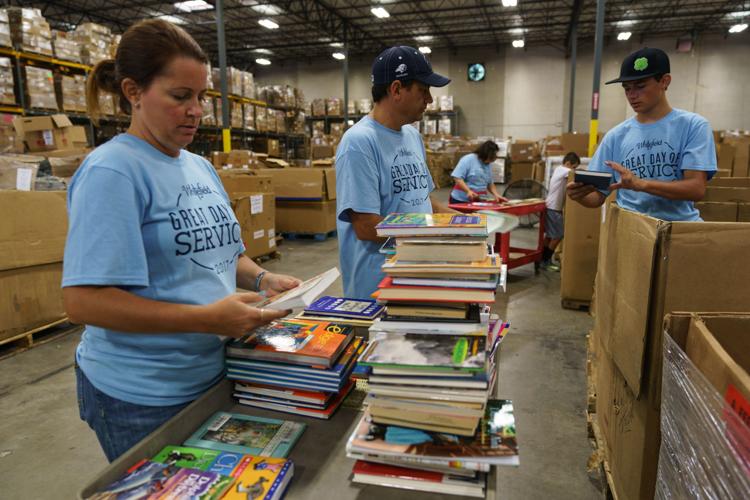 Anticipation hung in the air as volunteers arrived early Saturday morning, along with a hovering drone, capturing the buzz of activity in Whitefield's Grand Amphitheater. Armed with coffee, T-shirts, and chicken biscuits courtesy of Vinings Chick-fil-A, volunteers were led by various Whitefield students and faculty in song and prayer to kick off the day before heading out to their service locations.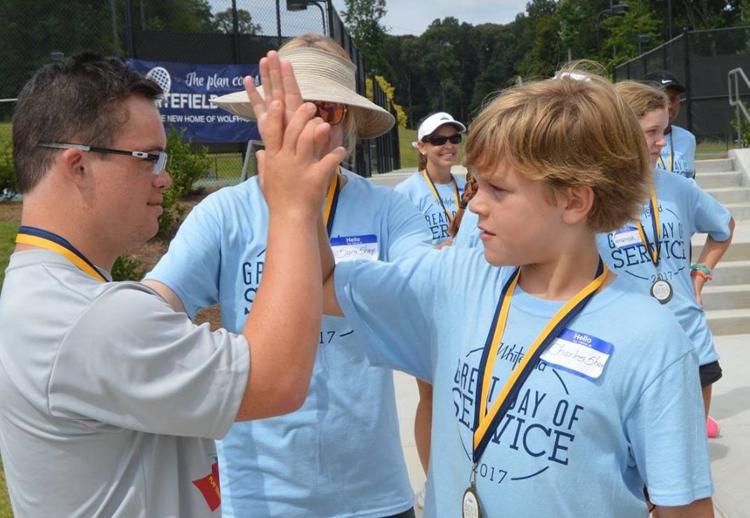 Led by Whitefield parent Becky Matherne and a team of fellow parents, faculty and school administrators, the Whitefield Great Day of Service committee planned for almost a year to ensure this large undertaking came to life. As Matherne noted, "This day is about providing an opportunity for us to live out our school's mission statement, which seeks to bolster Christian families in rearing young people who go on to college and life with a passion for learning, for others ahead of self, and for the living and active Jesus. What better way to practice and demonstrate to our children putting "others ahead of self" than serving those in need?"
Cindy Fennel, director of public relations, Whitefield Academy