Four months into the coronavirus pandemic, Cobb County is seeing numbers of new cases similar to those reported in late April and May, indicating that the curve is not flattening.
On Tuesday, Cobb set a one-day record of 165, bringing the cumulative total to 4,134 since March 8, the day the first case of the virus in Cobb was recorded. Monday saw 76 new cases and Sunday saw 52.
The Georgia Department of Public Health website showed five new deaths Tuesday. A total of 234 people from Cobb County have died from the virus.
Cobb-Douglas Public Health officials are investigating the cause of the recent increase, spokeswoman Valerie Crow said.
"We do want to remind people our normal message, which is wear a mask in public, practice social distancing and stay home if you're sick," she said.
Georgia DPH spokeswoman Nancy Nydam said that the state is seeing increased numbers of new cases statewide in part because more testing is being done and also from community spread.
"There has been an uptick in outbreaks throughout the state indicating continued community spread. We expected to see cases increase as more and more Georgians started getting out and moving around, attending gatherings, etc. That makes it critical for people to continue to follow the guidelines around social distancing, wearing face coverings in public, and washing their hands frequently and thoroughly," she said in an email.
Cobb Commission Chairman Mike Boyce told the MDJ he wants to see if Cobb's recent spike becomes part of a larger trend.
"Let's see if this is an anomaly or a trend. If it's a trend I would coordinate any response with Cobb Public Health," he said in an email to the MDJ.
When looked at on a weekly basis, the county is again seeing an increase of cases. The first week of June saw a modest 211 cases or about 30 per day. However, that number jumped to 319 cases the following week and another 284 last week. In the first three days of this week, Cobb has already recorded 293 cases. For comparison, the highest weekly count was 408 back in mid-April.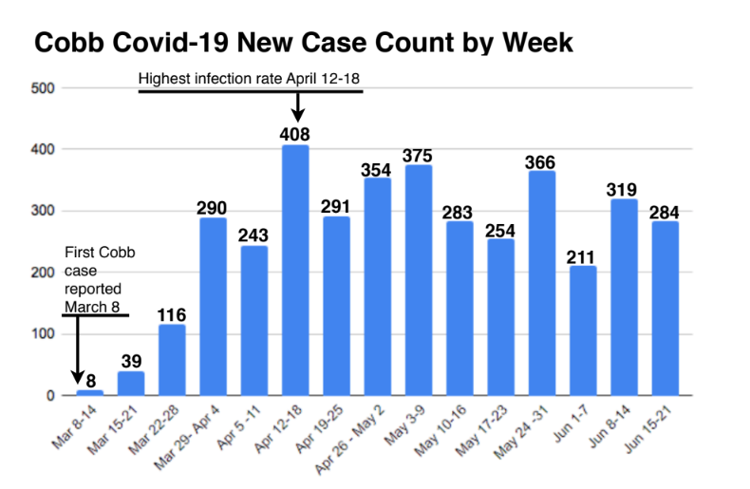 The state public health department, when reporting trends over time, backdates confirmed cases to when the person began experiencing symptoms, so it considers totals over the last 14 days to be preliminary, since they don't include test results that are pending.
Per the Georgia DPH's latest report, two weeks ago on June 9, Cobb had a seven-day average of 48.6 cases, the highest since a 49.3 average May 2, shortly after Gov. Brian Kemp lifted Georgia's shelter-in-place for most residents.
There have been 818 reported hospitalizations in Cobb County, per the state report — 12 more hospitalizations than Monday.
Cobb remains fourth among Georgia's 159 counties in terms of the number of cumulative confirmed cases, behind Gwinnett (6,636), Fulton (5,885) and DeKalb (5,042).
Only Fulton County has had more residents die from the virus than Cobb with 302 deaths.
Three local high school football teams have recently reported COVID-19 infections: Hillgrove High School, McEachern High School and Pope High School.
Statewide, the number of positive cases is 67,678. The state reports 2,688 Georgians have died, making Georgia's fatality rate from the virus about 3.97%.
The Centers for Disease Control and Prevention reported on its website Tuesday that 2,302,288 people have tested positive for COVID-19 in the United States, and 120,333 have died. The national death rate based on these figures is about 5.27%. The CDC says 40 states or other jurisdictions have reported more than 10,000 cases of COVID-19.
For a Cobb and Douglas Public Health report that includes data on how the coronavirus is affecting different ZIP codes, visit bit.ly/2Nj3xs9.