Friday morning, word went out on social media that County County's elections department was shredding things.
"We're fielding a whole bunch of calls," Janine Eveler, Cobb elections director, told Around Town Friday afternoon. "People are calling from Florida, from whole different states, saying, 'We heard you guys were shredding ballots.' Well of course not. But they don't believe us because we're the bad guys."
As it happens, Cobb elections was doing a little shredding at its operations site at Jim Miller Park. But it wasn't ballots being shredded; it was the blank inner envelop that voters use when they mail in their absentee ballots.
"So what they saw and what I saw on Twitter, which is what they were posting on Twitter was the white inner envelope that has nothing on it," Eveler said.
The ballot itself and the signed envelope are saved and placed under seal by the clerk of the Superior Court.
"The white inner envelope doesn't have anything to do with evidence. It's just for the privacy sleeve. So after the election is certified then we go ahead and get rid of those," Eveler said.
Cobb elections contracts with a shredding company to dispose of its trash. 
"They come out every month or every six weeks, and everything just gets shredded. Well, it was bad timing I guess because they came out right after all of this and tensions are high," Eveler said.
She's got that right. Tension is high. 
---
'LOOKS LIKE COBB COUNTY': Charlie Beckett pulled into the long line of cars that snaked through the parking lot of Turner Chapel AME and backed out onto North Marietta Parkway.
Beckett, who owns several businesses in Marietta, was in line Wednesday to get a yard sign from Democrat Jon Ossoff, the man hoping to unseat U.S. Sen. David Perdue, R-Georgia. Beckett said he's voting for Ossoff in the Senate runoff "To help straighten the mess out in D.C. David Perdue has done nothing for the people of Georgia in the last six years. Period. I think we need change. Trump talks about draining the swamp? We need to clean the place up."
Ossoff handed out his own yard signs and signs touting the Rev. Raphael Warnock, the Democrat challenging U.S. Sen. Kelly Loeffler, R-Georgia. Should both Democrats succeed in the election, they will flip the U.S. Senate blue. 
Ossoff greeted supporters, taking selfies and bumping elbows as he loaded up car after car. Cobb Democratic Party Chair Jacquelyn Bettadapur estimated 1,000 people turned out. Among them was state Rep. Erick Allen, D-Smyrna, fresh off his own election victory. Allen smoked his Republican challenger, taking 20,716 votes, or 58 percent of the vote, to Taryn Bowman's 14,773.
"I think Cobb County is not just blue electorally with the last election. I think there's been a shift and people are encouraged by the message and the optimism that Jon brings to the ballot in this runoff, so I think what you're seeing now is Cobb County, Marietta speaking just as loudly as they did in Nov. 3," Allen said of the turnout. 
Allen called it a festive affair with excited people and beautiful weather.
"And the good thing about it is, as you look at the cars that are driving through, this looks like Cobb County. It looks like Marietta. It's all ages, all races, genders. I think this is not only an event for the campaign, but it's also a celebration of just the beauty of Cobb County and Marietta."
With state Rep. David Wilkerson, D-Powder Springs, announcing he would follow tradition in stepping down as chair of the 21-member Cobb Legislative Delegation in January after a two-year term, Allen said he was throwing his hat in the ring to succeed him.
"Rep. Wilkerson is the whip of the minority caucus. It leaves an opening, and I've talked to some of the caucus members, and I'm looking forward to putting myself forward to be chair of the delegation for the next two years," Allen said.
One of the things he'd like to see on his watch is more communication between the delegation's 11 Democrats and 10 Republicans.
"But also considering we have for all practical purposes a brand new county government, I think it's going to be very important to make sure that we're working very closely together, so we get into a groove in the next two years," he said. "So looking forward to working with the new chairman, the new commissioners, new sheriff, new DA, as I said, we've got a lot of turnover at the county government. I think it would be good to have some relationships there that we can foster."
---
RECOGNITION: American Jewish Committee Atlanta honored former U.S. Sen. Johnny Isakson with the 2020 National Human Relations Award at a virtual event Wednesday.
The award is presented each year to a civic or business leader whose work within the community represents the mission and values of the committee. 
"We are delighted to honor Sen. Isakson as the 2020 recipient of the National Human Relations Award," said Dov Wilker, the committee's regional director. "His distinguished record in Congress is notable today for his bipartisan leadership and building bridges across differences, qualities that exemplify what this award represents."
Event Chairs Frank Blake and Doug Hertz, and Tribute Chairs Gov. Roy Barnes, Sen. Saxby Chambliss, Gov. Nathan Deal, and Ambassador Andrew Young gave tributes to Isakson during the program. Carol Tomé, CEO of UPS and the 2019 NHRA honoree, presented the award. 
"I am honored to have worked for decades with the Jewish community and so many good friends to help bring together Atlanta's and America's diverse religious and ethnic communities and to help build bridges of understanding and promote democratic values," Isakson remarked.
---
TRANSITIONS: This week Jim Galloway, dean of political journalism in Georgia, announced he'd be retiring on January 15. 
Galloway has worked for the AJC since 1979 and his Political Insider blog is not to be missed. 
"It's been an honor to have had such an important front-row seat, to bear witness to all the change that has come to Georgia, the rest of the South, and the farthest corners of this nation over the last five decades," Galloway said in a virtual broadcast with fellow AJC writers.
He thanked his wife, his colleagues and his readers.
"The last 20 years or so have been difficult for the newspaper industry. And I'm fortunate that the Journal Constitution has been such a stable harbor for journalism. To be able to retire on my own say-so, my own schedule, this is not an opportunity that many journalists get to have anymore, and I'm grateful to editors like Kevin (Riley), who have kept the ship so steady that I can simply stroll down the gangplank."
Riley said he tried to talk Galloway out of the decision and that he would be greatly missed.
Tweeting out the news, former Attorney General Sam Olens wrote Galloway "is one of the classiest and honest reporters you will ever meet. It is an honor to know him."
Around Town wishes Mr. Galloway a happy and well-deserved retirement. 
---
SPEAKING OF RETIREMENTS: Commissioner Joann Birrell sent over the following photo featuring a cutout of retiring Commissioner Bob Ott perched in his office chair. 
"Commissioner Ott is so dedicated that he will be in his office 24/7 until December 31st!" wrote Birrell. 
Fun stuff, but it is true that Ott is one of the most accessible elected officials in Cobb County. His successor, Jerica Richardson, would be wise to follow his example.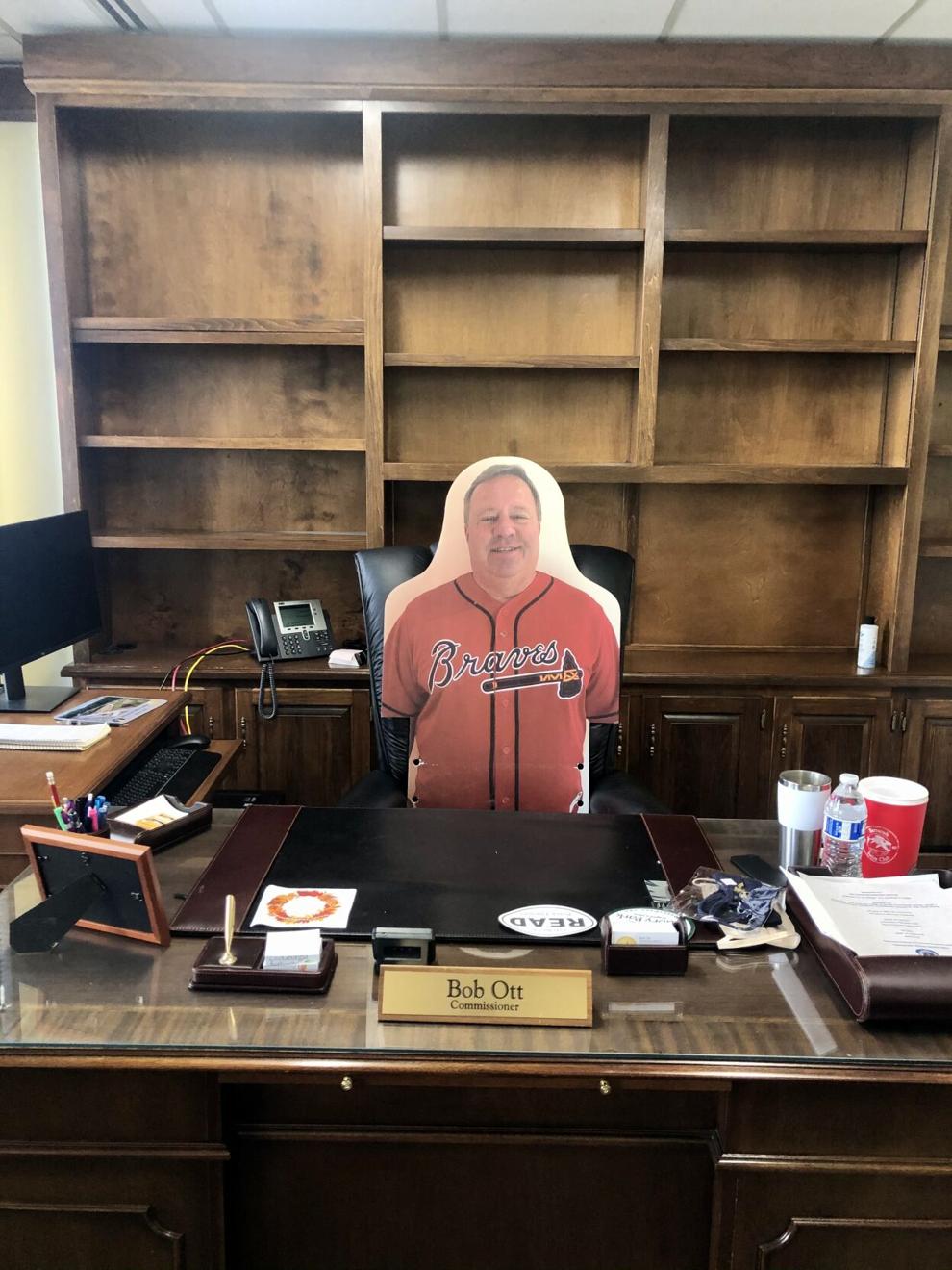 ---