MARIETTA — Drivers along the I-575 corridor near its southern endpoint may have noticed lately a large zoning notice posted along the side of the interstate.
The sign advertises a rezoning for a significant new apartment complex of 240 units wedged between I-575 and I-75, which advanced with an unanimous vote of approval from the Cobb County Planning Commission this week.
The project would go in on a roughly 20-acre parcel between the two interstates. The wooded lot is tucked behind the Home Depot off Barrett Parkway, and less than a mile from Town Center mall. Documents submitted to Cobb County indicate the developer, Quintus Corporation, aims to build apartments of one and two bedrooms.
Hemmed in as it is by the interstates, access to the site for the hundreds of potential residents was a concern for Quintus. Attorney Garvis Sams and Cobb DOT engineer Amy Diaz told the Planning Commission that issue will be addressed from two angles under a preexisting county road improvement project.
First, Roberts Court — the road accessing Home Depot — will be extended down to the complex, where it will terminate in a roundabout. A bridge will then cross I-75, connecting to Greers Chapel and Shiloh Valley Drives. The connection is part of the broader ongoing South Barrett Reliever project.
"It's proposed to basically do exactly what it says, relieve Barrett Parkway, so it gives them a parallel roadway that (drivers) can use to make that connection," Diaz said.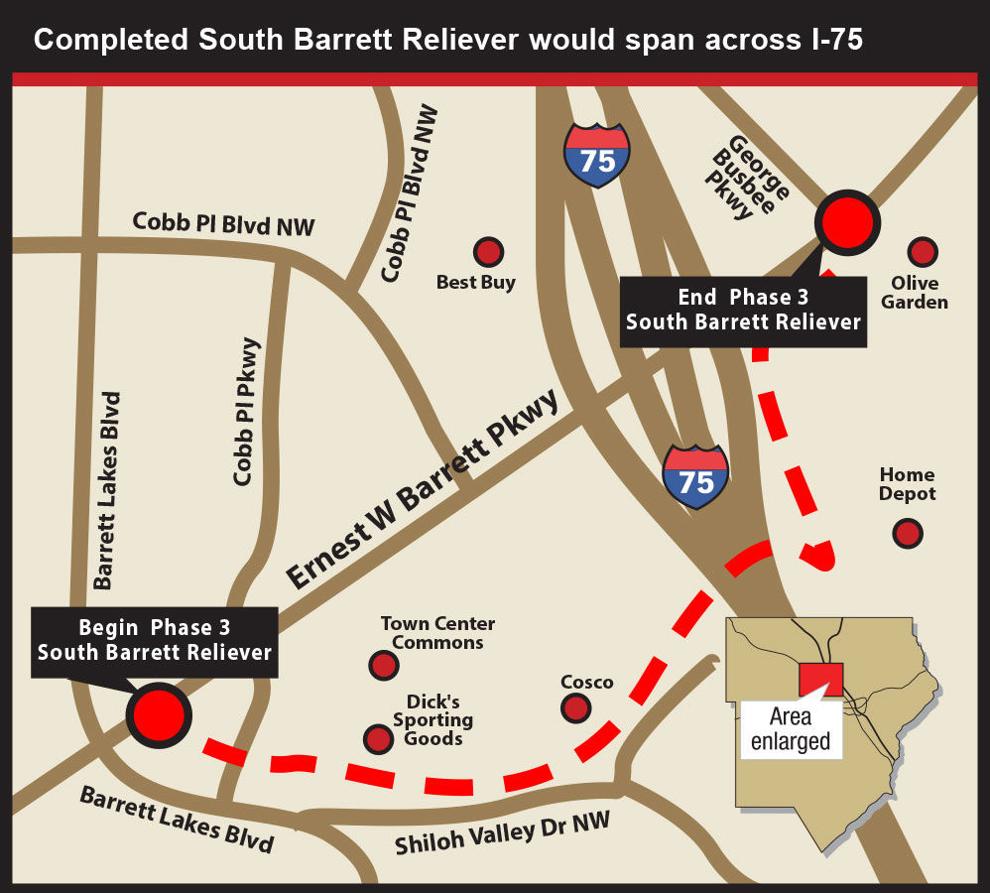 Sams also said with a different parcel, an even larger complex could have been planned with upwards of 280 units. But Quintus was limited by building on a lot which largely sits atop solid bedrock.
"They would have been unrealistic, in that they would have been either too expensive or developmentally problematic because of the subsurface conditions there," Sams said of building a bigger development.
"So this is doing as much as we can on the rock that we've got," he added, joking, I'll write that down."
The project was not without opposition, first from the Bells Ferry Civic Association. Joanne Trivett flagged the apartments' traffic impact, the potential road noise for residents, and what she said was an insufficient buffer between the property and a neighboring townhome complex.
"Living between two major highways is not an ideal situation. The highway noise, along with noise overhead from planes due to being in the traffic patterns zone (of the Cobb International Airport) will far exceed the federal noise abatement criteria," Trivett said.
Sams, however, said Quintus had already addressed that point by incorporating elements including double-paned windows and sound-dampening exterior walls.
Trivett also brought up the complex's potential impact on crowded local schools, a point likewise raised by Travis McComb, an emissary for the Cobb County School District. McComb said approving the development would be a cause of concern for the district by potentially enrolling more students in Bells Ferry Elementary, Daniels Middle, and Sprayberry High School.
Commission Chair Fred Beloin, noting the complex lacked any units larger than two bedrooms, asked McComb whether the "transience" associated with apartments would have any impact on education.
"We haven't taken that into consideration," McComb replied, adding that the district projected the complex would add around 12 students to Bells Ferry Elementary.
Planning Commissioner Deborah Dance, giving a number of directions to Sams and Quintus to be addressed before the Sept. 21 Board of Commissioners' zoning hearing, moved to recommend approval of the project. Her motion carried 5-0.