Three products from south Fulton that have made it to the final round of UGA's 2019 Flavor of Georgia contest.
The south Fulton products represented in the annual contest this year include Hibiscus Kombucha by FreshKiss Tea in Fairburn, Phenomenal Cosmic Strawberry Jam by Fairywood Thicket Farm in Fairburn and Black Cherry Pecan Jam by Savy Confections in Fairburn. These products passed the first round of judging and were selected from a field of 138 products in 11 categories.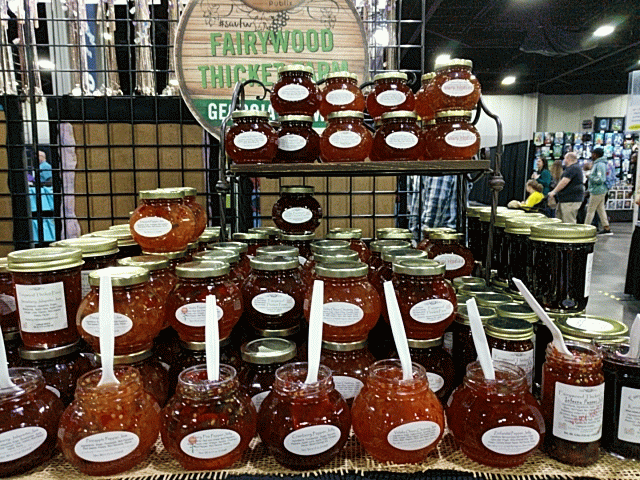 For Kimberly Conner, owner of Fairywood Thicket Farm in Fairburn, this year's Flavor or Georgia contest is special for two reasons; first, her Phenomenal Cosmic Strawberry Jam is debuting in the contest and se-cond, her daughter, Savannah Conner, also earned a spot in the final round of judging with her own product.
"Phenomenal Cosmic Strawberry Jam is a creation blending our al-ready Award Winning 2015 Flavors of Georgia Strawberry Lavender Jam with pure CBD Isolates and Organic Hemp Flowers. It is cutting-edge and an exciting product that has been opened up by the 2018 Farm Bill," said Conner.
The jam was inspired by the benefits that CBD has provided for participants in the farm's Therapeutic Equestrian Program, she said.
Savannah Conner, 16, will be competing against her mother in the jams and jellies category of the competition with her own Black Cherry Pecan Jam crafted under her own brand, Savy Confections.
"Savannah has entered her incredible first official jam creation in Fla-vors of Georgia as well and is the youngest business owner and finalist in the history of the contest," said Conner. "I am so proud that my daughter has picked up the mantle and has had this kind of success with her very first creation."
All finalists will bring their products to Atlanta for the final round of judging, which will be held in conjunction with the Georgia Department of Agriculture's Agriculture Awareness Week celebration March 18-22. Georgia Commissioner of Agriculture Gary Black has designated March 19 as Flavor of Georgia Day.
"Once again the level of innovation and talent in represented our con-test has left amazed and excited for things to come," said Sharon P. Kane, contest coordinator and economist with the UGA College of Agricultural and Environmental Sciences' (CAES) Center for Agribusiness and Economic Development.
"Georgia is home to some of the most creative minds in the food busi-ness, and the Flavor of Georgia contest is our yearly reminder of lucky we are to live in a state that values entrepreneurship and good food."
A food business development specialist, Kane and her center colleagues have organized the annual contest since 2007.
Judges for the final round of the contest will include food brokers, gro-cery buyers and other food industry experts. They evaluate entries by category based on their Georgia theme, commercial appeal, taste, innovation and market potential. Contestants will provide samples to judges and pitch their products in a "Shark Tank"-style presentation. Finalists will be named in each category, and a grand prize winner and People's Choice Award winner will be named.