A woman making history got a send-off celebration and support from the city of Stockbridge.
First Lt. Andrea Lewis, from Stone Mountain, is the first African American female pilot in in the history of the Georgia Air National Guard. She joined family and friends at Stockbridge city hall recently for the celebration before her deployment. Lewis' twin sister, Victoria Pierrie, is a kindergarten teacher at Stockbridge Elementary School and organized an event celebrating her sister's accomplishments at the school earlier in February. Lewis came by to meet and greet students, share her story and pose for pictures.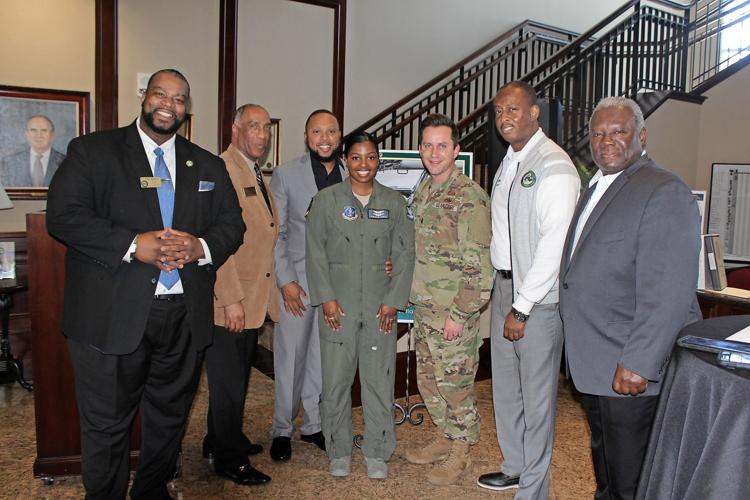 "Through my travels, I get to give back and help young people achieve their dreams," said Lewis. "The sky is the limit."
The event at city hall was hosted by the Stockbridge Main Street Program. An ice cream reception followed the brief program that included comments by the Stockbridge Mayor and Council. "We are proud of Lt. Lewis' achievement," said Stockbridge Main Street Manager Kira Harris-Braggs. "Stockbridge is where community connects and her connection to our city is strong."
Lewis started her sky high journey as a flight attendant for Delta Air Lines before becoming a pilot.
At the assembly at Stockbridge Elementary School, Lewis said she was proud to be deployed and is excited for the opportunity to help keep the United States safe.
"I didn't set out to be a history maker," Lewis said at Stockbridge City Hall. "I'm inspired to give back and talk to students about going for their goals and dreams. They can go out and think outside of the box and do the unimaginable, too."