Traffic relief and increased safety are coming to state roads in Union City, traveled on by commuters throughout south Fulton.
But it will be years before some of the envisioned improvements begin operations and drivers no longer experience delays navigating past striped safety barrels and road crews.
The Georgia Department of Transportation recently updated residents about projects under way and proposed within city limits.
The biggest of the city's seven active projects not yet under construction is a $47 million diverging diamond interchange set for I-85 and Highway 138, aka Jonesboro Road, adding to GDOT's six existing DDIs and following a seventh at Camp Creek Parkway.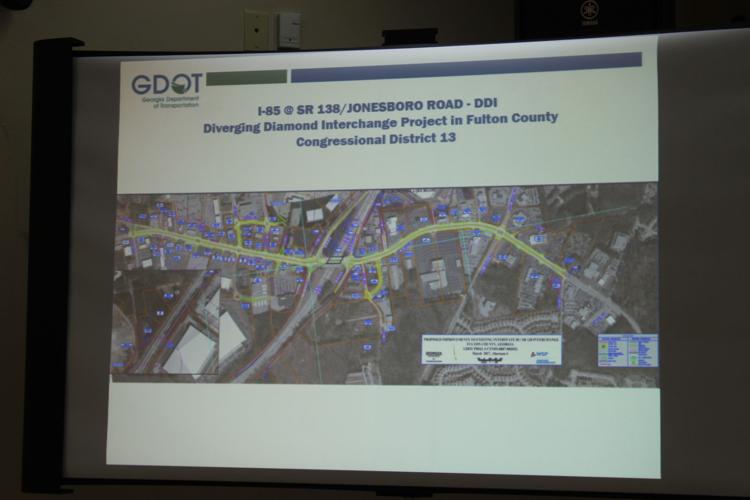 "That's where traffic actually crosses over at a light, gets to the left side and then can make a left to go onto the interstate. It facilitates traffic flow a lot better than your traditional urban diamond that's currently right there right now," Albert Shelby, GDOT director of program delivery, said at a Nov. 15 town hall meeting at the Etris Community Center. "That particular project will move both through-traffic and the turn movements a lot better."
Construction is set to begin in 2024, six years from now.
"There's a lot design work we have to do on this project. As you can see, it's not only right at the interchange but we have a lot of work to do on the approaches to make those function better," Shelby said. "It's a pretty large project. It's going to take us a little while to design it, but it is on the horizon."
Shelby said a DDI usually takes between 18 and 24 months to construct.
A bridge replacement is also in the design phase on State Route 14, aka Roosevelt Highway, over the CSX railroad tracks between Welcome All Road and Yankee Drive.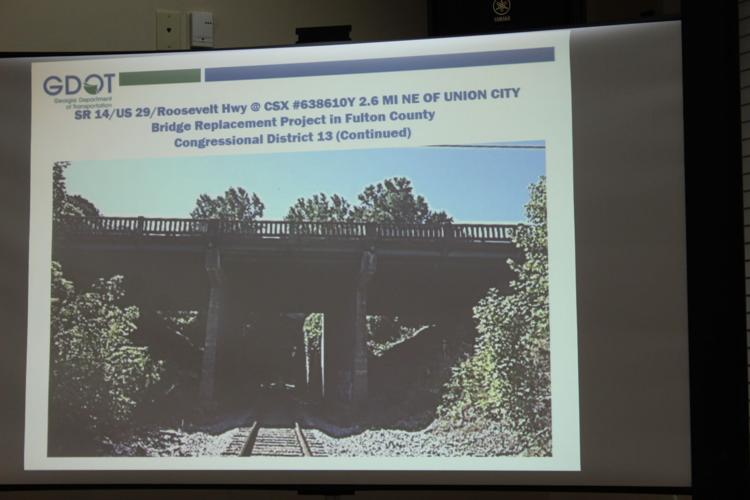 The original bridge is from 1938, Shelby said, displaying a photo of it in an illustrated presentation.
Its $3 million replacement is set to begin construction in 2022.
Shelby said its completion date depends on factors like having to detour traffic.
"It really, really, truly is project-by-project," he said.
Faster paces will occur in "under construction" projects, all with 2019 finish times.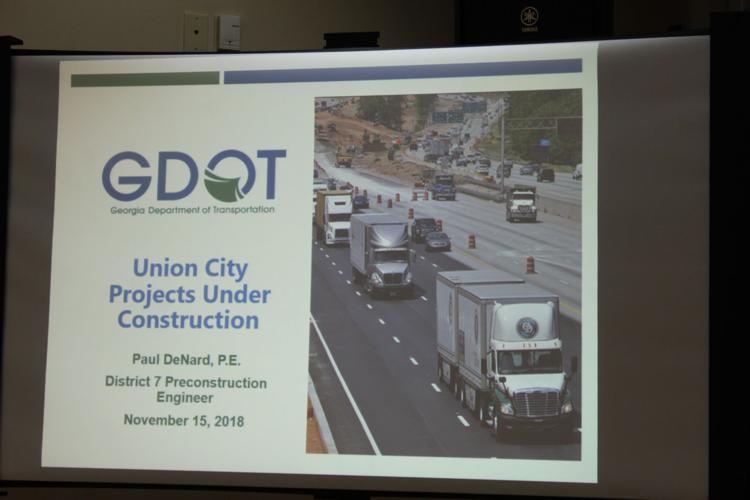 Metro Atlanta District Engineer Kathy Zahul informed attendees about projects under construction and slated for completion or continuation in March and June.
They include pedestrian upgrades at and near the junction of Roosevelt Highway and Jonesboro Road's western edge, Beverly Engram Parkway.
The $1 million project includes replacing sidewalks, improving handicap accessibility, installing better drainage to reduce the risk of bystander splashing from car wheels driving through puddles, Zahul said, as well as providing better visibility for drivers to see pedestrians.
Traffic signal upgrades are in the works at a cost of $2.4 million at four locations on SR 6, aka Camp Creek Parkway, three locations on SR 14 Alternate, aka South Fulton Parkway, and one location on Flat Shoals Road, according to a map in the presentation.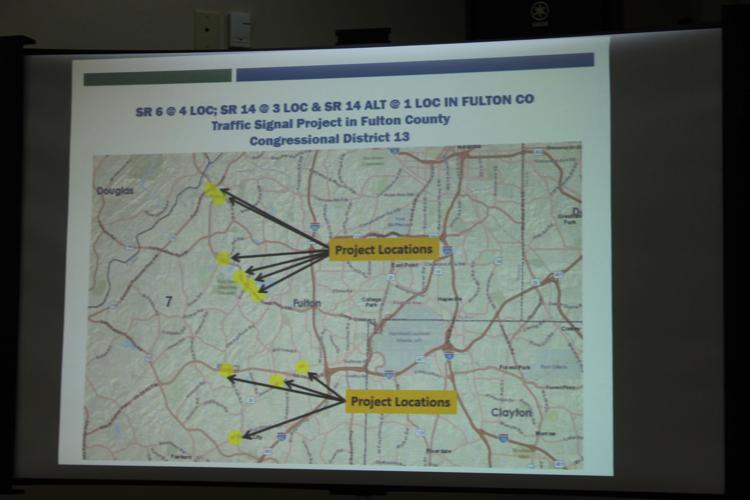 An intersection improvement project is under way on SR 92, aka Campbellton Fairburn Road, and South Fulton Parkway at a cost of about $1.3 million.
Zahul said its completion is highly anticipated.
"I know a lot of you have been eagerly awaiting this project," she said to the meeting's about 50 audience members, as well as Mayor Vince Williams, city council members and city department heads and staff. "It proposes to install a 300-foot right turn lane as well as a second left turn lane. The project will increase the capacity of the intersection during the heaviest peak periods and improve the operations there."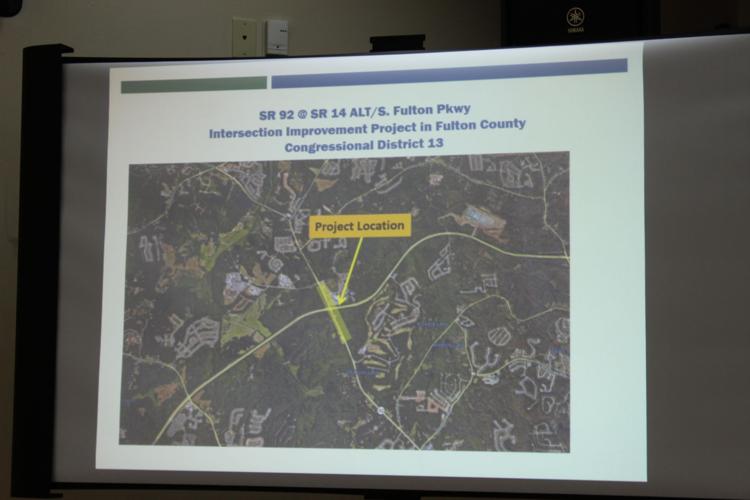 Construction delays due to utility relocation are being resolved, Zahul said.
Questions and comments raised by attendees included concerns about industrial development impacts like Coca-Cola Bottling Co. United's upcoming 500,000-square-foot sales and distribution facility set to open in fall 2019.
Attendee Lamecia Eaddy said local street Mason Road near the Majestic Airport Center industrial campus is experiencing more truck traffic, making northbound left turns onto South Fulton Parkway more difficult and potentially dangerous, calling it "a death trap."
GDOT District 7 Area Engineer Lankston Johnson said the department takes into mind the concerns she expressed and is working with neighboring city of South Fulton, which shares Mason Road.
"Even when we put in those calming measures," he said about turn lanes and other enhancements, "we still want to make sure that we maintain safety."
Attendee Kathy Butler said a turning signal is needed at 138 and Fulton County's Buffington Road near the campus of nonprofit Christian City and that several accidents have occurred at the intersection.
Department Preconstruction Engineer Paul DeNard said GDOT typically performs a traffic study to determine the number of left-turn travelers, which Butler said was already done.
Zahul said a left-turn arrow, called "split-phasing," can cause delays but also increase safety and that the department will look into it.
Eaddy said Camp Creek Parkway visibility has improved from added reflectors and new striping and that South Fulton Parkway can benefit from the same.
Zahul said those improvements are in the plan.
Williams called the GDOT staff "an array of talent" with "a wealth of knowledge but also insight" to bring attendees up to date.
GDOT District 13 board member Dana Lemon asked attendees to stay involved as their state tax dollars become brick-and-mortar reality.
"It's your money that we're using to make these improvements," she said. "That's why this communication and this discussion is helpful. It's not going to stop with just this one meeting. We'll be back."
Lemon emphasized the role of collaboration.
"Some things we cannot impact but there are some things we can do and when we can, make us aware. We'll do what we can," she said.
For more information or to report concerns, contact Johnson at 706-741-3541 or lajohnson@dot.ga.gov and Lemon at dalemon@dot.ga.gov.