After years of planning, traffic relief is coming to the I-285 at Camp Creek Parkway intersection at record speed, a Georgia Department of Transportation board member said recently.
"The exciting thing about this project, folks, is it is anticipated to be completed in late 2019," GDOT District 13 board member Dana Lemon said about a $12.3 million diverging diamond interchange. "That is unheard-of in the Georgia DOT world."
Lemon spoke Aug. 23 at the Aerotropolis Atlanta Community Improvement Districts headquarters, where state and local officials attended a ceremonial groundbreaking for the project to be installed three-quarters of a mile away.
She said it will also bring prosperity to the gateway to Hartsfield-Jackson Atlanta International Airport and the Camp Creek Marketplace.
"We're going to see a stimulation of economic development within this area," Lemon said.
Safety, the department's priority, will also improve, she said, as a result of the south metro area's first DDI, one of seven in Georgia and about 100 in the U.S.
"Studies have shown that DDIs can reduce injury and fatal crashes by 62 percent," Lemon said. "We have several DDIs throughout our region and we're seeing significant reductions in crashes on every single one of them."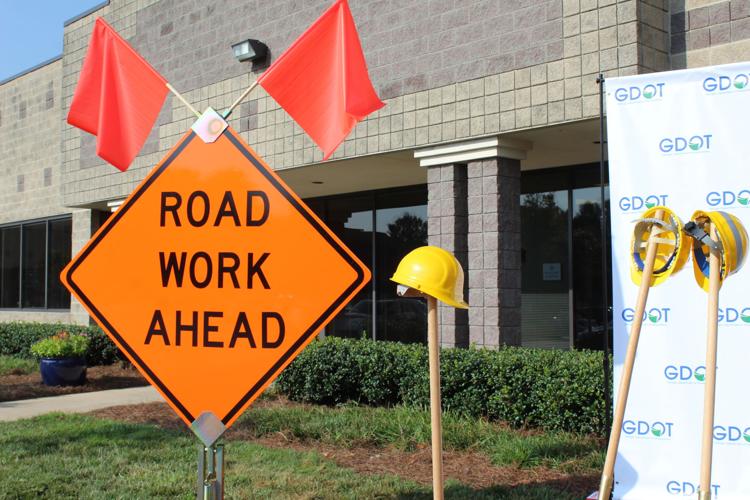 Fellow board member Stacey Key of District 5 agreed, calling the diverging diamond "the stepping stone to improving the traffic flow and the safety" of the congested area.
"An evaluation of the Springfield (Missouri) DDI, the first DDI in the country, compared crashes from the 5-year period before its construction to the first year of operation," she said about a 2009 debut. "Left-hand crashes were totally eliminated. Right-angle crashes were reduced by 72 percent. Rear-end crashes were reduced 29 percent."
To arrive at similar results, Key said, will require drivers' patience while orange and white barrels mark the construction area.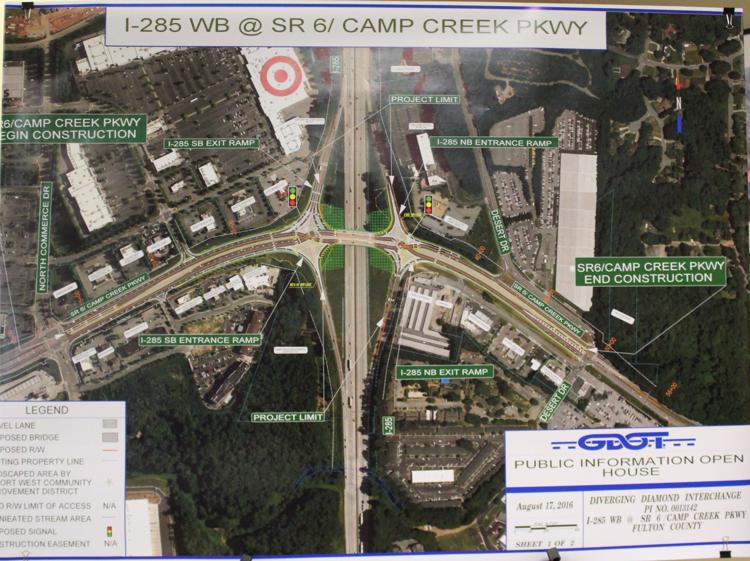 "Remember what the end goal is," she said.
Natalie Tyler Martin of Duke Realty Corp., the board chair of the Fulton County portion of the CIDs, echoed Key's remarks.
"Nothing of true value comes without a few disruptions," she said. "We're going to feel a little pain for a little while but it will be worth it in the end. Our team is working diligently to minimize the impact. But it will be critical that we all slow down, use extreme care and caution, pay close attention to signs and the vehicles that are next to us and, most importantly, have an extra dose of patience and allow a little additional time as we travel about."
East Point Mayor Deana Holiday Ingraham said it will be a good opportunity to find other pathways around the south metro area's largest shopping center, which lies in the city's Ward D.
"With every improvement we expect some growing pains," she said. "We can hopefully alleviate that by making people aware of some alternate routes and explore some parts of East Point that you may not have explored before or visited before."
Available roads running parallel to the construction include Centre Parkway, North Commerce Drive, Redwine Road, Princeton Lakes Parkway and Washington Road.
"Planning and locating these alternative routes now and using them during the DDI buildout will help minimize drivers' delays," Holiday Ingraham said.
The site also lies in Fulton County Commissioner Marvin Arrington Jr.'s District 5, for which Community Engagement Representative Channing Parham spoke at the groundbreaking.
She painted a verbal picture of more than $1.5 million in enhancements that contractor Construction Management Engineering Services will install.
"The finished product will include landscaping and signage, installation of signature plantings, and, with place-marking monuments, establish a visually attractive gateway, appearance and true sense of place," Parham said. "Enhancing roadway and pedestrian lights, distinctive crosswalks and attractive fencing will improve safety and access."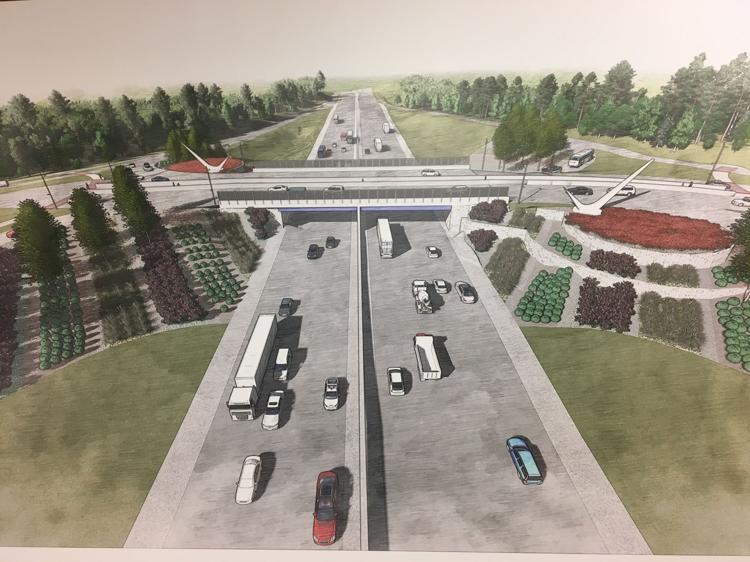 She said return on investment for highway beautification is three to one in economic impact, with 13.2 jobs created for every $1 million invested.
Other attendees included East Point Ward D City Councilman Joshua B. Butler IV, South Fulton Mayor William "Bill" Edwards, District 35 State Sen. Donzella James, D-Atlanta, District 64 State Rep. Derrick Jackson, D-Tyrone, and CIDs Executive Director Gerald McDowell.
According to Lemon, the DDI will use the existing bridge structure from 1966 and widen it by seven feet.
It will have six lanes and a barrier-separated pedestrian walkway.
Information: project, https://bit.ly/2w9OHfq, DDIs, https://bit.ly/2P2wtUd