Executives in Fairburn seeking fine dining options in which to advance or conclude deals may one day travel no further than Broad Street to find world-class cuisine and service.
That is the vision of economic development pundits who are doubling down in their efforts to showcase the city "situated to succeed," said city Economic Development Director Ernest Gilchrist.
He mapped out a four-point plan to position Fairburn as a prime location for upscale businesses, revealing his plans at the city's inaugural business breakfast April 24 at Georgia Military College.
"Revitalization of the historic downtown is a big part of my priority," Gilchrist said, including reinvigorating Hudson Plaza, a downtown shopping center anchored by a CVS pharmacy.
He said he plans hosting more outreach events with city businesses.
"We also engage the businesses that are in this community with the economic development entities in the region as well as the state of Georgia and we connect you with brokers and developers and investors, as well," Gilchrist said.
About 25 attendees included employees from plumbing manufacturer Toto, tools and safety product maker Estex Manufacturing, Bojangles restaurant, manufacturer Material in Motion, after-school program Mental Fitness 21st Century Learning, insulation provider Owens Corning, distributor US Foods and fuel company Green Oil Co., as well as a Landmark Christian School board member.
City representatives included Mayor Elizabeth Carr-Hurst, City Manager Donna Gayden and city council members Alex Heath, Pat Pallend and Hattie Portis-Jones.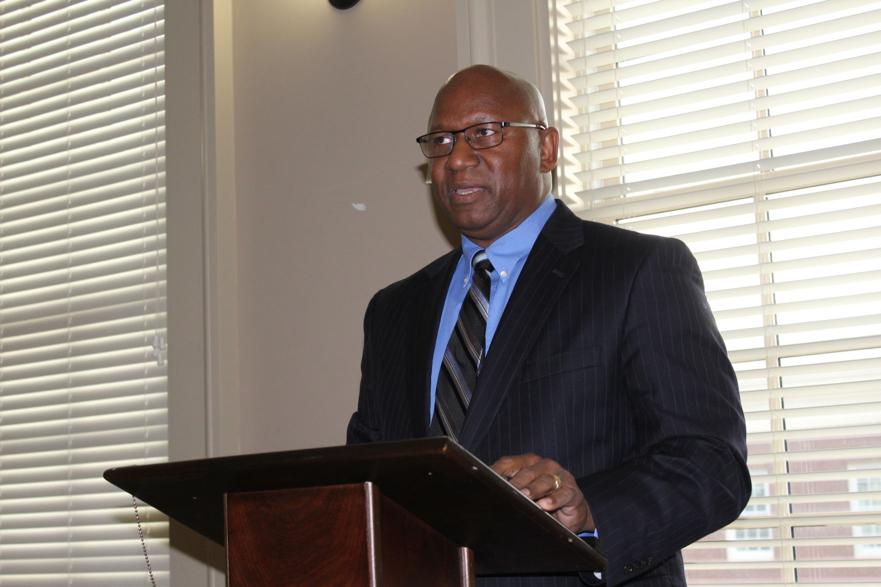 Gilchrist also announced the revamping of the city's downtown development authority, which Carr-Hurst said had been dormant for two years.
"We had stopped. We had just stopped trying to get businesses downtown and we have to start that process over again. We're kind of behind the 8-ball in the collaboration effort," she said.
Carr-Hurst said the authority, chaired by East Point Economic Development Specialist Rhonda Appleby, has a wide range of powers.
"They can secure bonds. They can buy property and they can help us revitalize our downtown," she said.
Another asset may be transportation trends, which are encouraging developers to think of the south side.
"The reason they don't want to go north is because of the traffic," Carr-Hurst said.
More results may come from networking at the International Council of Shopping Centers' Global Retail Real Estate Convention from May 20 to 23.
The economic development team will bring comprehensive information stored on business card thumb drives in hopes of a sure thing.
"We're headed to Las Vegas—not to gamble," Carr-Hurst said. "You find these businesses from all over the United States coming in to that conference and they're trying to pitch their businesses to come to your city. We want them to come to Fairburn."
The outreach has worked both ways, Carr-Hurst said.
"We've been courted, also, by businesses," she said.
The breakfast, catered by Casablanca Café, was based on Meet the City Administrator events from her previous post in the Chicago area, Gayden said.
According to the city's website, Fairburn is home to several national companies including Nestle-Purina, S.C. Johnson, Clorox, Electrolux, Aaron Rents, Smuckers and Google.