Stockbridge Tigers recently pounced on the opportunity to deploy their business and technology skills in helping Hurricane Harvey victims salvage essential government documents.
Shortly after New Year's Day and before coming back from winter break, 19 students from the Future Business Leaders of America club and Inter-Club Council headed to Houston, Texas, for a community service project.
"They had gone to help senior citizens garner information they had lost, like their birth certificates, driver's licenses, passports and Social Security cards," said Henry County Board of Education member Donna McBride, Ph.D., one of their eight chaperones.
According to its website, the city is still recovering from the storm that hit landfall Aug. 25 and damaged more than 300,000 of its homes.
The Federal Emergency Management Agency said in a statement nearly five feet of rain impelled by 130 mph winds caused "widespread, catastrophic flooding."

Business teacher and FBLA advisor Joyce Elliott Atkinson, Ed.D., said the natural disaster occurred less than a month after coming back to school, prompting her students to hunt for a way to help.
They sunk their claws into a specific part of the big picture – assisting residents with online applications after FEMA disaster recovery teams left.
"We were able to go in there and help people to recover their documents," Atkinson said at the project's presentation Jan. 29.
With 40 laptops on loan from Henry County Schools, enabled by assistant superintendents Aaryn Schmuhl and Brian Blanton, Ph.D., and 16 free tickets donated by Southwest Airlines, the students were on their way.
Atkinson said they served "a lot" of senior citizens and may help more in the future via videoconferencing on Skype.
Club members, who sported orange and white T-shirts they printed themselves, also left a legacy to their hosts at Francis Scott Key Middle School.
From left, Future Business Leaders of America video producer Edwin 'Alex' Garcia, 16, and project lead co-chair Jaidi DuBose, 17, display a pr…
"We set up an FBLA chapter there," Atkinson said. "We're working with them now to teach them how to be entrepreneurs and to have a T-shirt business."
Club member Brice Ramsey came up with that concept, she said.
He and other club members received personalized proclamations from District B City Councilman Jerry V. Davis, pointing toward more accomplishment.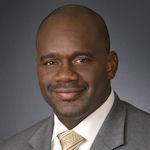 "Your efforts will inspire and empower future leaders to continue making our community a better place," Kamani Rodgers-Henry read from Davis' text, which also recognized students for "dedicated civic and social service and inspiring a spirit of collaboration."
The school received its own proclamation, declaring Jan. 8 a day in the school's honor.
"The students of Stockbridge High School felt a call to aid the northeast Houston community following Harvey's devastating aftermath," Atkinson read from Davis' text. "Stockbridge High School, a Title 1 school, saw the need in a community that suffered from even higher levels of economic disadvantage."
Club member Cydne Walker, in a speech bound for state and national FBLA competition, said their work made an impact on the poorest and most underserved of the nation's third-largest city's 11 districts.
"I felt like a useful, patriotic citizen grateful for the impact of our club in a community so far from home," she said.
Their activities included a digital literacy fair and teaching the middle schoolers how to write computer code.
Club member Antuann Martin told listeners the experience opened his eyes.
"Through all that, those people were still smiling," he said.
From left, Stockbridge High School students Amanda Candies, Gabrielle Waltower, Jasen Magee and Brice Ramsey listen as Kamani Rodgers-Henry re…
School board member and chaperone Annette Edwards said she would follow the club members anywhere.
"They represented Henry County very well," she said.
Speakers also saluted the leadership of school Principal Eric Watson, who in turn said the students "did a fantastic job" and called the project "a life-changing experience" for participants.
McBride said the project exemplified the district's personalized learning concept, which the school began in 2016, and taught a lesson that went beyond classroom walls.
"When you give, you get back," she said. "You can't put a price tag on the help you give others."
Prices of the students' expenses fell or disappeared; according to Atkinson, their money was no good at local restaurants, which served them free meals upon hearing of their mission, and a garage that treated them to $300 in parking fees.