On the first day of spring, south Fulton teens sprang forward in their art studies with a morning visit to Midtown.
Dozens of students from Banneker, Creekside, Langston Hughes and Tri-Cities high schools beat the clock—and each other—in timed competitions at the High Museum of Art.
The second Southside Showdown on March 20 featured hour-long individual and team challenges in categories from Animorphs to Zoomed In drawing.
School spirit and rivalry added to the atmosphere as contestants created in full view of each other.
Mary Breazeale, a Langston Hughes photography and jewelry instructor, coordinated the event, judged by volunteers from Scottdale nonprofit Paint Love.
"It's wonderful," she said about their return. "Everybody here is so helpful. We had some snags this morning because of weather and traffic, but everybody has been really good. Everything's running smoothly, other than the fact we've got to change some things up."
The four individual and four team events became simultaneous, instead of sequential, to keep the schools on schedule.
Planned changes included new trophy categories Rep Your School, Claykenstein, Cardboard Furniture and Exquisite Corpse—a mashup of body part puzzle pieces.
"The team events are just a little bit different. We try to mix it up every year," Breazeale said.
Also new this year is extra encouragement to pursue creative dreams on the next level.
"Young Harris (College) has graciously offered to provide three $3,000 scholarships," Breazeale said.
To choose the scholars, a dedicated judge discreetly observed the top four students from each school, nominated by their teachers and identified by team captain badges.
"They're secretly being monitored," Breazeale said. "They actually don't know what's happening, but they will when the awards end."
Medals, trophies and goodie bags went to the winners; all students received bags with college brochures and souvenirs as well.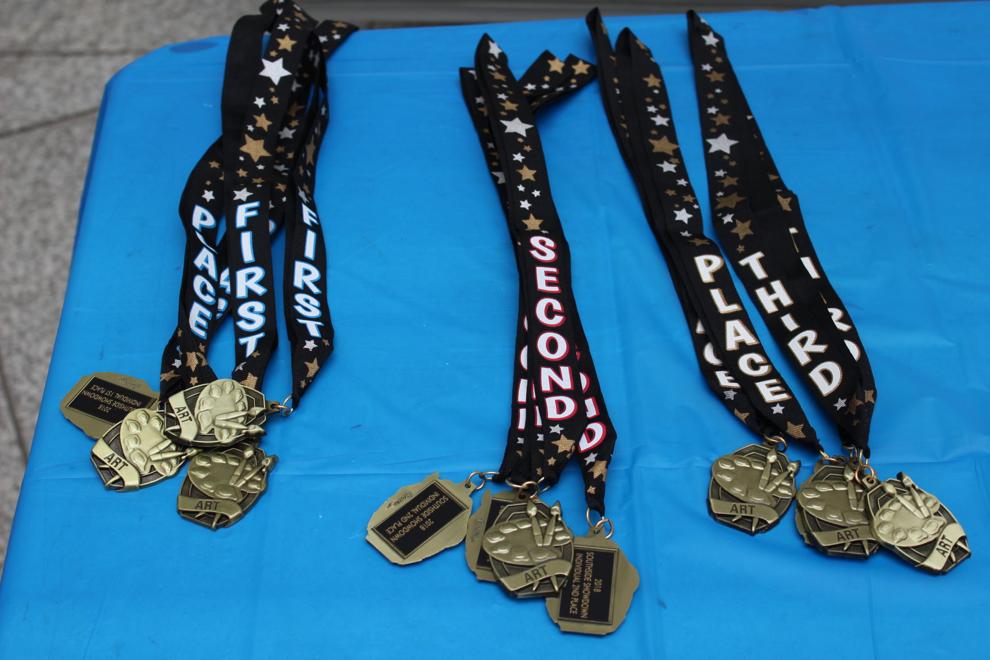 Besides mementos and bragging rights, another takeaway was the memory of exercising creativity in Atlanta's fine arts showcase.
"I love the High Museum. I come here all the time," said Banneker student Aysha Miller, who went on to win a medal. "It's really nice to do an art show here for the first time and experience this. Even though it's a competition, it's still very fun."
Creekside student Taylor Harper agreed, comparing the event to basketball's March Madness.
"Seeing the schools come together and show their talent and how they love art, it's pretty fun," she said.
Both students said they plan to pursue the art of photography.