Following an 0-6 start to the season, Scotty Parker has been fired as the head football coach at North Springs.
Parker, who had been the head coach since 2017, said he was relieved of his head coaching duties after meeting with Principal Scott Hanson Oct. 26. Parker will remain at the school as a PE teacher and will continue to coach the Spartans, but only as their offensive coordinator and quarterbacks coach, two roles he already had in addition to being the head coach.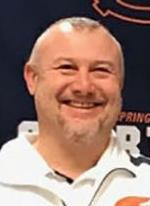 North Springs Athletic Director Vince Strine said he will serve as the interim head coach through the end of the season and coached the team in its 24-16 loss to Chamblee Oct. 30.
Of his firing, Parker said, "Sure, anytime you have put your heart and soul into something it is upsetting to have it taken away, but I always stay true to my faith knowing God has a plan and he will put me where I am needed. My greatest accomplishments, at North Springs, are the relationships I have built with my players. Since coming to North Springs I have had 33 players go on and play at the next level! I will put that against anyone.
"We have had several players go into the military to serve our country, and we have had several players achieve their Eagle Scout badges while on the team. Character and self-improvement are some things we have stressed as coaching staff. I have always tried to make it about my players and put them first and foremost."
Parker has been at the school since 2015, when then-head coach Steve Horton hired him to coach the offensive and defensive lines and revamp and create a new weightlifting program at the school. He was promoted to offensive coordinator in the last two games.
The following year, when Dan Devine was hired to replace Horton, Parker was promoted to assistant head coach/offensive coordinator/strength coordinator/and QB coach. That season, the Spartans went 6-5 and advanced to the state playoffs for the first time since the 1990s. The team's high-powered offense broke several passing records and ranked in the top five in school history for points scored (294).
In 2017, after Devine resigned that spring, Parker was hired as the head coach and led North Springs back to the state playoffs with another 6-5 record. The team scored 350 points, ranking second in school history, and broke all passing records that had been set the previous year, he said.
The following season the Spartans went 3-7 but still scored 284 points despite having several players injured on offense. In the last two seasons, the team continued to struggle to win games.
In 2019 North Springs went 1-9 after starting 15 sophomores out of the 22 starters on offense and defense.
"We were very young, but the future was bright," Parker said, adding the school tied for fourth in Fulton County Schools history with 459 passing yards in one game.
This year, he said, the Spartans were hit hard by the COVID-19 pandemic and other issues, he said.
"We are starting two seniors on both sides the ball and lost several key players to transferring," Parker said. "We are very, very young. (But no excuses; we weren't winning)."
The Spartans haven't won a game since Aug. 30, 2019, when they beat Clarkston 38-0. This year they were outscored 307-37 in Parker's six games as head coach.
He said he plans to coach again in 2021. Strine said North Springs has already started its search for a new head coach.
Coaching turnover has been an issue lately at the school. Parker pointed out that from North Springs' first season in 1964 to 1991, it had only three head football coaches, but from 1991 to today, it's had 14. He added he was part of the coaching staff on two of the five winning seasons the Spartans have had in the past 30 years.
"I love all my players like they are my adopted sons and I want only the best for them," Parker said. "I have always tried to make them look at the bigger picture. One of the things that I have always preached to them was 'DO NOT LET THE SCOREBOARD DEFINE WHO YOU ARE AS AN ATHLETE OR PERSON!' Give your best and always let your character and integrity speak for you. I will definitely miss being the head football coach, but I will always have the bonds I created with my players and that is far worth more than any win, score on the scoreboard or records.
"I knew when I came here it would be a huge uphill battle, but hopefully I helped in getting the program moving up that hill so the next person can keep it going. I would just like to thank all the parents, students, community members, administration, staff and, most of all, my players for the opportunity to be able to serve as your head football coach over the years. You will be greatly missed but never forgotten as I keep fond memories of being a Spartan in my mind and heart, always!"