On Nov. 2, 1938, siblings Inge Marx Robbins and Albert Marx fled their home in Stuttgart, Germany to escape to America with their parents. The Marx were forced to leave behind their parents, Max and Blanka Hartstein.
One week later, Nazi soldiers torched synagogues, vandalized Jewish homes, schools and businesses and slaughtered close to 100 Jews during what is now known as Kristallnacht.
Nearly 83 years later, the Hartsteins' great-grandchild, Alli Allen is one of two metro-Atlanta residents whose family history will be recognized at The United States Holocaust Memorial Museum in Washington, D.C..
Despite the challenges presented by the COVID-19 pandemic, the Museum is in a race against time to collect Holocaust artifacts and oral testimonies. Both Allen and Sandy Springs resident Naomi Liebman tracked their family history to family members who both survived and perished during the Holocaust.
After arriving in America, Allen's grandfather, Hugh Marx, tried desperately to get the Germans to send his family to America. The Hartsteins sent a multitude of letters to Marx — scrawled on onion skin — detailing the horrors of life in Germany.
"They are absolutely heartbreaking to read," Allen said. "You can feel their desperation and terror in every sentence."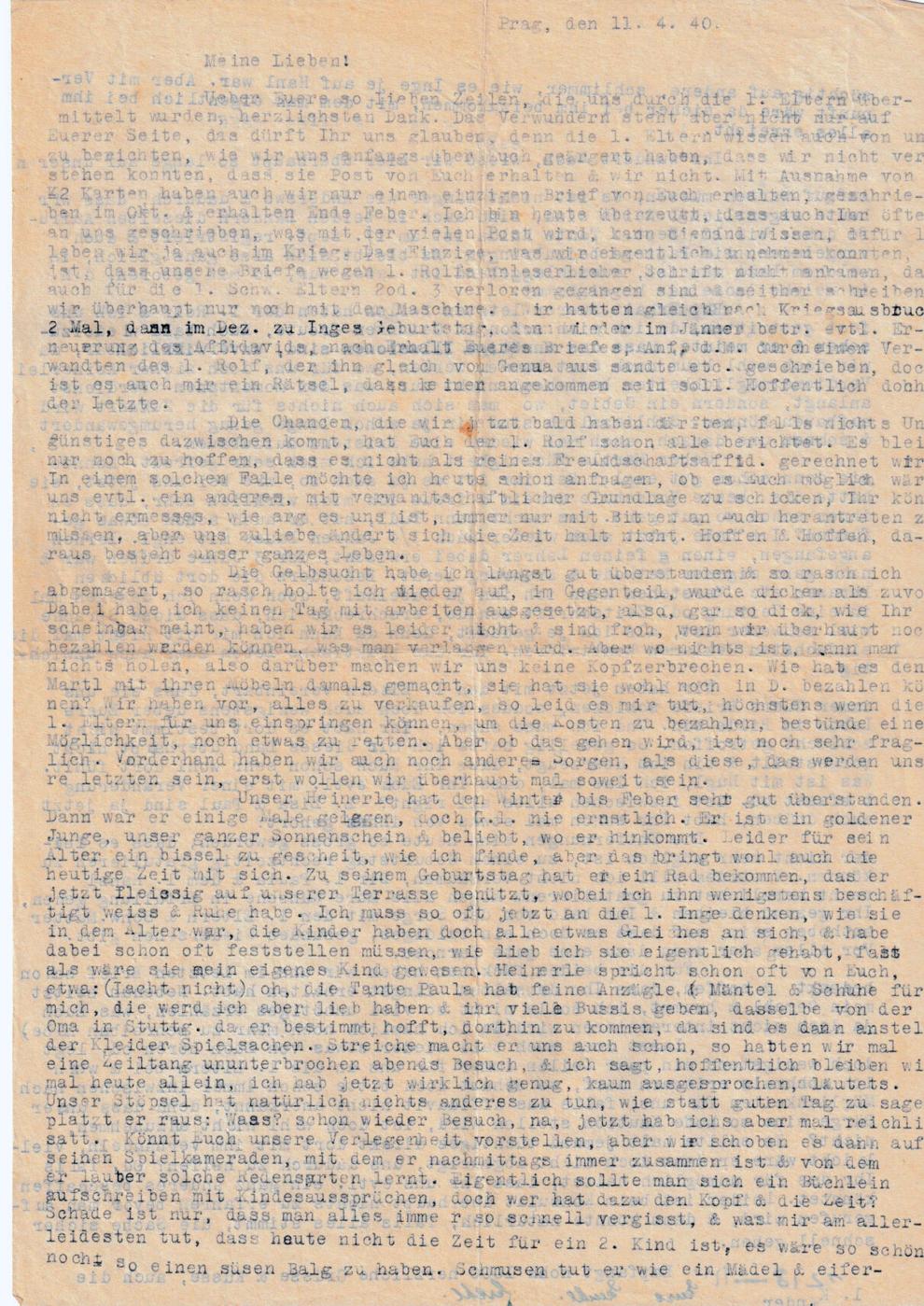 The last letter the Marx family received was sent by the Red Cross from Theresienstadt, the camp where Allen's great-grandparents were held before they were sent to Auschwitz.
"My family's experience before and during the Holocaust is embedded into who I am and how I view the world," Allen said. "It has always been a part of my family's life – the stories, the pictures, the letters, the absence. The more I learned, the more I realized how very fortunate I am to be alive today. If not for my grandfather's foreboding and bravery upon hearing he was going to be arrested without cause, prompting him to risk it all and escape with his small family on a moment's notice, none of us would be alive."
Allen's mother worked to transcribe and digitize the letters into 11 volumes before making the choice to donate the collection to the United States Holocaust Memorial Museum. In 2019, Allen sat down with a historian at the Museum who confirmed the day her great-grandparents were sent to Auschwitz, the train they were on and the dates of their deaths.
Max and Blanka Hartstein were gassed to death in 1944.
"I feel that as a Jewish person, my continued existence is never certain, so I appreciate each day, am extremely grateful for my wonderful family, and have made it my purpose to live a life of meaning," Allen said.
Liebman's parents, Marsha and Rubin Bosniak, both survived the atrocities at Auschwitz. Her father lost his entire family — including his first wife and child — and her mother lost her mother and brother.
Following the liberation of the concentration camps, Marsha and Rubin met in Hajnówka, Poland, while trying to locate family members. Liebman was born in a displaced person's camp after the war. It wasn't until Liebman was an adult that she began to talk with her parents about their experience during the Holocaust.
"At first I didn't want to ask questions about my parents' experiences because I wasn't sure I wanted to hear the answers — I thought it would be too painful," Liebman said. "But now I'm able to realize how important this information is both for my own knowledge and to pass it down to my children and grandchildren."
In January 2021, the Museum conducted personal research for Naomi Liebman. Using the Arolsen Archives, the Museum uncovered 45 wartime and postwar documents on Naomi's parents. With the help of the museum, Liebman was able to find out when her parents actually entered Auschwitz, and was able to see documentation that her father entered Auschwitz with a wife and two children.
The United States Holocaust Memorial Museum in Washington, D.C., will present two live digital programs with Atlanta's Eternal Life Hemshech and The Breman Museum as a way as part of its ongoing efforts to rescue the evidence of the Holocaust.
Allen's story was featured in the May 13 program, "Preserving Holocaust History: Collecting Artifacts and Eyewitness Testimony." The program featured representatives from the Museum's National Institute for Holocaust Documentation, who work with prospective donors of materials, such as photos, letters, diaries, films, testimonies, and other objects that document the Holocaust, enabling the Museum to teach this history with authenticity and relevance to every new generation.
"The evil in the world didn't stop with the Holocaust; it is still here today," Allen said. "While it may not be in our backyard, it is in our world, and that has to be acknowledged and has to be confronted."
On Thursday, May 27, at 12 p.m., Liebman's story will presented in "Preserving Holocaust History: Collecting Oral Testimonies and Researching Family Fates." During this program, Georgia residents will learn how the Museum continues its acquisition efforts despite the pandemic and about the meticulous research process offered to Holocaust survivors, their families and others wishing to discover more about the fate of those persecuted.
"When Americans learn about the horrors of the Holocaust, whether it be through the testimony of survivors, documents like the ones our family is contributing to the USHMM, or pictures that show the absolute annihilation wrought by human beings against their fellow human beings, it is a huge wake up call," Allen said. "We can all read about the Holocaust in books, and we can fight the dangerous recklessness of Holocaust deniers, but seeing pictures, reading letters, and visiting a Holocaust Museum drives the significance of what happened home."