Gail Rogers, resident of senior living community Canterbury Court in Buckhead, satisfies her artistic side by creating colorful, woven designs using the traditional Japanese silk embroidery technique.
Traditional Japanese silk embroidery is a technique developed over centuries in Japan that was customarily used on kimonos and obis. The skill was typically passed down through generations through the apprentice system. But about 50 years ago, renowned Japanese embroiderer Master Iwao Saito started to introduce the disciple outside of the apprentice system, where it eventually made its way to the U.S.
The discipline made its way to Sandy Springs in 1989, when Saito's daughter and son-in-law and their family founded the Japanese Embroidery Center, a nonprofit educational organization whose mission is to preserve the cultural heritage of Japanese embroidery.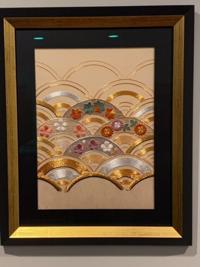 After retiring in 2007, Rogers began studying traditional Japanese silk embroidery, which is seeing a resurgence among fashion designers and in museum displays and now includes frameable artwork.
"For me, it's an artistic outlet for someone who has no artistic ability," said Rogers, who did needlework when she was younger. "The good thing about it is that it's so gorgeous you can't necessarily tell if someone is average unless you compare them to someone who's really good."
Rogers says she usually takes two or three classes per month, with most done virtually in the last 16 months.
"Each phase takes as long as it takes," she said. "It depends how much time you commit, but typically it's months."
In addition to classes, designs can be purchased with charts that show suggested colors and proper techniques to use. Rogers has three projects on the go – plus more in what she calls her "stash" – one that she has been working on for four years.
"There's a saying that you can't die until you've completed your stash, so I'll live about another 150 years," Rogers said.