Atlanta native and Westminster School graduate Caroline Lathan-Stiefel will have her artwork displayed in her solo exhibit "Pieces" at the Sandler Hudson Gallery until Oct. 2.
The 54-year-old artist has been creating art since high school and "Pieces" will be her fifth solo exhibit at Sandler Hudson Gallery. Lathan-Stiefel has been an art teacher for over 20 years and got her MFA from the Maine College of Art in 2001. She builds sculptural installations and wall pieces made with fabric, textile materials, and found objects, as well as collages and drawings.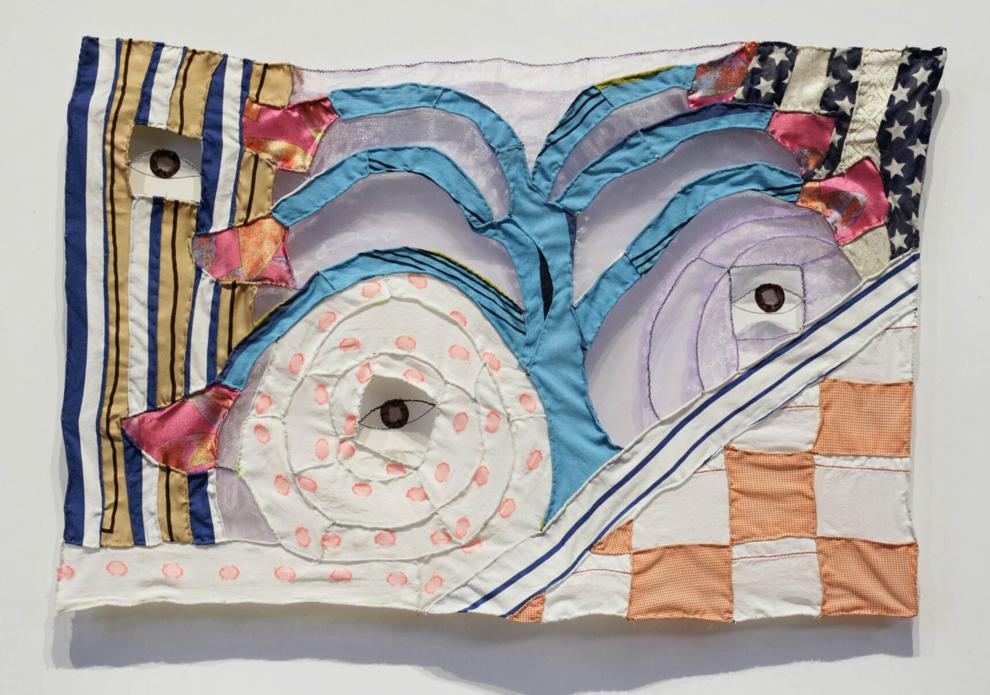 "Pieces" features 35 textile structures covered with sewn assemblages of fabric, plastic, wire and found objects. Lathan-Stiefel has worked on most of the pieces in this show for at least two years, some for more than three years.
"I began this body of work thinking about flags, emblems, and banners and how flags claim and proclaim space, nature, country, and identity, but also communicate distress, emergencies, or secrets," Lathan-Stiefel said. "For twenty years, I have worked with lightweight textile materials and commonplace objects to create large-scale sculptural installations that play with weight and mass, creating pattern, color and light. I have been inspired by the movement (breakdown and regrowth) of biological and architectural systems."
Lathan-Stiefel has exhibited her work in numerous galleries and museums, including The Museum of Contemporary Art Jacksonville in Florida, The John Michael Kohler Arts Center in Wisconsin, Suyama Space in Seattle, The Delaware Contemporary in Wilmington, Sandler Hudson Gallery in Atlanta, Galerie Articule in Montreal, The Philadelphia Art Alliance and Tigers Strikes Asteroid in Philadelphia, Gallerie Urbane in Dallas, Diana Lowenstein Fine Arts in Miami and the West Collection in Oaks, Pennsylvania.
"One thing that I love about working in textiles is that you can see the hand at work--stitch by stitch," Lathan-Stiefel said. "For this body of work I sewed all of the work myself and most of it was hand sewing. To me, stitching, twisting of thin wires, and pinning pieces of fabric to wire structures (other processes in my work) reflects a slow process of transformation and the passage of time."
Like others, Lathan-Stiefel felt the slow passage of time during COVID-19 lockdowns last year. In October 2020, Lathan-Stiefel was diagnosed with ovarian cancer and underwent two surgeries and five months of chemotherapy.
"Because of the pandemic and cancer, I was definitely in 'lockdown mode,'" Lathan-Stiefel said. "Being forced to be inside and not participate in normal activities, has had its silver linings though: more family time, more time for reflection, and more time for creative pursuits."
Thanks to her oncology team at Penn Medicine's Abramson Cancer Center in West Chester, Pennsylvania, Lathan-Stiefel's latest pathology report was clean.
Lathan-Stiefel now lives with her family in Avondale, Pennsylvania, but her Georgia roots remain strong. She returns to the Peach State every year to visit her family.
"Pieces" is available to see at the Sandler Hudson Gallery at 1000 Marietta St NW #116 in Atlanta. The gallery is open Tuesday through Friday from 11 a.m. to 5 p.m. and Saturday from 12 p.m. to 5 p.m.