Roswell City Council voted unanimously at the July 8 meeting to be able to designate specific areas of downtown for on-street paid parking. 
The vote comes at the same time as new paid parking spaces are being proposed in downtown Roswell. 
The proposed paid parking spaces run along parts of Canton Street and Elizabeth Way. If the spaces are approved, about 14 to 18 paid spots will be added to Canton Street and about 19 spaces to Elizabeth Way. 
Handicap spots in this area would not require a fee.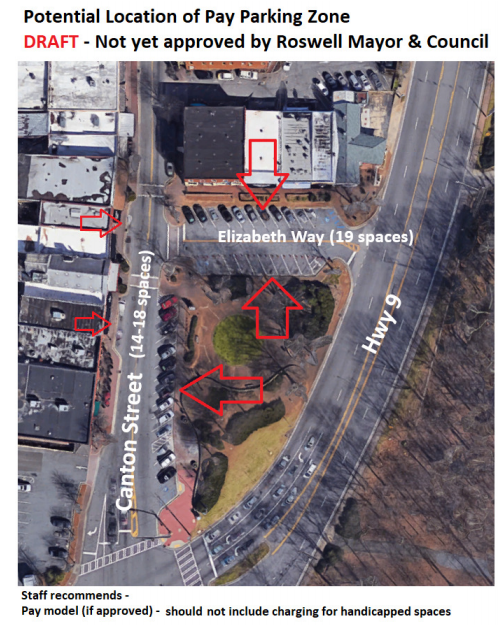 Roswell restaurateur Ryan Pernice runs the Roswell Parking NOW Facebook group and is highly involved with the community. 
"I support the inclusion of a paid parking component, so long as the plan entails an initial free period—say two to three hours—for short trips," Pernice said. "Paid parking encourages more 'churn' in the parking supply. At times, employees of businesses on Canton Street may park in prime locations for the duration of their shift, effectively removing that spot for the day."
A few years ago, the city added about 15 additional paid parking spots, but with this vote, more could be added.
"The effort underway may convert about 37 more spots into paid spots but that is still being worked on and is depended upon city council decision," Muhammad Rauf, director of transportation said.