A Roswell family's great aunt was honored with a new headstone at Greenwood Cemetery for her service and bravery during World War I as an Army nurse.
William Cawthorne's great aunt, Camille Louise O'Brien was a member of the Emory nursing unit during WWI and was the only Red Cross nurse from Atlanta and the only nurse from the Emory Unit to die in France during the war. O'Brien is recognized as a hero nurse for her exemplary service and dedication to treating her soldiers.
O'Brien was honored on April 18, with a new headstone at her previously unmarked grave. Local funeral home H.M Patterson & Son paid for the entire ceremony, including installing and transporting the headstone and seating arrangements for guests. Emory and Oakland Cemetery also helped with cleaning and transporting a bronze memorial plaque to the ceremony.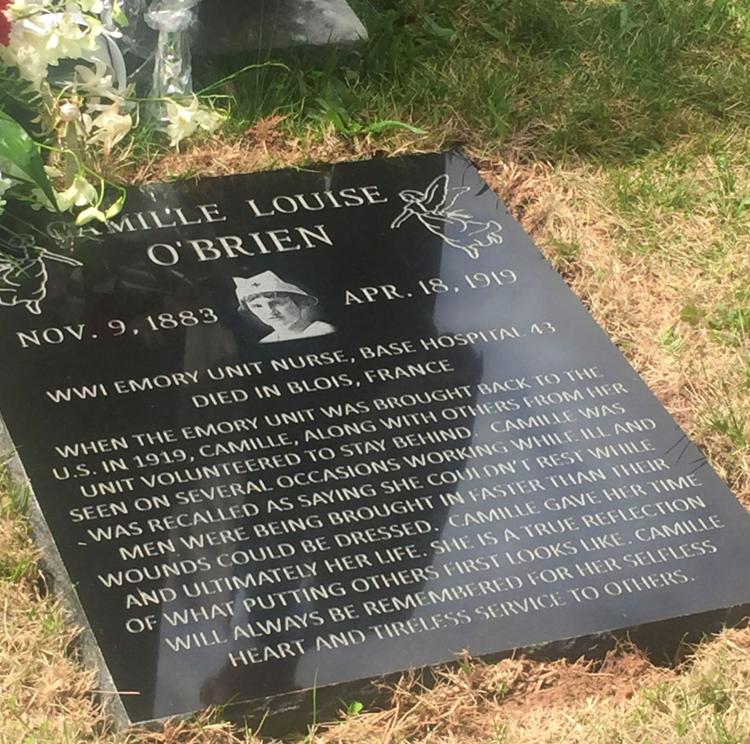 "More people need to learn to take care of others and put others before themselves and (her story) is just a prime example of it," local historian Michael Hitt said. 
O'Brien was born in 1883 in Barnett, Georgia and was a third generation Irish Catholic. In 1909, O'Brien's mother died and the remaining family moved to Atlanta.
In 1913, O'Brien enrolled in nursing school at St. Joseph's Infirmary in Atlanta. After three years in nursing school, O'Brien graduated in 1916 and worked for around a year at St. Joseph's. With WWI already heightened, O'Brien enlisted in the Army Nurses Corp. From there she was assigned to the Emory Unit and sent to Camp Gordon for  around three weeks of training. 
Once O'Brien completed training, she was sent to New York with other Red Cross nurses before shipping to Europe. While en route to Wales, O'Brien witnessed three attacks from German U-boats, or "unterseeboots." These submarines were around 214 feet long, carried 35 men and armed with 12 torpedoes.
During one of these attacks, a U-boat surfaced right behind her ship. Even though the ship was not considered a destroyer, the soldiers engaged the submarine with small arms and were able to defeat the U-boat. 
O'Brien's unit landed in Wales and Southern England before arriving in Blois, France. At the Emory Unit, O'Brien worked with the main surgeon on base where she worked for around 14 hours per day. Other doctors and nurses often saw O'Brien come to work when she was sick, yet O'Brien refused to stay home and rest.
"I cannot rest while more men are being brought in than we can dress," she is quoted saying by Hitt. 
In 1919, the Emory Unit was brought back to the U.S., but O'Brien refused to leave her soldiers. She stayed behind to continue caring for the men. 
However, in early 1918, the Spanish influenza quickly spread across the world. According to the Centers for Disease Control, an estimated 500 million people worldwide become infected with the H1N1 virus, resulting in at least 50 million worldwide deaths. 
On April 2, 1919, O'Brien began complaining about severe headaches. Her immune system was weakening. According to Hitt, O'Brien scoffed at the idea of doctors treating her and refused to stop treating her soldiers. As her health declined, two nurses were instructed to watch over her during the say and two at night. Her brain and her spinal column were attacked and 16 days later, O'Brien died of spinal meningitis. 
"Because she was so beloved by everybody because of her devotion and her care that she gave everyone, they said they gave her a military funeral," Hitt said. "There were flowers there from enlisted men, there were flowers there from nurses, there were flowers there from the doctors."
According to Hitt, O'Brien's chief nurse wrote, "You her people, may keenly feel hurt that she's buried among strangers, but the ravages of this war have created a bond that you cannot explain. You do not know what it's like for us to give her up."
In 1921, O'Brien's body was brought back to Atlanta under military escort with a flag-draped coffin. 
"You see somebody, how caring they are and very un-materialistic they are, and how plainer things were," Hitt said. "Yet she gave her life taking care of U.S. soldiers. That's what's important."
Some of O'Brien's items have been donated to a collection at the Atlanta History Center, include a Tiffany's Red Cross badge, letters between her and fellow nurses, a decorative print of a French town and a decorative jewelry box. Her unmarked grave was found in Greenwood Cemetery in Atlanta.
Her name can also be found at Pershing Point Plaza, the only female among countless WWI soldiers from Atlanta honored on a plaque.