Restaurateur Michael Arnette is looking to put Apple Valley Road in Brookhaven on the map as a dining destination with the opening of Arnette's Chop Shop, an upscale steak house and modern bar.
Arnette, who is known in the Brookhaven area for his successful and popular restaurants, including Haven, Valenza and Vero Pizzeria, said his goal with the opening of Arnette's Chop Shop is to continue to build the Brookhaven community and bring an intimate, personalized and modern steakhouse experience to the city.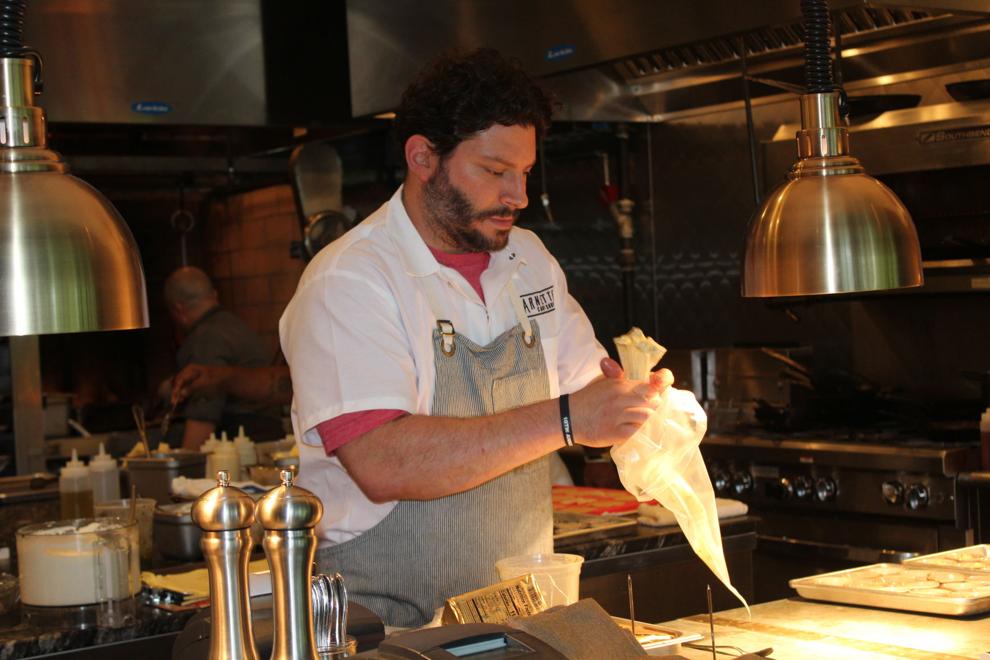 The restaurant was constructed in a renovated warehouse space, but the look and feel of Arnette's Chop Shop strays away from the industrial and instead centers on a modern, inviting interior.
"Our desire was to expose the natural character of the warehouse while blending vintage, classic and modern design influences," said Arnette.
The restaurant is split into two levels. The dining room is appointed with custom wood and leather booths, banquettes and tables and features a 15 foot by five foot artistic expression of a longhorn painted by local artist Carrie Penley. The main level is also home to an open kitchen equipped with char broiler and a custom built hearth designed to grill meat and seafood over a wood flame. Guests can dine in front of the open hearth at a custom serpentine double chef's booth and take in the action of the open kitchen.
The lavish upscale bar is positioned on the second level and is built over the main entrance and the steakhouse dining room. The bar has a contemporary yet warm den style ambiance. The ceilings are low and the walls are adorned with paintings of famous musicians, also painted by Penley.
When it comes to the cuisine at Arnette's Chop Shop, the menu features both chilled and hot appetizers like the Wagyu Beef Tartar, with cornichon, yolk, worcestershire, popovers; shrimp de Jonghe with Sherry, garlic, parsley, butter and Roasted Marrow with sourdough, parsley, vidalias, sea salt. The raw bar can been seen as guests enter the main dining room and will feature both East and West Coast oysters and French Sturgeon Caviar.
The Chops and More section of the menu is chalked full of classic cuts along with a larger variety of smaller cuts which will set this steakhouse apart from the rest. "With a steakhouse concept we wanted to give it our twist. This is not the classic men's club steakhouse. We have paid considerable attention to how women enjoy the steak experience and how our neighbors embrace it as their local. We will feature a good selection of smaller cuts of meats as well as a selection of seafood, shellfish and an oyster bar and we are super excited to introduce hearth cooking for the prime meats experience," said Arnette.
Since officially opening its doors to the public on May 24, Arnette said he is amazed and humbled by the local response he has seen so far.
"As a team, we thought opening on a holiday weekend would allow us to ease in, but we ended up serving close to 1,000 customers our opening weekend," said Arnette. "It was terrific to see people support us and as I walked through I saw so many familiar faces. I always emphasize to our team that we are building something unique and special in Brookhaven."
Arnette'S Chop Shop will be open for dinner from 5:00 p.m. to 10 p.m. Sunday through Thursday and 5:00 p.m. to midnight Friday and Saturday. The restaurant will also be available for private events. For more information, contact (404) 969-0701 or visit www.ARNETTESChopShop.com.
Kempton Taylor contributed to this article.