Two new restaurants, from acclaimed Atlanta Chef Terry Koval, have opened simultaneously and side-by-side on the downtown square in Decatur.
The Deer and The Dove will serve up creative, rustic New American cuisine while its neighbor, B-Side offers a New York bodega-inspired breakfast and lunch menu.
At The Deer and The Dove, Chef Koval's cuisine pays homage to the bounty of the region's surrounding farms and local purveyors. With many items coming out of a wood-burning oven and grill, the cooking at The Deer and The Dove is rustic, creative New American cuisine rooted in the seasons with ingredients sourced from local farms.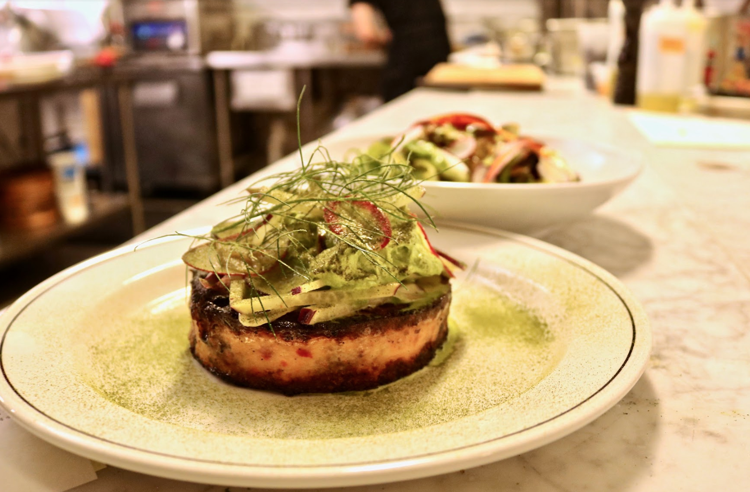 Guests can expect an ever-changing and seasonally driven lineup of dishes including fresh harvested vegetable platters and shared plates with local cheeses, chef cured meats and breads baked in house. Smaller items will also be available for noshing, such as Quail—strawberry lacquered with Sea Island red peas and pea cracklin's—and Beef Tartare, made with Comfort Farms aged dairy cow beef, soft boiled gribiche, focaccia and olive oil. A selection of full plates will round out the menu with options like Whole Wood Roasted Bramlett Farm Trout with broccoli florets, green coriander cream, sweetbreads and nasturtium powder, the D&D Grilled Burger with thyme aioli, morels mushrooms, gouda and truffle cheese, crispy shallots and salted egg yolk on a kaiser bun and Southern River Farms Dry Aged Ribeye, served with a housemade anchovy & grilled onion relish and beef fat potatoes with sour cream and onion tops.
At B-Side, guests can enjoy NY bodega-style breakfast and lunch sandwiches (think "egg on a roll"), Atlanta's only wood-fired bagels, salads, soups and other bites. Crafted in-house over an open flame, B-Side's wood-fired bagels feature classic and inventive flavors like the Everything Veggie bagel, which is made with a special seasoning blend from local artisan Beautiful Briny Sea. The restaurant also houses a full-service coffee bar with espresso-based drinks using Counter Culture's coffee. Starting late summer, B-Side will transform into a bar in the evenings with a focus on natural wines, cocktails and small plates, and on occasion, the space will host pop-up dinners from local and visiting chefs.
Koval is perhaps best known as Executive Chef and Partner at Wrecking Bar Brewpub where he will continue his work.
A focal point along the downtown square, The Deer and The Dove dons a deep grey painted-brick exterior with bright pops of goldenrod yellow and a mural of Jen Carter's designed logo by Squared Away Signs' William Mitchell along the building's side. Upon entering the restaurant, guests will be welcomed by an open dining room with a laid-back, modern feel. The space draws inspiration from the aesthetic values of Chef Koval's formative days as a skater and his passion for pursuing a cooking career—minimal, celebrated materiality with skater kid attitude.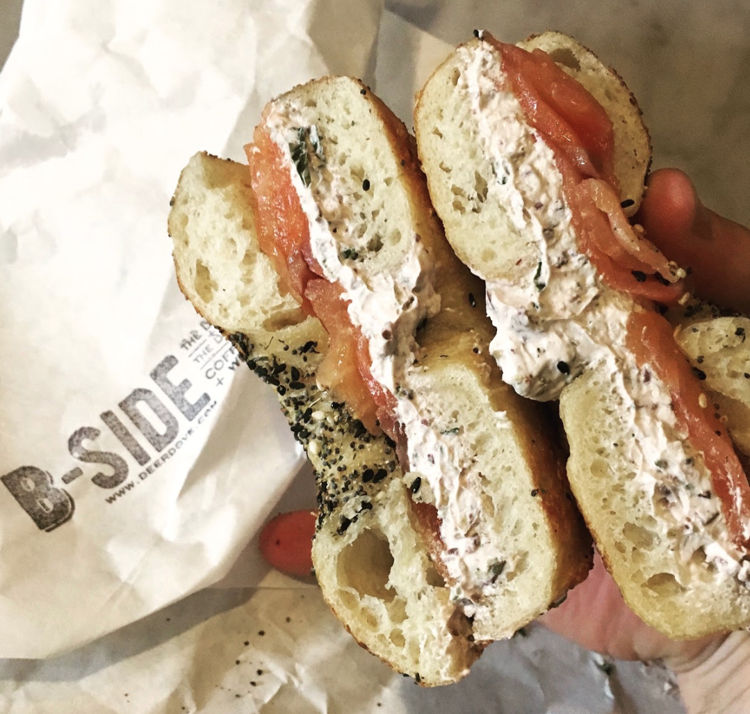 A row of intimate booths sit at the restaurant's center, with additional tables and an inviting bar area filling up the remainder of the room. Clean, white walls line the interior, while a curated selection of art—including a custom piece by DOZFY painted on four repurposed sound panels in the center of the dining area—and prize hunting trophies from Koval's father ornament the space. At the restaurant's back, a long, shared hallway connects The Deer and The Dove to sister-spot B-Side, doubling as an interior passageway for those seeking to move seamlessly from dinner to late-night cocktails next door.
Inspired by a modern NY, neighborhood corner deli, B-Side boasts high-contrast design and simplicity, pairing rich hunter green walls with rustic exposed brick. Light wood shelving behind the counter will hold the day's assortment of freshly baked bagels, breads and bakery items. Here, guests can take a seat and enjoy their meal counter-side or opt to grab and go.
For hours and to view a full menu, visit www.deerdove.com.