Cats were not worshipped as gods in ancient Egypt.
This will come as a disappointment to Kit, my rescue cat, who has trained me and my husband Tom in the proper venerations.
We feed her upon command, open and close doors at her behest, offer freshly poured water from our own cups and admire her when she blocks computer screens with her sudden appearances.
In turn, I am sure Kit regards us as valued acolytes who maintain her temple.
Yet divinity resided not in her ancestors' cute and cuddly selves.
What set me straight was a visit to the exhibit Divine Felines: Cats of Ancient Egypt now through National Cat Day and National Shelter Animal Week (OK, through Nov. 11) at the Michael C. Carlos Museum at Emory University.
"The Egyptians did not worship felines," Yekaterina Barbash, Ph.D., wrote in the exhibit's very first wall panel.
Instead, said the associate curator of Egyptian art at the Brooklyn Museum, the exhibit's main source, "Deities with feline features gained increasing popularity."
I love that Barbash has a form of the word "cat" in her name.
It helped mitigate the shock incurred by the exhibit's very name, years of belief and my drama background.
George Bernard Shaw in his play "Caesar and Cleopatra" had the Egyptian teen queen-to-be claim descent from a sacred white cat.
My recitation of her encounter with the Roman emperor helped gain me admittance to a prestigious New York acting academy.
A more recent obsession, code breaking, led me to Elizabeth Kenney's 2011 "Cryptograms for Cat Lovers," in which I solved a sentence reading, "In Egypt, the penalty for killing a cat was death."
Come to think of it, gods were supposed to be immortal.
Perhaps Kenney paved the way for me to surrender my naïve belief.
I do so willingly in the face of the respect for felines Barbash pointed out.
"The sharp contrast between felines' fierce aggression on the one hand and female cats' maternal instincts on the other represents the duality inherent in the Egyptian world view," she said.
The great Sphinx at Giza, possibly the most famous of ancient Egyptian landmarks, dominates the gallery via an impressively large photo.
"The image of a lion at rest communicated the power and confidence of a king and evoked the country's tranquility," Barbash wrote.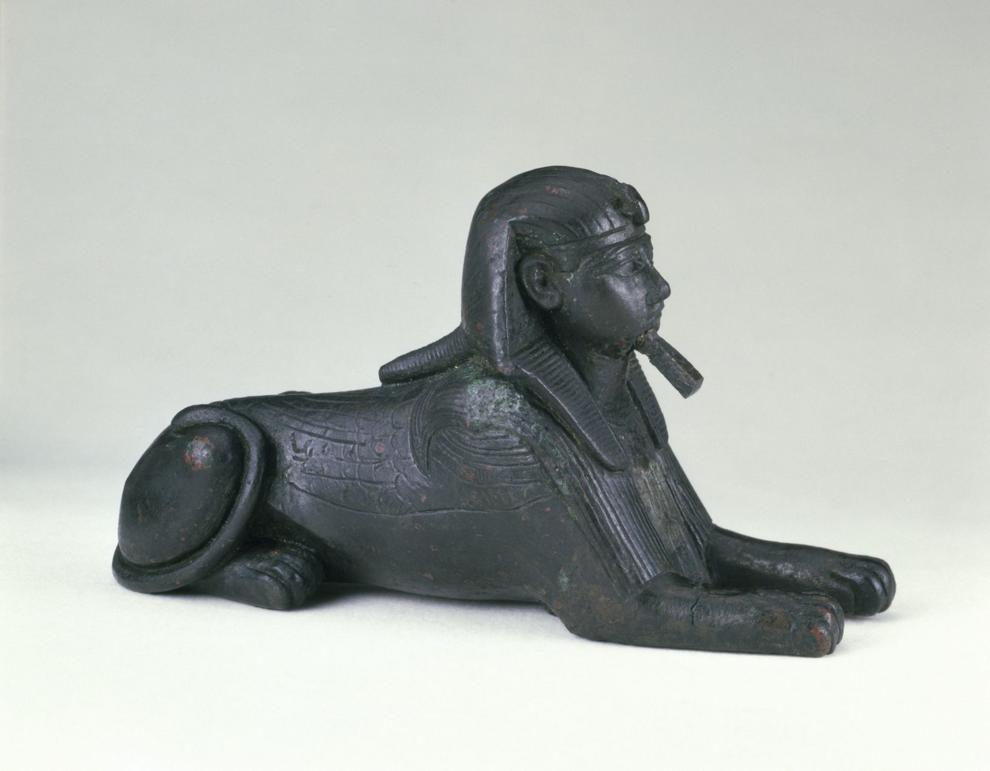 Smaller kitties, domesticated more than 6,000 years ago, did not achieve godhood but got darn close.
"They were not just pets, but symbols of Bastet, the goddess of fertility and protection," said Barbash, also revealing a priest named Pawerem worshipped in the deity's shrine.
Out in the marketplace, an ancient Egyptian shopper may have invoked the modern wail about advertising and branding, "The cat made me buy it."
Cat-embellished items on display include a spoon.
"Feline characteristics were believed to enhance an object's function," Barbash said. "However, some commonly used objects seem to be decorated with images of cats simply for the delight of it."
Did furniture legs that looked like lions' paws tempt quasi-sacred pets to use them as scratching posts?
If so, they were probably absolved since, as Barbash observes, cats are just so darn cute.
"The cats' furry lovability and their care of kittens were probably just as charming to the Egyptians as they are to us today," the curator said.
Among the evidence to their charms are pocket-sized amulets, a statuette whose image graces the exhibit's publicity materials and a leaden weight which, like Kit, is much heavier than it looks.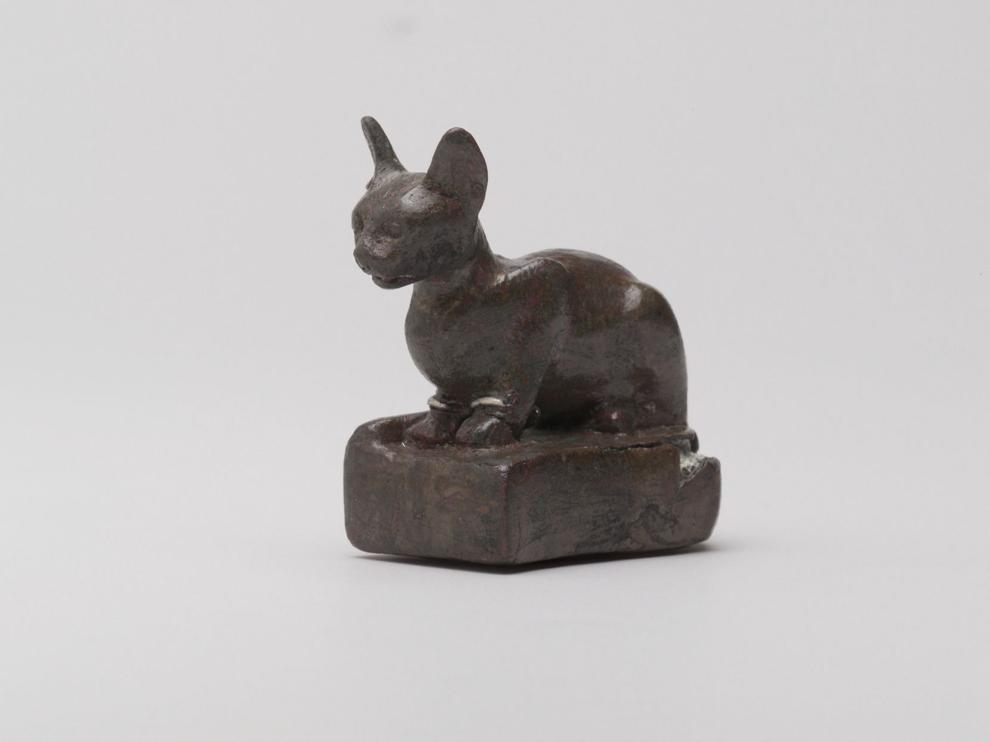 There were even the equivalent of cute cat videos—hieroglyphic panels with pictures of cats, always with the tail visible, Barbash notes.
One decorates the coffin of Princess Kitty, a noblewoman whose name in Egyptian sounded like "meow."
Another shows a beloved pet sitting on an offering table before two goddesses.
Did it jump up when the priest wasn't looking, then refuse to budge?
Noreen Cochran is a DeKalb County resident and the editor of the Henry Neighbor and South Fulton Neighbor.