A recent donation of $10,000 from Shaquille O'Neal was a sign from God to keep going according to the founder of nonprofit Sporty Girls, Inc., Rashan Ali.
O'Neal, an NBA Hall-of-Famer, donated the funds as part of the Autotrader Perfect Match competition. Ali said the donation was a lifesaver for the nonprofit she started in 2006 to help impart lessons and form relationships amongst girls of all walks of life through sports not traditionally offered in metro Atlanta public schools.
"I literally started crying when I found out," Ali said. "Being the founder of this organization has been a labor of love, and it can be very difficult to depend on people to support your dream. It has been very humbling to know they chose us out of anyone they could have picked from."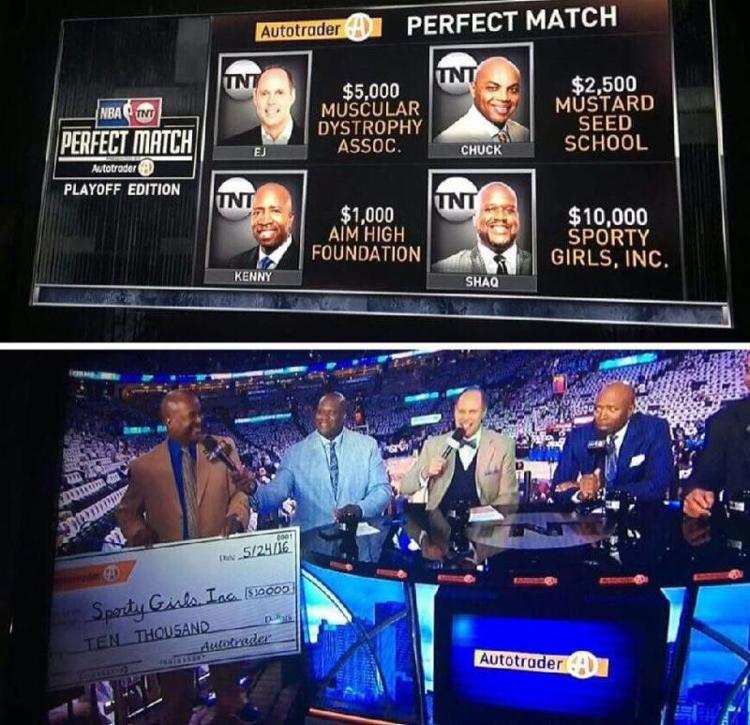 This donation and all others benefit the nonprofit's various programs, which expose girls from around eight to eighteen to sports like tennis, soccer, swimming, golf and lacrosse, in addition to hosting guest speakers and workshops, Ali said.
These include a week-long sports and leadership program, Camp Elite; Saturday training sessions for camp graduates and other community outreach events, like the "Get Girls Sporty" field day hosted in September at Henry W. Grady High School.
Before the promise of the donation came through, Ali said she was having conversations about shutting down the program for a time to revamp and form a new strategic plan.
Ali, an alumni of SouthWest DeKalb High School, has been a local radio personality for years, working with stations like V-103 and Streetz 94.5. It was her freelance work with NBA TV and relationship with Chico Robinson, Turner Broadcasting manager of sports security, which helped put Sporty Girls on O'Neal's radar, Ali said.
Ali grew up swimming competitively where she learned how to be a team player and formed relationships that have lasted throughout her life. Those lessons formed the foundation for founding Sporty girls, she said.
"I know not only did swimming have physical advantages, but learning the will to win and how to face defeat really allowed me to handle those type of situations in my everyday life," Ali said. "I said I have to at least show other girls what that means."
Camp Director Autumn Price, born and raised in Decatur, began helping at events for the nonprofit while she was in college. With a passion for mentoring girls, she said after graduation she became program director as a way to pursue that.
"What makes me happiest is when our girls who have graduated ask how they can help Sporty Girls, which means we have shown them they have to give back," Price said. "Everyone should be part of something where they volunteer."