An Atlanta theater is using the work of Congressman John Lewis to help set the stage for a production which includes DeKalb County students.
The Alliance Theatre began their 16th annual Palefsky Collision Project, where a diverse group of 21 high school students work with a playwright to create their own theatrical production based on the themes found in a classical work. For the seventh year, the students will be guided by the Alliance Theatre's Mellon Playwright in residence, best-selling author and celebrated playwright Pearl Cleage, director Patrick McColery and assistant director Rodney Williams.
This year, students will be merging Congressman Lewis's graphic novel MARCH to explore ideas of social and political activism. They will then create a play inspired by the book and shaped by their own experiences.
As a young student activist, Lewis was inspired by the 1958 comic book "Martin Luther King and the Montgomery Story." Now he brings the Civil Rights Movement to life for a whole new generation.
"When our artistic director Susan Booth created this project, she wanted to give teenagers a place to encounter a classic text and through the three-week program, find ways to make the piece their own," said Cleage. "We have used a variety of texts, novels, films, speeches, plays but we never simply adapt the work. It provides a catalyst for participants to explore ideas together and then devise a wholly new script that they perform at the end of the project.
"We chose MARCH as a catalyst for exploring the ways the Civil Rights Movement was able to move the country forward in a positive way," continued Cleage. "Since Lewis represents the Atlanta fifth district and has been and continues to be an active voice for change and inclusion, we thought MARCH would resonate with our participants as well as giving them a history lesson presented in an artistic and very contemporary format."
Each year, the Alliance Theatre assembles a group of guest speakers and artists to work with the students on writing and performance exercises leading up to the development of the final production. This year's special guests include singer-songwriter Doria Roberts, dance-maker Lauri Stallings, choreographer Mama YeYe, director Rosemary Newcott and more.
Through improvisational exercises, oral history, choreography and each student's own talents and skills, the participants will create a new theatrical piece inspired by MARCH but perceived and shared through their own unique and contemporary experience and told entirely through their own creative writing.
"In these difficult times when our nation seems increasingly polarized, we know how important it is to listen to young people and empower them to be active citizens," said Cleage. "We explore the history with an eye toward how that history relates to their lives today. Our director Patrick McColery works with them on a series of explorations that can be used to build the final show. My role at the end of our first two weeks is to take everything they have written and put it together in a script that reflects their ideas and uses only their writing."
Students from schools around Atlanta will be participating, including representatives from Cobb County, DeKalb County, Fulton County, Gwinnett County, Douglas County and the Global Village Project, a special purpose school for refugee teenage girls with interrupted education.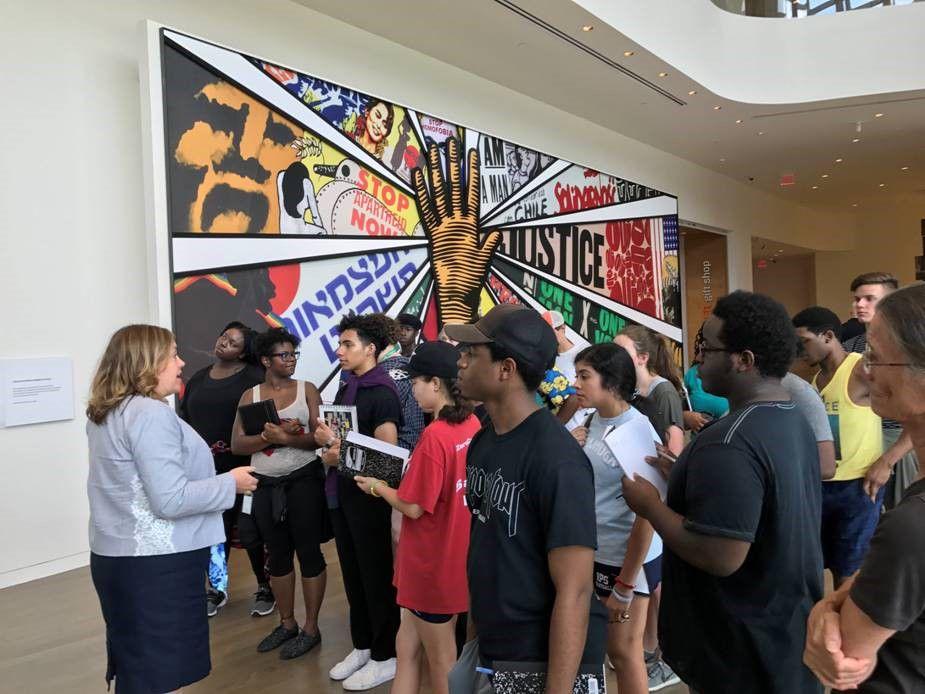 One of those students, Maya McCollum, 18, from Arabia Mountain High School, is using the Collision Project to enhance her own activist experiences.
"I am already an activist in my own time and seeing John Lewis's experiences has encouraged me even more to get involved in my community to make an even bigger difference in issues like gentrification, police brutality, immigration reform and voting reform."
McCollum found out about the Collision Project while at a club camp for the arts in February.
"I had heard of it before through my other friends in theater so that was all the encouragement I needed to apply," said McCollum. "I had never heard of a program before that allowed me to combine all of my interests into one thing, my love for activism and making art, poetry, physical arts and songs."
A complete counterpart to McCollum, Gillian Baker, 17, is homeschooled and taking classes online and at Georgia State University.
"As a person who has never attended a demonstration or march of any sort I have tried to truly embrace the liberty of learning about them in a safe space," said Baker. "My form of protest and activism is through song."
Baker even has two albums available for streaming on all major streaming services. Her time with MARCH has encouraged her unique form of activism, she said.
"After reading an immersing myself with MARCH, I now know that the nonviolence and tolerance that I so highly value can be used as a form of demonstration - an idea that I do not believe I fully understood before. It is liberating to realize that you can show up and be physically present without inviting any hatred or inciting any violence," she said.
Both Barker and McCollum have expressed feeling changed through the Collision Project so far.
"I already feel more open and connected to the rest of my generation," said Baker. "I think that it is so important to listen to each other and genuinely understand where the other is coming from. That's what is so great about this project. There are so many different types of people from so many different backgrounds with different art forms and talents, and we are all there to learn and listen and grow from one another. It's beautiful."
The students will give free public performances of the play they create at the end of the project on July 28 at 7 p.m. and July 29 at 2:30 p.m. at the National Center for Civil and Human Rights.