The rek Gallery's Featured Artist Gallery (the center section of its new space) features southern native, Philadelphia-based, young African American artist, Jeff Rivers.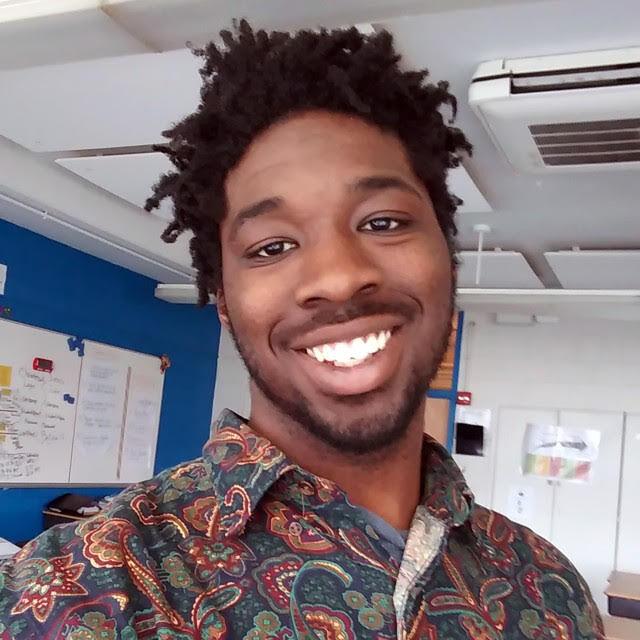 Rivers went from considering law school to realizing he was more drawn to being an artist after studying drawing and design at two universities in the midwest and northeast. 
13 of his newer pieces are on display at rek Gallery through December with six large paintings, five drawings, and two found object sculptures.
River's art focuses on the African American family life and he uses paint and fabric to convey interactions between family members during the times we're in, without articulating their faces.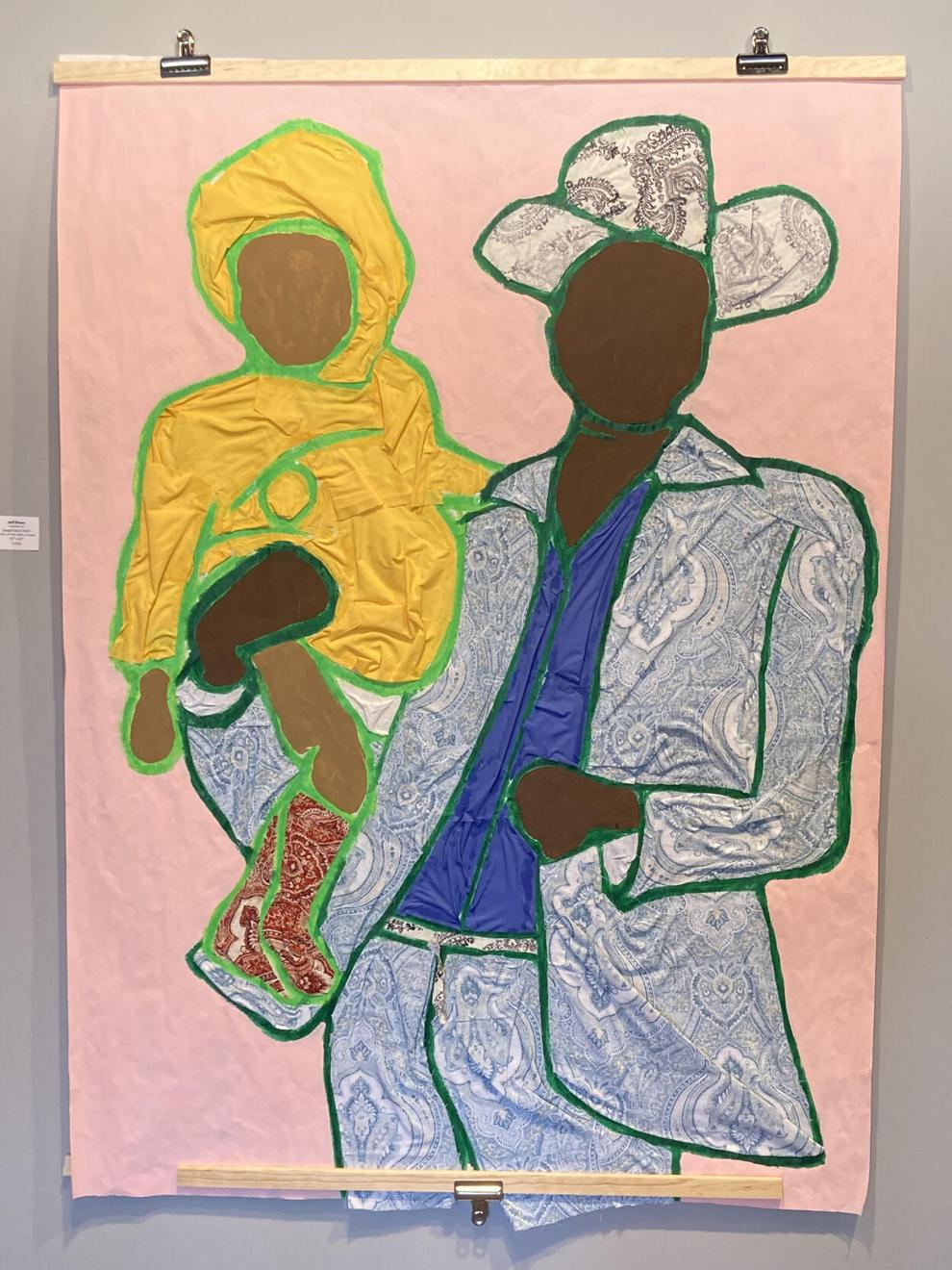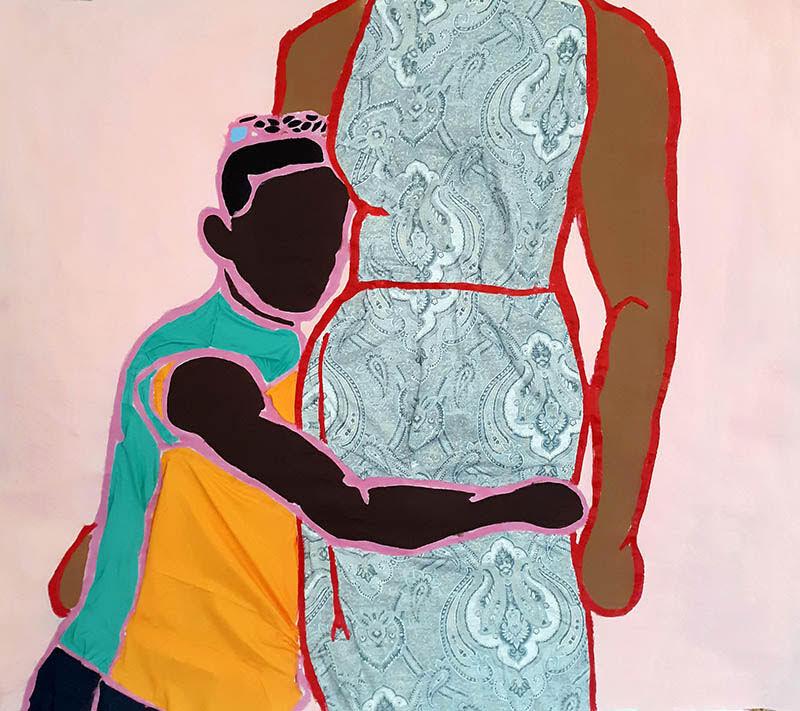 "I feel honored. Anytime somebody wants to take your work and it gains attention, it's always a positive feeling. Anytime someone goes out their way to exalt your art and [literally] put it on a pedestal, I feel very honored from Rick and the rest of the rek Gallery for giving me this opportunity," Rivers said. 
Rivers also said the exhibition was born out of spending about a year and a half of the pandemic in Columbia, South Carolina with family.
"Spending time with family, I became interested a lot more in maternal/paternal based imagery," he said.
When it comes to his process in creating his art, he tries to be as streamline as possible. 
"I see something and I try to represent it through painting. I've gotten to a point where I try to keep a catalogue of images on my laptop, so if I finish one painting, I'm able to immediately start the next," River said.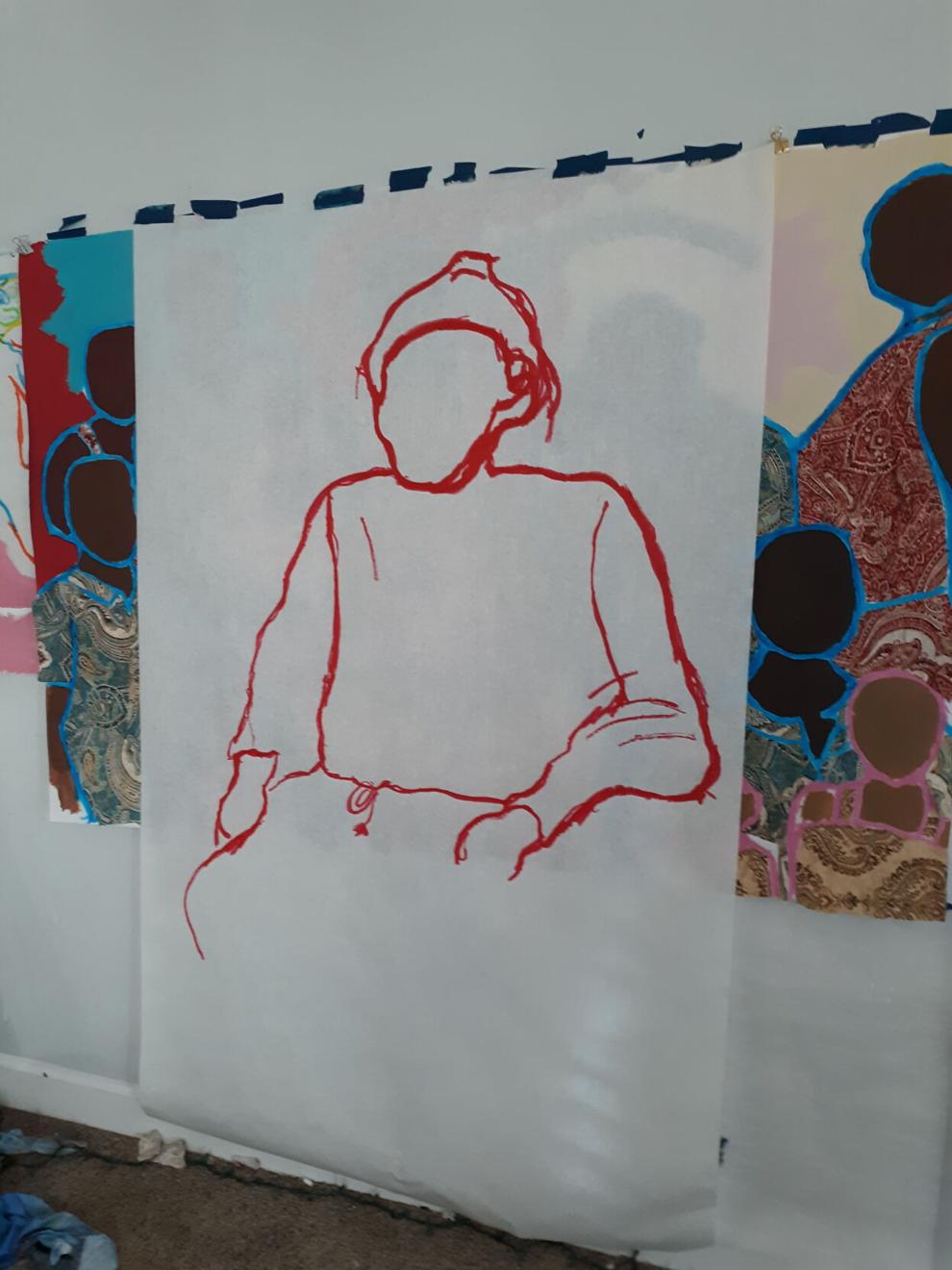 "Sometimes, it's honestly walking down the street and I'll see something or somebody. I'll take a picture with my phone and immediately go home and start working on that painting"There isn't a long drawn out process between the inspiration and creation of the work, as I get older and more advanced within my career, I'm really trying to slow down that process and try to do more studies and more intellectually driven art," he said.
In River's art, he paints figures without facial details. When asked why, he said he wants his viewers to "do the work". 
"I really seek to have people come to my painting to do some work. I don't want to be able to tell you everything. I already did the work, now I want you as the viewer to come and do some work yourself and turn to what you see," he said.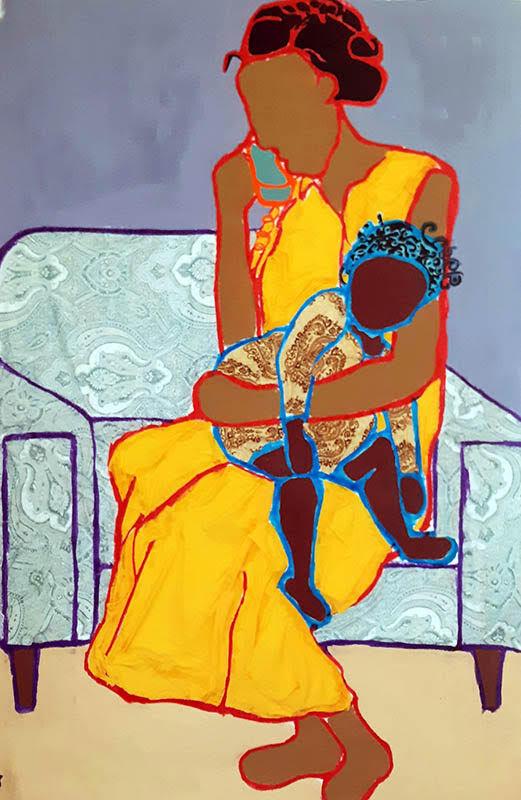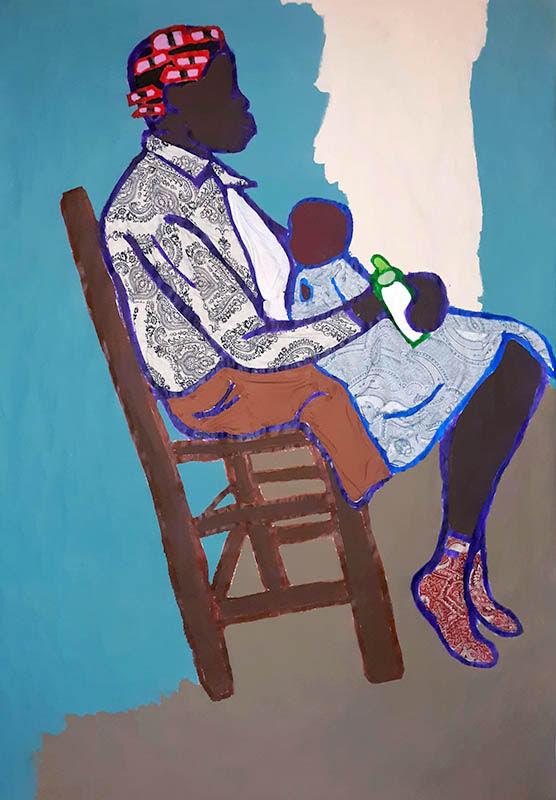 "A lot of the times, I focus on the gestures and the bodies of these figures, because I really want people to come to these paintings and look at them and I want them to project their own preconceived notions, identities, ideas, beliefs, and memories onto these faces. I want them to be able to see their family, their grandpa, their brother, a stranger that reminds them of the figures," Rivers said. 
 Additionally, Rivers tries to keep his figures anonymous because what he is seeking is a depiction of universality and an in-gestured movement rather than a specific person or place/time.
"I really am trying to create or at least discover some form of timelessness through representing the gestures and forms of body and not necessarily their facial details," he said.
 When asked what did Rivers want his audience to retain from viewing his work, he said he wants people to do the work.
 "I want them to feel warmth and joy. So much of the exhibition is an explanation of where I came from demographically in terms of my family and how I was raised and being within the black church, or the communal spaces of cookouts. I'm always interested in seeing what other people see in my work," he said.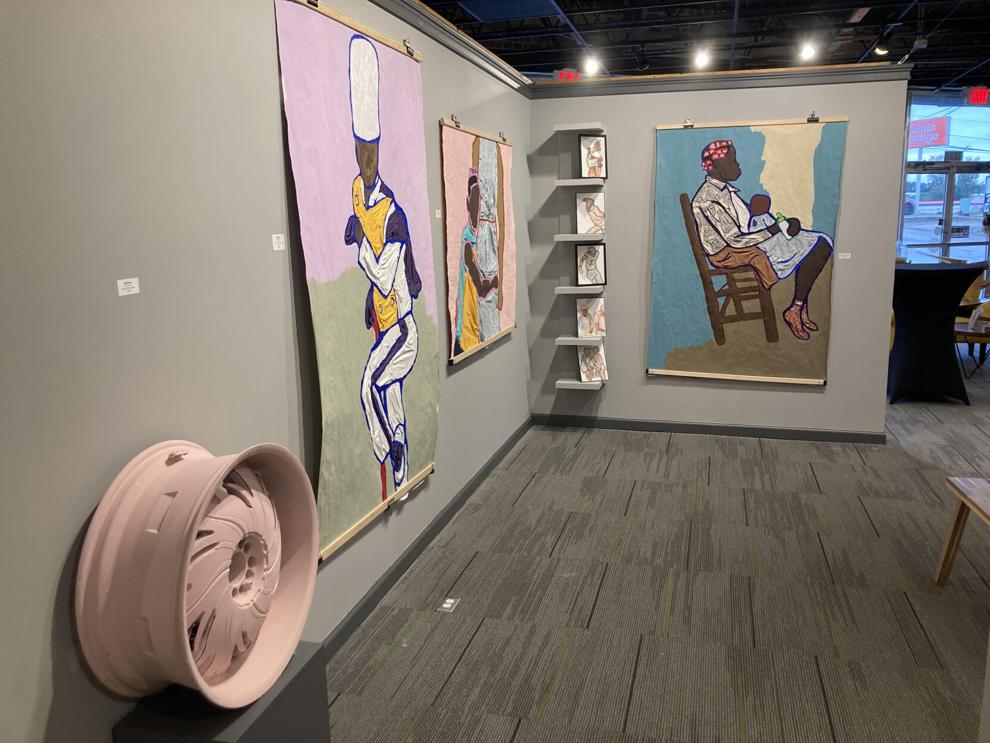 The rek Gallery is a 2,000 square-foot commercial art gallery and studio space opened in July and located 10 minutes east of Decatur, GA in the city of Tucker.
The gallery's collection focuses on contemporary works of southern U.S. influenced artists with a tilt toward the eclectic, quirky, edgy and unconventional. Paintings, drawings, sculpture, photography, ceramics and fabrics inspired by street art, graffiti, tattoo art, pop art, low brow, abstract and outsider art are regularly featured.
"The Gallery officially opened in July. We took a chance during the pandemic and a lot of gallery's are closing. We went against the trend and we opened a gallery in Tucker. We decided that we wanted to bring some new art to Tucker," Gallery Co-owner and artist, Rick Baldwin said. 
Being an artist himself, Baldwin wanted to bring in other artists from the South to be apart of the new gallery.
"Our mission is to expose people to what I call ecliptic southern art, which is a little different than what you would see in most galleries," he said.
When putting the gallery together, Rivers was one of the first artists Baldwin saw and said he wanted to get him in the gallery. 
"I show my wife his art and she loved it. I didn't really reach out to any individual artists yet but I was looking for different southern artists and he [Rivers] actually reached out to me. It's a good place for him," he said.
Baldwin said River's art can be experienced on something other than a visual level and can see it at the exhibit.
"Most people say, "don't touch the art", but Jeff encourages people to view and touch it," he said.
Many works by other artists cover the gallery's walls and shelves and include paintings, drawings, quilt story paintings, and the diverse work of rek Gallery co-owner Maria Fernandez's father, Santos Fernandez, who was a prolific, well-regarded artist who started his art career in Spain and then moved to the US.
For now, those works are not yet for sale but the collection is worth seeing.