WOODSTOCK — Emergency room physician Rich McCormick doesn't usually walk around with a gun on his hip, he told the crowd last month at Semper Fi Bar & Grille.
"My mom always said, 'don't try to scare people,'" he said. "But today, I'm going straight from here to a shooting event with the Tea Party, and that's how I got my start in politics."
McCormick, one of nine candidates running for Georgia's 6th Congressional District in the May 24 Republican primary, continued: President Joe Biden's withdrawal from Afghanistan was a disaster; the Affordable Care Act is a disaster; the coronavirus pandemic is "over"; ballot drop boxes should be outlawed.
He's been endorsed by Republican state senators and congressmen and county commissioners and even U.S. Sen. Ted Cruz, R-Texas.
But the most coveted endorsement of all recently went to east Cobb attorney Jake Evans, the former head of Georgia's Ethics Commission.
"The people of Georgia love (Evans) for his strong stance on the Second Amendment, our Military and Vets, Border Protection, Law Enforcement, Pro-Life, and of course, Election Integrity," former President Donald Trump said in a news release last week. "I am honored to give Jake Evans my Complete and Total Endorsement!"
The question now is what impact the endorsement might have on a race in which McCormick is painting himself as the frontrunner.
A poll commissioned by McCormick's campaign and conducted from April 30 to May 2 by Robert Blizzard of Public Opinion Strategies found McCormick "with ballot support larger than the rest of the GOP field combined" at 38% and Evans coming in at a distant 13%.
Evans, meanwhile, believes the recent Trump endorsement "comes at the right time and creates unstoppable momentum as we work daily to earn the vote of every 6th District Republican."
McCormick's poll was conducted before Trump announced his pick in the race.
McCormick also leads the field in the fundraising race. As of May 4, the last campaign finance disclosure deadline, McCormick had raised $2.8 million to Evans' $1.6 million.
Evans, however, had more cash on hand as of May 4, with about $750,000 in the bank to McCormick's $560,000.
The May 24 GOP primary is viewed as the decisive election in the 6th District, which was redrawn in the 2020 congressional redistricting cycle.
The new 6th District includes a chunk of northeast Cobb County, north Fulton County, the eastern part of Cherokee County, a small piece of Gwinnett County and all of Forsyth and Dawson counties. Incumbent Democrat Lucy McBath has decided to instead seek her party's nomination in the new 7th District, after the 6th was redrawn to favor Republicans by more than 20 points.
Besides the two frontrunners, the other Republican candidates are Mallory Staples, Meagan Hanson, Blake Harbin, Byron Gatewood, Suzi Voyles, Eugene Yu and Paulette Smith.
McCormick
McCormick, 53, gave the crowd at Semper Fi Bar and Grille a quick rundown of his life story during that April 30 appearance.
The son of a deputy sheriff and a secretary, McCormick said his life changed when he saw "Top Gun," the 1986 film starring Tom Cruise as a naval aviator. McCormick became a Marine helicopter pilot, with tours in the Persian Gulf, Somalia and Rwanda.
His service strained his first marriage, however, and he decided to find a career that wouldn't send him abroad for months at a time. McCormick pursued emergency room medicine and chose the nearest medical school: The Morehouse School of Medicine. (His first marriage nevertheless ended in divorce.)
"Now, for those of you who don't know, Morehouse School of Medicine is a minority university. Morehouse School of Medicine is 60% female, 80% Black and about 95% liberal," he said. "I do not identify as a Black woman liberal. But yet, my senior year of school, I was elected student body president the same year that Obama was elected president of the United States."
It's a story he often tells on the campaign trail, and one he points to as proof that he'll be a leader if elected to the U.S. House.
"If I want to talk about voter fraud, abortion, gun rights, anything that's super controversial with the left — if you have a conversation that first it starts off with a relationship, you'd be surprised who might come over to your side and how you grow the party," he said.
Visitors to his website will see photos of McCormick in scrubs, a stethoscope around his neck, rolling patients down a hospital hallway or looming over them in the operating room. At a recent debate, he corrected a moderator who had referred to him as "Mr. McCormick," requesting that she instead refer to him as "Dr. McCormick."
He has, naturally, made healthcare one of the main talking points of his campaign. At Semper Fi, he told the crowd the Affordable Care Act needs to go.
"It didn't solve anything," he said. "It didn't make it more accessible. It didn't give you better healthcare. It didn't give you more affordable health care. It was a failure."
If Republicans don't fix things soon, Americans will start demanding European-style, government-run healthcare, McCormick said. Asked after the speech what his solution was, his answer was simple.
"It's basically trade pricing transparencies," he explained. "It's funded health savings accounts, less regulation on competition with insurance agencies. It encourages people to make the right decision."
McCormick touched on other topics that day as well, including the U.S. withdrawal from Afghanistan.
"We have more people in Italy, Japan, Korea, Germany, we used to be in the Philippines, but yet we couldn't keep 2,500 people (in Afghanistan) to stabilize a nation," he said.
And, echoing election fraud claims made by Trump, McCormick suggested his narrow loss in 2020 to Democrat Carolyn Bordeaux, who now represents the 7th Congressional District, was marred by fraud.
McCormick warned the crowd he wouldn't make any promises he couldn't keep, however. If elected, he would be one of only 435 representatives, after all.
What he did promise was "the best constituent services you have ever seen," and no boilerplate responses to constituents' inquiries.
"You're going to get an answer," he promised. "And you're going to get an honest answer. If I can't help you. I'm going to try to find somebody who can."
Evans
In a February meeting with the Marietta Daily Journal, Evans, 35, whose endorsements also include Sean Hannity and Newt Gingrich, summed up his message.
"There's no room for weak-kneed politicians in the Republican Party right now," he said, later adding, "We're in the fight for the heart, soul and fabric of our country in 2022. I really believe that. I mean, we've got a more progressive and bold liberal left than we've had in a long, long time. … I think we've got a weakened reputation of the U.S. across the globe, which has emboldened our enemies in China and Russia. So it's time for a new generation of conservative leaders."
On the campaign trail, election integrity has stuck out as the most important issue for voters, he said. Inflation came second. Third was a tossup: the U.S./Mexico border or critical race theory.
Asked whether he believes the last presidential election was stolen, Evans wouldn't give a yes or no answer.
"I think there was widespread voter fraud," he said.
Numerous lawsuits alleging mass fraud in that election have been rejected by courts for lack of evidence. But whether that evidence exists or not — whether there was, in fact, fraud — is beside the point, Evans said.
"You can tell the voters over and over, 'Hey, guys, listen, the elections are secure, the elections are secure, the elections are secure,'" he said. "If they don't believe they were secure, then they don't believe they're secure … So we have to provide confidence in a system that increases their confidence in the security and integrity of elections."
Senate Bill 202, last year's Republican-led overhaul of the state's election system — which President Joe Biden and Stacey Abrams dubbed "Jim Crow 2.0" — was a step in the right direction, Evans said. But he would go further, and called for more restrictions on absentee ballots.
On the question of critical race theory, Evans said he supported a recently-passed ban on its teaching in Georgia schools. While Democrats claim the ban could interfere with the accurate teaching of the nation's history — of slavery, of segregation and the like — Evans disagrees.
"I am fully in favor of teaching the facts as they happened," he said. "What critical theory is, is it is actually a form of Marxism, which effectively says that you've got two classes of people. And one class is an oppressor, the other class is an oppressed."
On the subject of inflation, Evans is concerned that the U.S. could be headed for an even worse outcome — stagflation, where the cost of goods and services continues to increase, but the economy stops growing.
"Well first, you can't give out money for free," Evans said when asked about addressing inflation. "I mean, it's just Economics 101, if you've got an increased monetary supply, or an increased supply of any type, it's going to decrease the value of what that supply is. So you, you've got to get control of printing money and giving it away."
For evidence of the inflation problem, Evans suggested voters ask a restaurant owner how many times they've had to raise prices on the menu in the past six months due to rising food costs.
"So, it's a seven to 10% tax on every American, again, which disproportionately affects people at middle and low levels," Evans said. "So that's the folks Democrats claim to be helping, but it's hurting them the most."
Evans called himself the most accessible candidate, saying he participates in as many events and media appearances he possibly can.
"Win or lose, I'll always be an advocate and candidate for the people, you will be seeing a lot of me the whole way through," he said.
Evans was drawn out of the 6th District during redistricting. He suspects he was targeted by unfriendly state legislators, but he and his wife moved back into the district anyway.
"I will never know," Evans said, asked why he may have been targeted. You know, I'm not in the smoke-filled rooms at the Capitol. I've never gotten a clear answer."
Kerwin Swint, director of the School of Government and International Affairs at Kennesaw State University, said McCormick has the advantage when it comes to name recognition after being the 7th District GOP nominee in 2018.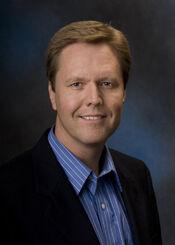 "But the Trump endorsement, obviously, is a huge deal," Swint said of Evans' chances.
Georgia law stipulates that a candidate must have a majority of votes to win — if no candidate breaks 50%, the top two vote-getters will advance to a June 21 runoff.
Swint considers that a likely outcome, given the number of candidates.
He added that polls, especially internal polls like the one McCormick released, should be taken with a grain of salt.
"They're (internal polls) just more susceptible to subjectivity and sample bias, those kinds of things," Swint said. "So, I'm not implying any nefarious intent, it's just that they're harder to make a decision about, I think, for those reasons.