I was recently invited along with my colleague Christine Fonville to attend the "Dining In The Dark" fundraiser for the Center for the Visually Impaired. I'd heard of this event last year and was interested in the concept.
For one evening, a room of about 200 people voluntarily ate a three-course meal in complete darkness. The sensory experience is to highlight the challenges that individuals who are blind or visually impaired confront on a daily basis.
Let me just tell you, it was interesting. I was naïve as to just how dark it would be. I began to get a bit nervous a few days before when they sent out instructions and included directives for people who might have panic attacks. At this point, I really wondered what I had gotten myself into. But always down for a new and unique experience, I soldiered on.
The event was held at the Georgia Tech Hotel and Conference Center — a really nice venue — and I will say the drink ticket came in handy if only to help ease your nerves. The emailed instructions were very detailed and welcomed. I'd never studied how to sit in a chair so intently, or how to reach for my water glass. Once I checked in at the conference center, I attended a short instruction class. In a room, they had a setup of how the table would be and had a few organization leaders and visually impaired volunteers talk with us about the process as well as the purpose of the event.
This was great. As a visual learner, I appreciated getting to lock in on how the table would look — which worked out when we entered the room and I had to go completely off memory and touch. And now you're probably wondering if you're eating in the dark, what about your clothes. They were prepared for everything, each of us had the choice of an oversized plastic bib that I happily took. And also, in those handy instructions, they advised us to wear machine washable clothing. Details, details, details. Also, the SWAT team from the Atlanta Police Department acted as the wait staff, complete with night vision goggles so there was no cheating with light.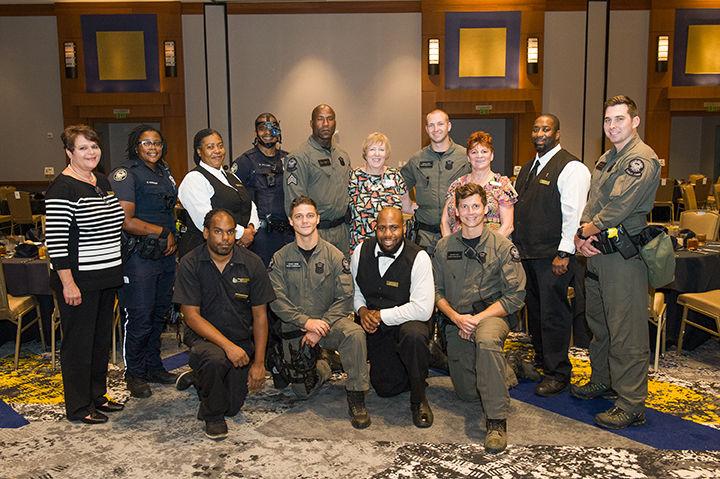 I've been in darkness before. And I was anticipating my eyesight to naturally adjust and at least be able to see shadows, as it normally does. But this was a level of darkness that I have never before experienced. It was like looking at a black void for about two hours. I realized immediately why they gave warnings about potential panic attacks, it's quite unnerving not to be able to see your hand in front of your face or the face of the people speaking to you.
Another fun fact, they kept the menu a secret for the event, which turned out to be a great conversation starter as everyone was throwing out suggestions of what they thought everything was. There were also games on the table that we could figure out and attempt to play. But honestly — at least at my table — I think we were all still trying to process the level of darkness that we didn't bother.
All in all, it was a unique and perfect way to get across the purpose of the organization. What other way to highlight the experiences of the people who benefit from the services, than this. If you get the opportunity to support and attend this fundraiser next year, I suggest you give it a go. It's a great cause, and also an experience that you can talk about for years to come.