Sometimes you wanna go where everybody knows your name. That's exactly the feeling the owners of Two Birds Taphouse want to evoke. The Marietta Square's newest gastropub is a hybrid of fine dining-like offerings, thanks to Executive Chef Justin Balmes, mixed in with your favorite bar.
written by LaTria Garnigan // photography by Erin Gray Cantrell
At the helm 
Walking into the gastropub feels like family, which makes sense seeing as how it's owned by one. Owners Rachel and Jeff Byrd, along with their son Dan and his wife Lauren Smith, make up the team. And they've got this down to a science.
Rachel Byrd and Lauren Smith
What would seem tricky navigating with such a large group, they've managed to execute with precision. Dan & Jeff came up with the concept. Jeff, the group-proclaimed craft beer lover is in charge of the malt beverage offerings as well as finances. Dan is all about the aesthetic — lighting, design elements, bar stools and fabrics.
Lauren, who has a background in the restaurant industry is in charge of operations and hiring and training staff. Rachel was instrumental in procuring the licensing and paperwork needed and overseeing construction with the contractors and architects, as well as curating the wine list with Lauren.
The Byrds have called Marietta home for almost 31 years. Dan, who moved to California at 18, has been steadily working as an actor ("Cougartown," "Mad Men," "Scandal"). He said this was an opportunity to realize a dream of working with his family.
"Food and drink is a passion that we all share and a business that my fiancé was very well versed in given that she's been opening and operating them for several years so it seemed like an obvious choice. Also, the idea of stepping outside of my comfort zone and attempting something completely foreign was a motivating factor."
Ambiance
If you walk in and feel as if it's your neighborhood spot, that's on purpose. The Byrds have a clear vision of Two Birds being engrained into the area for years to come.
 "We want this to be here 20 years from now," said Rachel. Dan agrees that it's all about the community first and foremost. Also, UGA fans they hear you — Rachel is dedicated to making this the Georgia bar on the square. Make her proud. Along with football, they're looking into having trivia nights, live entertainment and possibly karaoke.
Perfecting the palate 
While the concept may have been created around craft beer, the food has taken over and constructed a life of its own. In a nutshell, it's spectacular. From the plating to the robust flavors, you feel as though white linens should be draped over the tables and that you need to come to dinner in your Sunday best.
Justin uses care and concern in sourcing the freshest ingredients for the Southern-inspired small plates. The menu is short and sweet. No overcrowding of choices here. The Burger is a staple — Justin said they can't make enough of them. Dry aged, pasture raised beef is topped with an optional fried egg, gouda, bacon, charred sweet onion, smoked mushroom on a brioche bun and side of fries with a tangy aioli dipping sauce.
And if that doesn't tempt you, then the pan-roasted scallops topped with smoked tomato jam on a bed of black eye pea/bean/sweet corn succotash sure will.
Justin came in and matched the family's vision of cuisine perfectly, which in turn matches with their craft beer, cocktail and wine lists.
"That vision was never fully realized until Justin came on board with this distinct, creative menu that he and his team execute perfectly day in, day out," said Dan. "I think that's when it all really started to make sense to us and our identity was officially formed."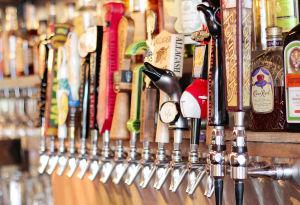 Pour it up 
The cuisine may have taken a front row to taste buds, but the refreshment offerings are what bring in the crowds. They have taken care in curating a specific list of craft beer selections on tap.
Twenty beers are offered, with 16 of them being from Georgia and the surrounding Southeast area. You'll recognize local names like Burnt Hickory and Red Hare. The taps are switched out each week, and Lauren said they are looking to incorporate beer dinners and tap takeovers in the near future.
For the cocktails, Lauren and Dan had fun with those. The duo created just about every drink on the menu. There are eight signature cocktails, including the first one that went on the menu, Honey I Drunk The Kids. There's a special off-menu item that Lauren says lets them know true fans and followers of the restaurant: the Adult Coke Float, featuring pecan vodka and cherry liqueur.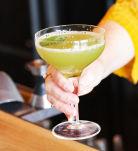 "It's not on the menu so we really only make it for people who have heard about it on social media or word of mouth."
If wine is more your speed, then you'll appreciate Two Birds' selection, which Rachel and Lauren made sure pairs well with the food. And as the menu changes with the seasons, so will the wine list. The fall brings more full-bodied whites and reds. They began with about 20 wine choices and will add a few more as fall continues.
***
Right now the gastropub is open only for dinner (Tuesday through Thursday, 4 p.m. to midnight; Friday and Saturday, 4 p.m. to 2 a.m.), but is considering opening for lunch and earlier on the weekends for those Georgia games.
With a very active Instagram page, they've been able to draw in a unique crowd, and feedback from the community has been positive.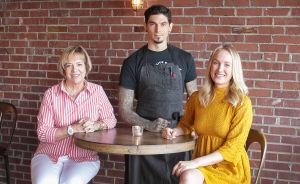 "We've had a lot of people call us a modern day Cheers," said Lauren. "We already have an awesome group of regulars who come in and that makes it so much better."
Mission accomplished.
---
Meet the Chef: Justin Balmes
Rachel Byrd, Justin Balmes and Lauren Smith
Graduated in 2003 from the Art Institute of Atlanta
Was on staff as an instructor at the Art Institute for the last five years
Appeared on two television shows on Food Network: "Food Network All-Stars," (Season 7) and "Chopped All-Stars" (in 2012)
Originally met Dan while on his elimination episode of "Food Network All-Stars" where he had to cook for the cast of "Cougartown"
Justin's take on the southern-inspired cuisine at Two Birds is in line with the vision created by the Byrds, as well as his own design.
Fresh is best in his book, whether you're talking about ingredients or preparation.
"My personal philosophy towards food and cooking is to source the best possible ingredients and prepare them with respect."
Not to slight any of his dishes, Justin — of course — can't pick a favorite, but diplomatically says he loves them all. And so will you.
However, if you're wondering what the customers love, its hands down The Burger, which he can't seem to make enough of.
With the weather cooling down, expect some heartier dishes with an emphasis on braising and slow cooking.
"We are looking to expand the menu and change up seasonally. And then within each given season, there will be rotation."
Two Birds Taphouse
52 Powder Springs St., SE, Marietta
(678) 324-7205
www.twobirdstaphouse.com
Facebook: twobirdstaphouse
Instagram: @twobirds_taphouse