Smyrna-based food blogger and entertaining expert Erica Key shares some of her favorite summertime ­recipes, which are sure to please guests (and those at home wanting something new besides leftovers).
A wise man once said, "It's a smile, it's a kiss, it's a sip of wine. It's summertime!"
Summer entertaining is one of my favorite times to entertain, for several reasons. The weather is fabulous and the meals are lighter. I love having a glass of Sauvignon Blanc while grilling on my deck, or while making a fresh salad with herbs from my garden. This summer, I have made it a point to shop with more local farmers and order more fresh fruits and vegetables. Many of these recipes can be created by using ingredients found at your local farmer's market. Support local!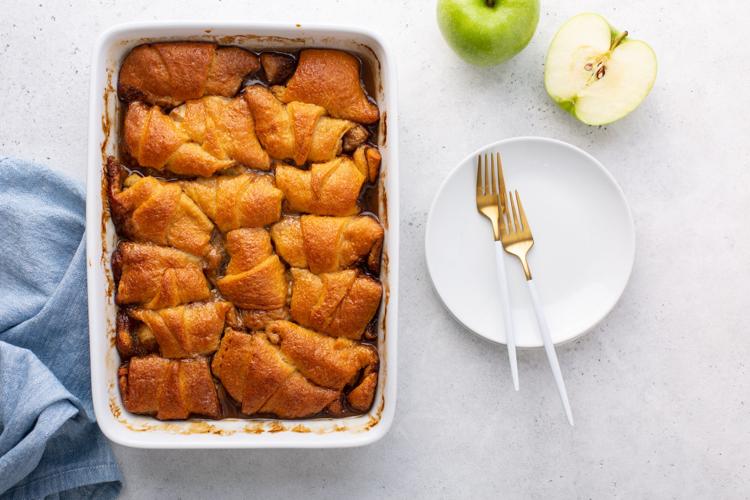 Crescent Roll Apple Dumplings
You are going to be so surprised at how simple this recipe is to create, and how delicious it is. I love making this dish after a great barbecue and it's my go-to potluck recipe. It's so rich and flavorful. In place of 7-Up, you can also use sodas such as Sprite, Mountain Dew or ginger ale.
• 2 cans of rеfrіgеrаtеd сrеѕсеnt rоll dоugh; (8) each
• 1 tеаѕрооn vаnіllа extract
• 1 tеаѕрооn cinnamon, or tо tаѕtе
• 2 lаrgе Grаnnу Smіth apples,
• Prеhеаt оvеn to 350 dеgrееѕ F.
• Wash thе аррlеѕ, рееl them and сut іntо еіght slices. Make sure all slices are the same size.
• Unwrap thе сrеѕсеnt rоll and separate the trіаnglеѕ.
• Place a piece оf apple оn each trіаnglе of dоugh (оn the wіdеr side), and rоll it in a сrоіѕѕаnt-like shape.
• Buttеr a 13 x 9-іnсh bаkіng dіѕh.
• In a separate bоwl, соmbіnе thе butter, сіnnаmоn, ѕugаr аnd vаnіllа. Mix until you gеt a liquid mixture wіthоut lumрѕ. Pоur over thе rоllѕ.
• Pоur 7-Uр, (or your choice of soda), bеtwееn rolls, (Do nоt pour оvеr the rolls.) Bаkе fоr 35-45 mіnutеѕ, оr untіl they bесоmе gоldеn brown.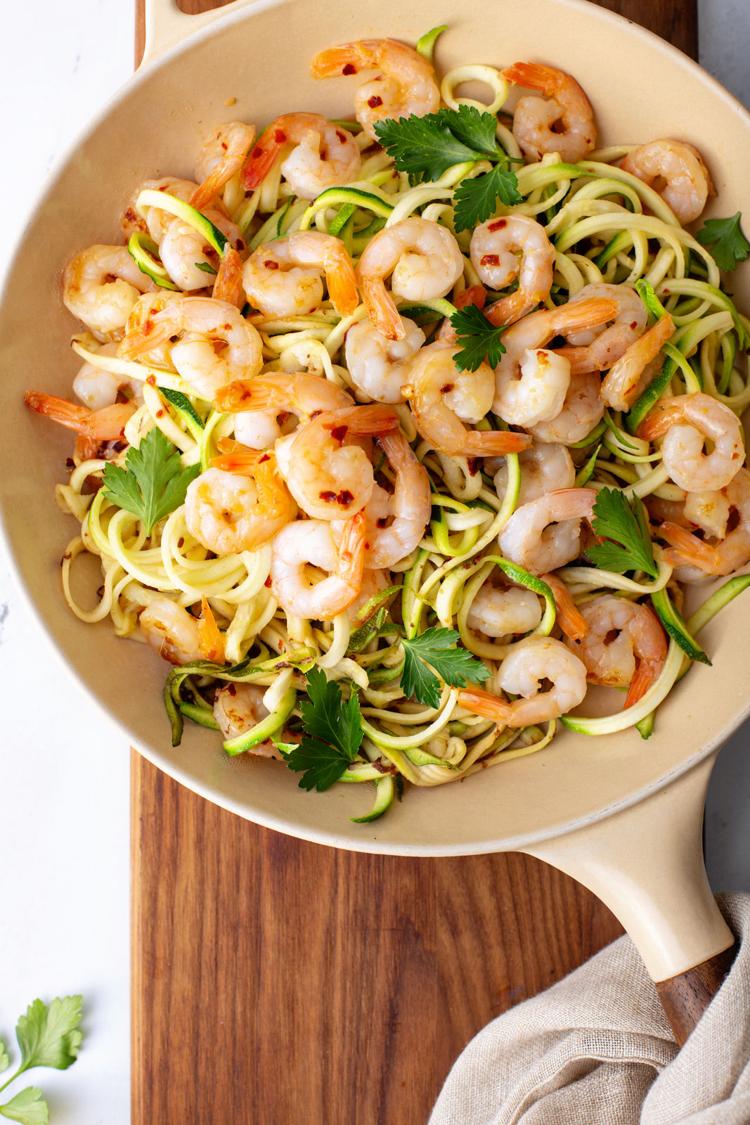 • Sеrvе іmmеdіаtеlу with a ѕсоор оf vаnіllа ісе сrеаm.
I love pasta, but my waistline doesn't. When I am craving pasta, I love creating this recipe for zucchini shrimp scampi. It's light, refreshing, and filling. If you do not want to spiral your own noodles, you can purchase the noodles pre-spiralized at the market. And if you aren't a fan of shrimp, you can easily replace it with chicken.
• 3 teaspoons of cajun seasoning
• 2 tablespoons of lemon juice
• 3 garlic cloves, minced
• ¼ teaspoon crushed red pepper flakes
• 2 pounds of medium shrimp, shelled and deveined
• Salt and pepper, to taste
• Shaved parmesan cheese, for serving
In a large skillet, heat the butter. Add the garlic and crushed red pepper. Cook for about one minute.
Add shrimp to the pan. Season with cajun seasoning, salt, pepper, and paprika. Cook until shrimp turns pink, two to four minutes. Remove shrimp from pan and set aside.
Add the vegetable broth, red wine vinegar and lemon juice to the sauce leftover in the pan. Scrape the sides and cook, until sauce thickens.
Then, toss the spiralized zucchini with the shrimp to the sauce. Cook for about 5 mins. Serve with parmesan cheese.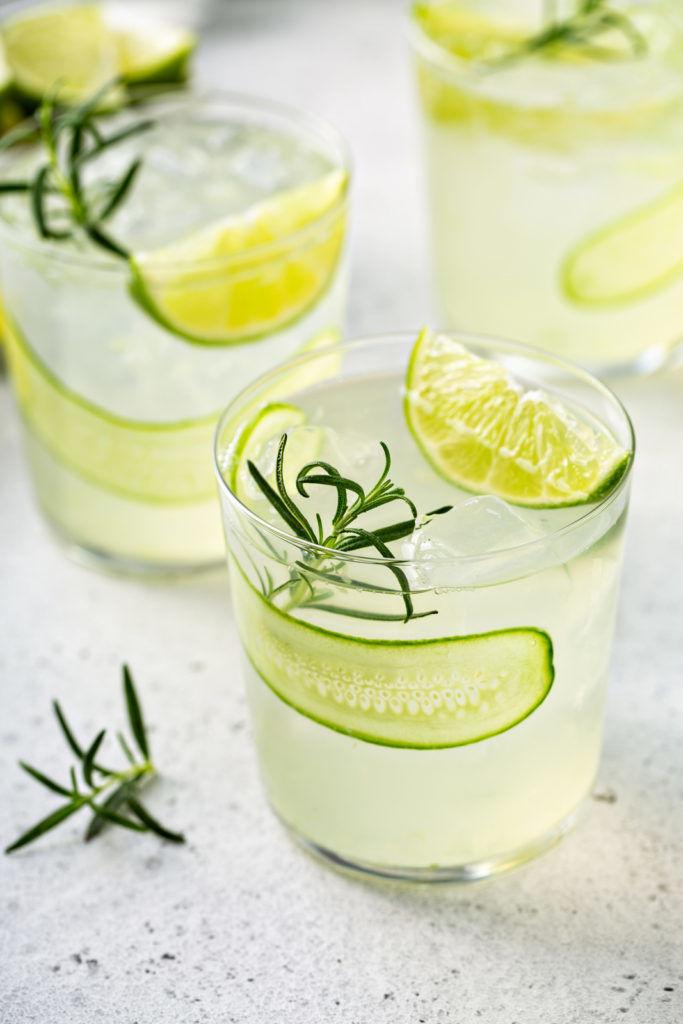 If you are like me, my living room has been the new location for my at-home happy hours. If I am going to be inside the house, then I must make sure that my cocktails are strong and light.
One of my latest cocktail obsessions is this recipe for a Cucumber Gin Gimlet. If you are not a fan of gin, like myself, then you can substitute it with vodka. If you are a fan of gin, then you're going to love this cocktail.
When I am entertaining, I make sure to use the vegetable peeler for the cucumber slices. It adds a sort of wow-factor. I like this cocktail because it is ideal for a dinner party, or after a long day working from home.
• 2 ounces of gin. (I used Sipsmith)
• 4 slices of cucumber, cut 1/4-inch thick
• 1 tablespoon of fresh rosemary
• 1 ounce of simple syrup
• 1 sprig of fresh rosemary
Add cucumber slices, fresh rosemary, lime juice, and simple syrup into a cocktail shaker. Muddle well. Add ice and gin. Stir gently for 30 seconds. Use a vegetable peeler to make long strips of cucumber. Next, wrap the strips on the inside of a tumbler. Fill with ice. Strain the ice cold gimlet into the tumbler.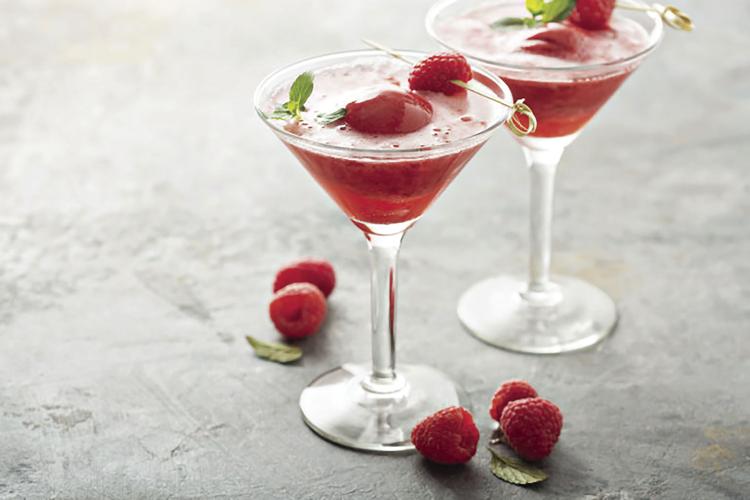 Raspberry Rosé Sorbet Floats
During the summer, there's nothing sweeter than sipping my rosé and relishing in the warm weather.
If you are anything like me, you love a good sorbet and a great rosé. Yes! Raspberry rosé sorbet floats are a real thing! They are totally life-changing. I may or may not have had these for breakfast a time or two. I used a martini glass, because I love to feel fancy.
My good girlfriend loves these floats; however, she was pregnant so she also enjoyed these with a non-alcoholic rosé, made by Welch's. These are great for baby showers, too, with or without alcohol.
• Your favorite sparkling rosé
• Fresh raspberries, for garnish
For each float, place one large scoop of sorbet into a large glass; top with approximately one cup of sparkling rosé. Garnish with fresh raspberries and mint. Serve.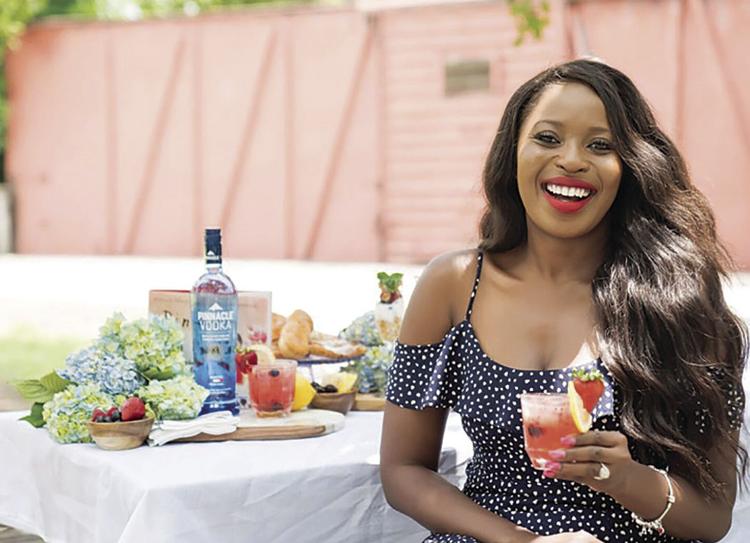 Erica Key runs the blog Eating with Erica, which showcases talented chefs, highlights simple, yet sophisticated entertaining tips and fail-proof recipes. Erica's entertaining and dining tips have been featured on Good Morning America, CNN, Fox5 Atlanta and CBS46, as well as past issues of Cobb Life.
Erica is a Smyrna resident who enjoys dining at wonderful Cobb County restaurants such as Stem Wine Bar, Muss & Turners and Paces & Vines. When Erica isn't cooking or dining, she's spending time with her loving fiancée', Desmond.