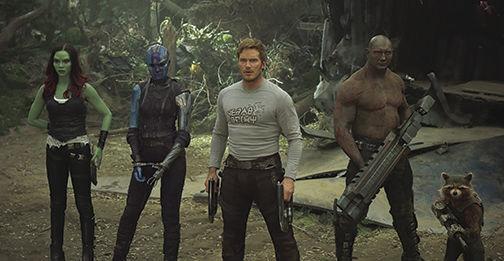 When you're purchasing your tickets to see "Guardians of the Galaxy Vol. 2" — because, duh why not?! — make sure you select to see it in 3D. There's no better way to watch this Marvel sequel. And this is a movie that is made for the quality and engagement of 3D.
It is action-packed from the very first sequence of the film, which finds the characters battling a giant sized octopus-looking creature. The crew is back together — Peter Quill (Chris Pratt), Gamora (Zoe Saldana), Drax (Dave Bautista), Baby Groot (Vin Diesel) and Rocket (Bradley Cooper) — so, of course, it takes a few quips before they ultimately prevail.
Family is the overarching theme for this sequel as it sets up Quill with the revelation of who his father is, Ego (Kurt Russell). And then we go on the journey of the pair getting to know each other, and questions back and forth on whether or not we can fully trust his newfound dad.
But even before we get to that reveal, there is plenty of action and comedy that ensues with the team continuing to fight enemies new and old and, at times, each other. There are some major character transitions within the movie — which I loved — where you'll be left rethinking your perspective on their personality.
Laughter is plentiful. As we've come to love with this franchise. Baby Groot is ever more adorable in his miniature size, but don't push him! And there were some surprising scenes that had my eyes misty at times.
We also get introduced to a new band of characters, Ayesha, leader of the golden Sovereign Planet and her people. For a special treat at the end of movie, stay until all of the credits roll to see a sneak peek of what I assume will be Vol. 3. A girl can hope.
Overall, it's a great film, and dare I say better than the first! There IS some suggestive language, so I would definitely take heed to the PG-13 rating.