When Katie met Josh, she felt an immediate connection.
"You could say it was love at first sight," she said.
"I thought she was beautiful and had a great personality," said Josh, an electrician. "She was funny, full of joy and had a beautiful smile. I loved that she was outgoing and spontaneous, and I wanted to get to know her more."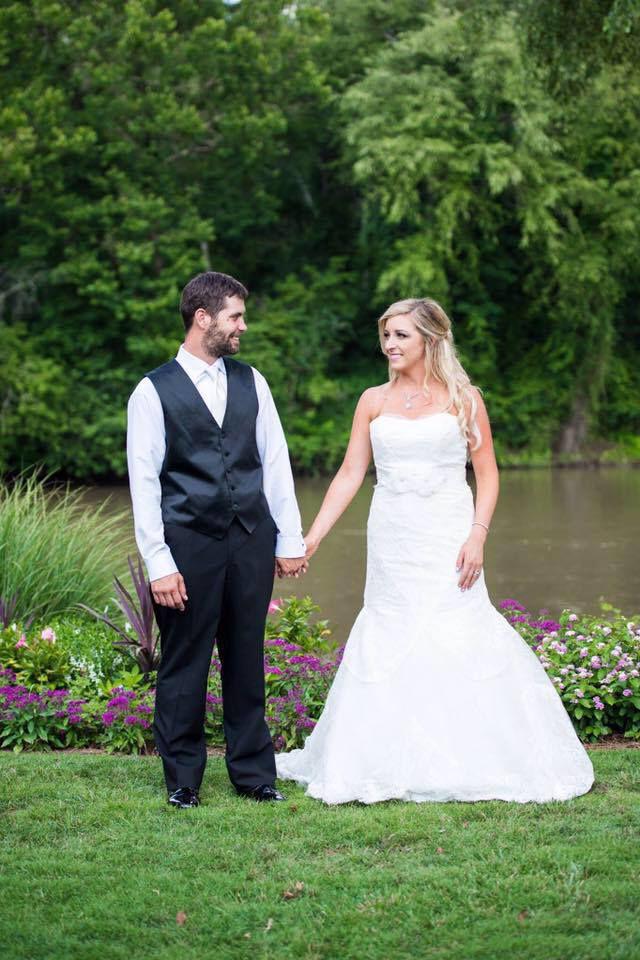 They went on their first date to The Italian Oven a month later and have been almost inseparable since, bonding over their enjoyment of playing video games, their mutual love for animals and the deep connection they share.
"We support each other in whatever the other likes to do," said Katie, who works at Tatum Steel and is also an artist. "We like a lot of the same stuff, but we are opposites personality-wise. I think that makes us a good match because we balance each other out. Also, we communicate well and confide in each other."
Though he knew for years that Katie was the love of his life, Josh was a little nervous about proposing.
"I wanted to marry her for a long time," he said. "I love her drive and … just the way she is. She's a good person. She really cares about people. I love her to death."
He popped the question one day when they were visiting Katie's parents.
"We went outside, and he asked me to come over to look at the flowers my mom had planted, which were near a little altar in the back yard," Katie said.
Then he got down on one knee, pulled out the ring and asked her to marry him.
"I was really surprised," Katie said. "It was really sweet."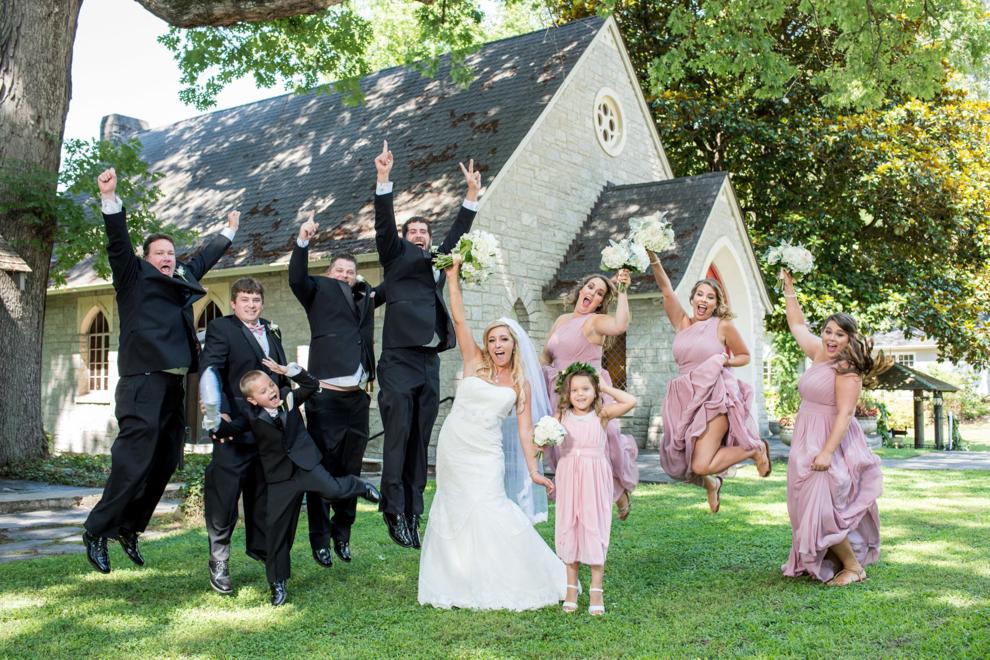 The wedding day was also filled with tender moments. White and light rose flower arrangements by Carithers Flowers adorned Log Cabin Community Church in Vinings, the same church in which Katie's parents, Diane and Gregory Tatum, were married in 1983.
"I rely on my mom a lot for advice, and she recommended the church. It was perfect; it felt right. I also wore her veil, and she gave me a beautiful diamond bracelet for my new item," Katie said.
Diane said seeing her daughter wearing her veil walking down the same aisle she had more than 30 years ago was a really special moment.
"It was very sentimental," Diane said. "It brought back memories of our wedding, especially since a lot of the same people were there. It was just a beautiful day."
The day was also sentimental for Katie as her childhood best friends were her bridesmaids.
"We all went to the same elementary school in Marietta and have been friends since kindergarten. Now one lives south of Macon, one is in Pennsylvania and the other is in San Diego. But we have always kept in touch, and we're like 'The Sisterhood of the Traveling Pants,'" she said.
The friends caught up during a spa day and sleepover party before the wedding.
At the ceremony, Katie's maternal grandmother Elosie Greenlees, a professional pianist, played one of Katie's favorites, "Somewhere Over the Rainbow" and one of Diane's favorites, "Stardust." Jennifer Hanson and Del Baroni sang "Because You Loved Me" and "The Prayer."
Hanson, Baroni and the Ray's on the River House Band also played the intimate reception, held in Canoe's outdoor area overlooking the Chattahoochee River. The newlyweds held each other close in their first dance to "Die a Happy Man" by Thomas Rhett, which had its lyrics revised to "I will live a happy man."
Diane said she was overjoyed to officially welcome Josh into the family.
"Katie and Josh are best friends," she said. "They are great for each other, and you can feel the love between them. People still tell me how touching and beautiful the wedding was. There wasn't a dry eye in the church."
The wedding toast given by Katie's dad, Gregory, also was a touching and fitting tribute to their love.
"You know their love is more than just sitting and gazing at one another with loving expression," he said. "Their love instead will be expressed by both Katie and Josh looking outward together in the same direction."
---
Q&A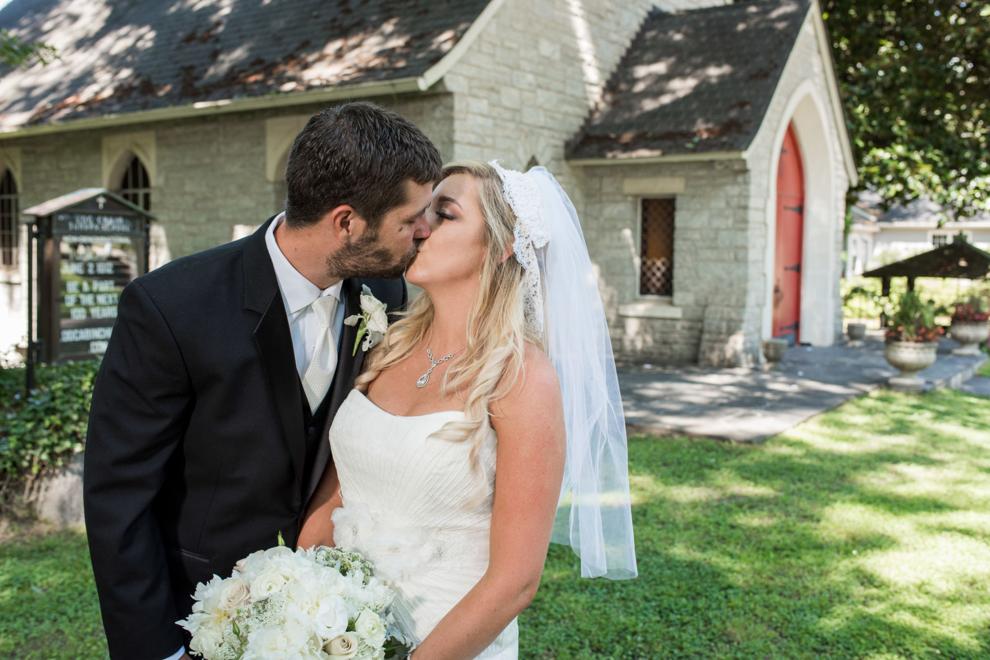 Favorite moment during the ceremony:
Katie: It was surreal seeing Josh standing there as I walked down the aisle. I also enjoyed watching my bridesmaids cracking up and laughing at our little jokes. The whole day was just a lot of fun.
Josh: When I first saw Katie walk through the doors with the light behind her.
Favorite moments from the reception:
Katie: I loved the speeches from my bridesmaid and Josh's groomsman, they were really cute. I also loved when the wedding party all walked in as they announced our names. And the bubble ceremony when we left the reception to go on our honeymoon to Cancun was beautiful.
Josh: The speeches were great and heartwarming.
Best thing about being married:
Katie: Being a team is the best thing — we love spending time together and we do everything together.
Josh: Having someone to talk to and knowing they are always there for you. I married my best friend.
Advice for others who are planning weddings and/or newlyweds:
Katie: Don't get upset if it doesn't go the way you plan in your idea of a fairytale wedding. Your wedding day is real life, and not a moment you'll ever get back. I would give the same advice my mom gave me: be patient and just enjoy the day, be in the moment.
Josh: Never stop dating. You have to make time for each other.