When Smyrna local Colleen Oakley sits down to write, the premises for her novels are usually so bizarre, she wonders if she "can pull it off and make it believable for the reader." Take her latest work, "The Invisible Husband of Frick Island," a tale of love, grief and faith.
Piper Parris's life on Frick Island—a tiny, remote town smack in the middle of the Chesapeake Bay—is nearly perfect. Well, aside from one pesky detail: Her darling husband, Tom, is dead. When Tom's crab boat capsized and his body wasn't recovered, Piper, rocked to the core, did a most peculiar thing: carried on as if her husband was not only still alive, but right there beside her, cooking him breakfast, walking him to the docks each morning, meeting him for their standard Friday night dinner date at the One-Eyed Crab. And what were the townspeople to do but go along with their beloved widowed Piper?
When a young ambitious journalist comes to town looking for his big break, he stumbles upon an entire town pretending to see and interact with a man who does not actually exist. Determined it's the career-making story he's been needing for his podcast, Anders returns to the island to begin covert research and spend more time with the enigmatic Piper—but he has no idea that out of all the lives he's about to upend, it's his that will change the most.
A USA Today best-selling author of "You Were There Too," "Close Enough to Touch," and "Before I Go," Oakley started off her writing career in magazines. A proud graduate of the University of Georgia's school of journalism, Oakley has served as the former magazine editor for Marie Claire and Women's Health & Fitness. Colleen's novels have been longlisted for the Southern Book Prize twice and Close Enough to Touch won the French Reader's Prize. Her books have been translated into 21 languages, optioned for film and have received numerous accolades. She currently lives in Cobb County with her husband, four kids, four chickens, two guinea pigs and one fish.
Cobb Life Editor Madison Hogan asked Oakley to share some of her insights as a writer and talked the nitty gritty about finding inspiration in unlikely places, a different kind of tale about love and storytelling.
CL: How did the idea for "The Invisible Husband of Frick Island" come about? 
CO: A few years ago there was a big news story about a woman in Australia whose husband had died, and she was in such denial about it, she left his body in their bed and continued to live her life as though everything were completely fine. It wasn't until a neighbor noticed an… odor, that people found out. I know that's so morbid, but as a novelist I found it fascinating—the idea that grief can make us do such strange things, and that no two people grieve the same way. And that woman's story was the initial spark of the idea for "The Invisible Husband of Frick Island," about a woman who is in such denial about her husband's death, she wakes up every morning and lives her life as if he is right there beside her (fortunately, without the rotting corpse in the bed).
CL: What separates this book from other pieces you've written? What connects it? 
CO: Every book I write has some kind of outlandish premise—something that's so bizarre I wonder if I can pull it off and make it believable for the reader. I love the challenge of that. I'm not sure it gets much stranger than a woman thinking she can see her dead husband—and an entire town going along with it—so Frick Island is no different from my other books in that respect. What makes Frick stand out from my previous books is that it's more than a love story between two people, it's a love story about a community and the lengths we as humans will go for the people we love.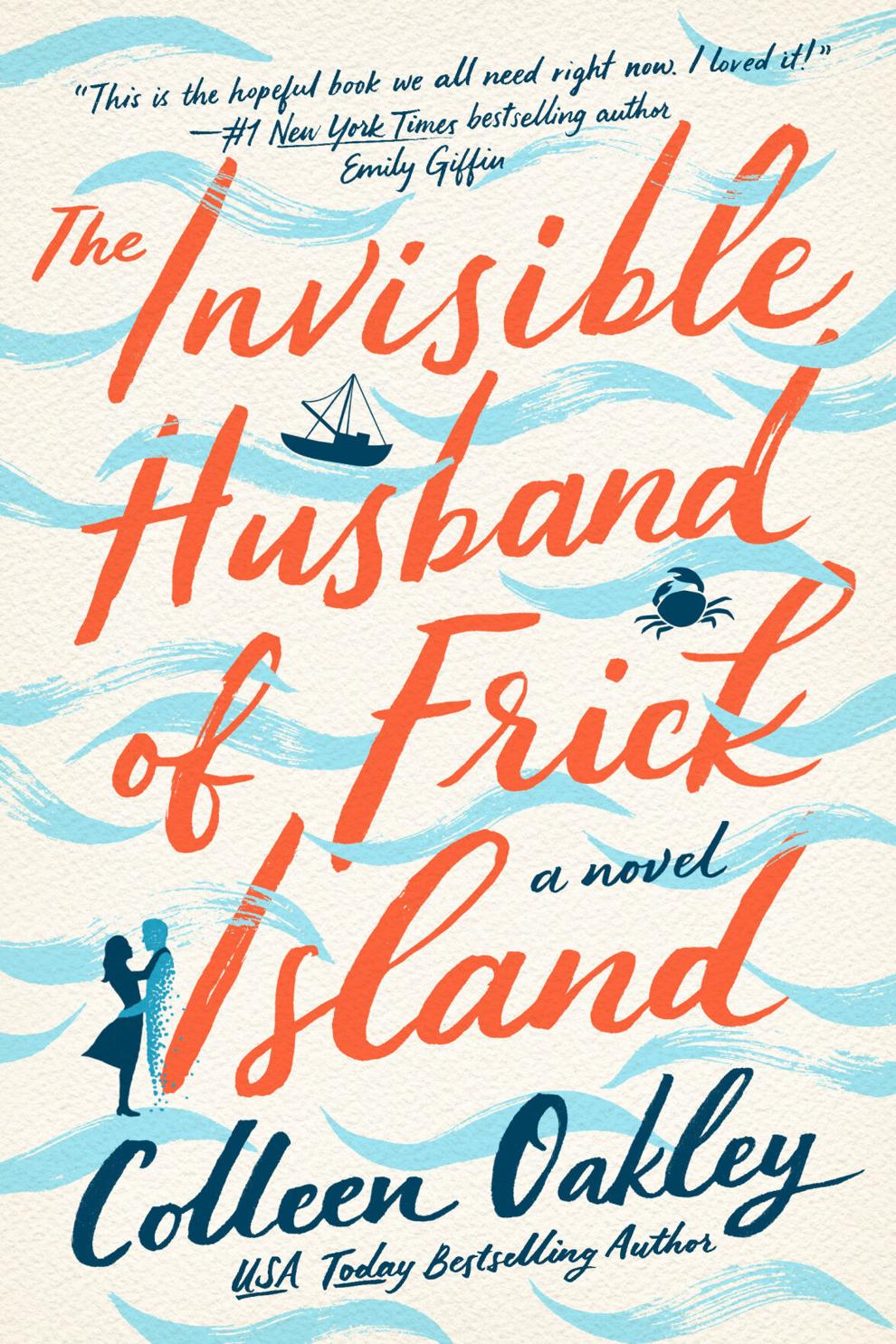 CL: What can readers expect from "The Invisible Husband of Frick Island?
CO: They can expect a journey to a very unique and interesting island—it's the perfect read for a time when people perhaps aren't traveling as much, and want to escape in their minds. It also doesn't fit easily into any one genre—there's a little bit of love story, a little bit of mystery, some humor—so readers can also expect a few twists and turns, some emotional resonance and a lot of laughter along the way.
CL: How does inspiration strike you?
CO: Sometimes it doesn't! But I have to write and push through it anyway. When it does strike, it's at strange times, like when I'm in the shower, falling asleep at night or doing something banal like mowing the lawn. It's when your brain has time to wander that creativity has space to blossom. I try to limit scrolling on my phone for that reason, but I'm not always successful in that endeavor. (OK, I'm rarely successful in that!)
CL: What advice can you share with other local aspiring authors?
CO: To open the manuscript you're working on every day—even if you only have five minutes and all you can do is write a quick sentence or reread the pages you wrote the day before. It keeps your story top of mind and your brain will be working on it—figuring out knotty plotlines, playing with snippets of dialogue—even if your fingers aren't. That way on the days you do have more time, you'll be ready to go.
And my second piece of advice is: Don't give up. The key to making it in publishing is perseverance. It's a very tough industry with a lot of rejection and a lot of ups and downs, so you really have to believe in yourself and your work, even when it feels like no one else does.
CL: What's your favorite part about writing? Your least favorite? 
CO: My favorite: Writing "The End"
My least favorite: The sticky middle part of a manuscript. No matter how many books I write, it never gets easier.
CL: Who are you currently reading? 
CO: Currently I'm reading "Razorblade Tears" by SA Cosby. Up next are advanced copies of two of my author friends' books (this is one of the great perks of being an author—getting to read books before they come out!): "Doctors and Friends" by Kimmery Martin and Atlanta author Kimberly Belle's latest domestic suspense "My Darling Husband."
CL: Why did you start writing? What made you take the plunge?
CO: I've been writing since I could hold a crayon. My mom has boxes of my first "books" and stories somewhere in the attic hopefully never to see the light of day. I went to school for journalism at the University of Georgia and then started my career in magazines—first at Boating World in Atlanta, and then Women's Health & Fitness and Marie Claire in New York, and then I went full-time freelance and wrote for a lot of different women's magazines. But all the while I was working on my fiction on nights and weekends, and was thrilled when I got my first book deal for "Before I Go" back in 2013. I haven't looked back since!
CL: What/who is your favorite book/author of all time? Why?
CO: I love "Their Eyes Were Watching God" by Zora Neale ­Hurston because every time I read it, I get something different out of it, which I think is the mark of a true classic. And I'm a huge fan of Stephen King—his book "On Writing" is basically like my own personal Bible. I also love Ann Patchett. Every single one of her novels has at least one passage that makes me stop, close the book, hold it reverently to my chest and say, "Wow."
The following is an excerpt of Colleen Oakley's latest novel, "The Invisible Husband of Frick Island."
While the rest of the town knew the worst had happened, Piper held out hope. Maybe Tom got disoriented and swam in the wrong direction, washing up on a deserted island, and was currently eating coconuts and writing messages in palm fronds for passing airplanes. Or maybe a ship of Somali pirates picked him up and he was being held against his will, unable to negotiate his release due to the language barrier. Or a whale swallowed him whole and he was contemplating his escape from the depths of its belly. Each of her theories was more outlandish than the next, but to Piper, none were as ridiculous as what the rest of the town believed — that Tom was gone. That she would never lay eyes on him again.
In the days following the Coast Guard's announcement that they were calling off the search for Tom, Piper found herself growing increasingly intolerant. And not just with the rescue teams who were, in her view, prematurely giving up. She couldn't stand the way people started looking at her, their eyes filled with pity. She couldn't abide the way they began referring to Tom in past tense. But the final straw was when the members of the Island's Methodist (and only) church—where the Parrish family had been attending for as long as the church had been on the Island, and where Tom and Piper had exchanged vows and thin gold bands—started planning a memorial service for Tom. Upon receiving that news, Piper locked herself in her one-bedroom carriage house, behind the Oleckis' Bed & Breakfast. She didn't answer the phone, or the door, not even when Lady Judy stopped by with enough smoked ham and beaten biscuits and peach cobbler to feed half the island. She left the food on Piper's stoop and it sat there all afternoon until the sun set. Until Mrs. Olecki retrieved it and set it out in the main house's toile-covered living room for her current boarders to enjoy for supper. 
Piper missed the memorial service altogether, where Tom's mother, glassy-eyed and catatonic, stood propped up by her brother Frank on one side and her nephew Steve on the other and the valium that had been pumping through her veins daily since her husband's heart attack—the aptly-named Widow Maker—had made good on its promise. Where Tom's cousin Steve's newborn interrupted the reverend with her insistent squalls, eyes screwed shut tight, giving voice to the pain the watermen were too stoic to show. Everyone asked after Piper, murmuring their condolences to every Parrish in attendance. Poor girl, they said, shaking their heads, offering various superlatives: too young, most in love, the worst.
But Piper couldn't hear them. She was in her bedroom, staring at the dent Tom's head had left on his pillow when his alarm clock prompted him to get up at 4:30 a.m. two weeks earlier. Piper didn't dare touch it—not even to try and inhale his scent that surely remained on the floral cover. Or Tom's near-empty mug of coffee sitting in the sink, a film of mold growing on the top layer of liquid still left in the cup. Or the book—Middlesex, by Jeffrey Eugenides—splayed open, pages face down, on top of the two wooden crates they stacked in the corner to use as a side table in their tiny den. It was as if all of these things, Tom's things, suddenly sprouted magical properties, transformed into talismans beckoning Tom back to where he belonged—to his bed to sleep, to the kitchen to wash out his coffee mug and hang it on the hook next to the sink, to the threadbare easy chair in the den to find out what happens to the characters of his current novel. They weren't just reminders of Tom, they were promises. He was going to come home. Of that one thing, Piper was sure.
And then one morning, just like that, he did.