Want to make your wedding day a truly unique experience? Farm-to-table weddings celebrate not only a couple's love for each other, but also their love of community, food, drink and music.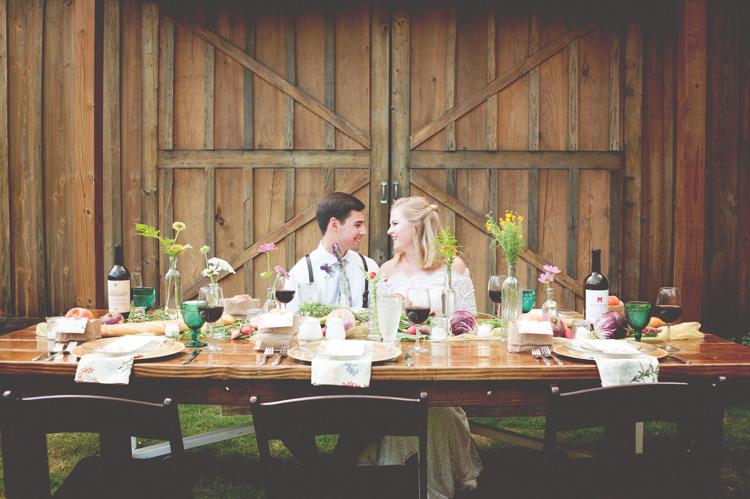 Born from the farm-to-table movement in restaurants years ago, couples work with caterers, florists, musicians and bartenders to plan one-of-a-kind events based on local, organic, seasonal materials.
No one knows this trend better than Becky Kimmons of Pleasant Union Farm. She and her husband, Cale, own and operate the 18-acre farm in Canton.
"Farm-to-table weddings are like hosting Sunday supper with your closest family and friends," Kimmons explains. "You break bread together, enjoy meals prepared fresh from the farm and delight in the beauty of the landscape."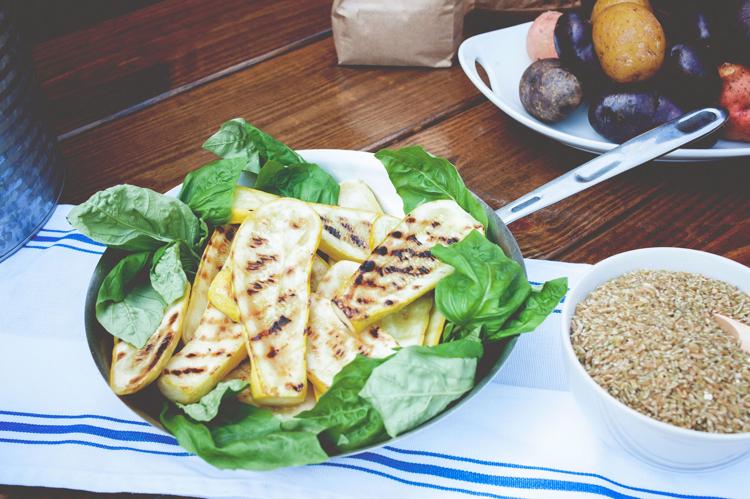 Four years ago, the Kimmons' purchased Pleasant Union Farm, where they raise goats and chickens and tend over 700 blueberry bushes. A barn, complete with heating and air accommodating up to 150 guests, serves as the venue. They partner with Jenna Schreiber, the head chef of 61 Main in Jasper, to create a menu using local, in-season ingredients.
"We enjoy working with couples to showcase the true flavor of the day they've chosen to get married," Kimmons says. "Many of the ingredients and décor we use come directly from our farm, or neighboring farms in Georgia. It's about celebrating what's in season locally — tomatoes and corn in the summer, and root vegetables in the fall."
With blueberries being their largest crop, they are easily incorporated into everything: food, drinks and décor. And when staff at the farm have sufficient notice from couples, they can grow specific fruits, vegetables and flowers for their big day.
So, how do you plan a farm-to-table wedding?
"Start with a great caterer," Kimmons advises. "Talk with them about what's in season on your big day, and develop a menu around those ingredients."
Pinterest has a wealth of information, and she suggests serving charcuterie plates with locally-made farm fresh cheese, honey, nuts and meat. Fresh salads with strawberries, blueberries or apples highlight the tasty harvests of Georgia. Offer guests a touch of local flair using fresh peaches or homemade honey and jam as favors.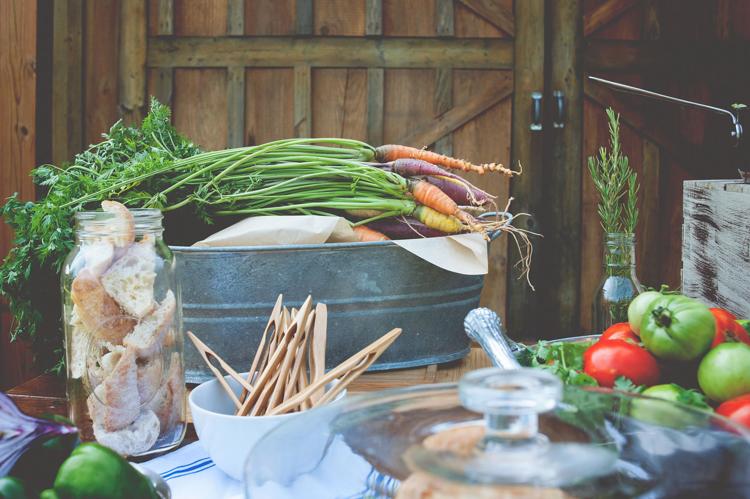 At the farm, bartenders create specialty, in season, organic cocktails. Kimmons even uses mint and blueberry to flavor the water. Some couples enjoy making trips to North Georgia wineries and local breweries searching for just the right drinks to serve.
Once the caterer and menu have been decided, talk with florists about what's in season. Oftentimes, flowers grown locally can be cut the week of (or even the day before), giving the event a fresh feel.
"The look of flowers varies week to week, so cutting stems the week of ensures you will have something beautiful and one-of-a-kind," Kimmons adds. "Incorporate colorful touches of nature like berries, spices, and vegetables in bouquets and boutonnieres, centerpieces and décor. Dried flower petals make great confetti for the bride and groom's send-off!"
Invitations are a guest's introduction to the farm-to-table wedding concept. As such, use local businesses and designs that convey the flavor of the venue. Mail invitations made from organic materials, or even consider "plantable" invitations as a unique announcement for your nuptials. Incorporate local musicians or bands, and select music reflective of the area.
"Before the event, make a list for photographers of every picture you want — include drinks, food, flowers, invitations and favors," Kimmons says. "Your photos tell the story of your wedding day for a lifetime, so be sure to include every detail."
After all the planning is done, Kimmons reminds couples to fully explain the meaning behind every detail.
"It could be as simple as including a menu with descriptions about each course, or making signs to accompany food and drink," she says. "Whatever you choose, make sure guests know where everything is from so that they understand the thought and care that goes into planning your day. Farm-to-table weddings are about a couple's character and the area's character, and you want to convey that."
Photography by Kaptured Photography