How many times have you heard, "you are what you eat?" Countless instances, I'm sure. And how many times after you were told that did you roll your eyes? Be honest. Food is probably one of the most controversial topics on earth. The lack of, excess of and even preparation of is constantly being discussed — and necessarily so.
But what is the difference between a dietitian and nutritionist? It can be confusing on which title to use for these professions and Sherry breaks it down easily. A dietitian is someone who has completed a minimum education (which in 2020 will be a master's) plus 1,000 hours of supervised practice working as an intern and would have completed a national registration exam that tests for competencies. For a nutritionist, there is no legally defined definition, according to Sherry. There are also no minimum requirements.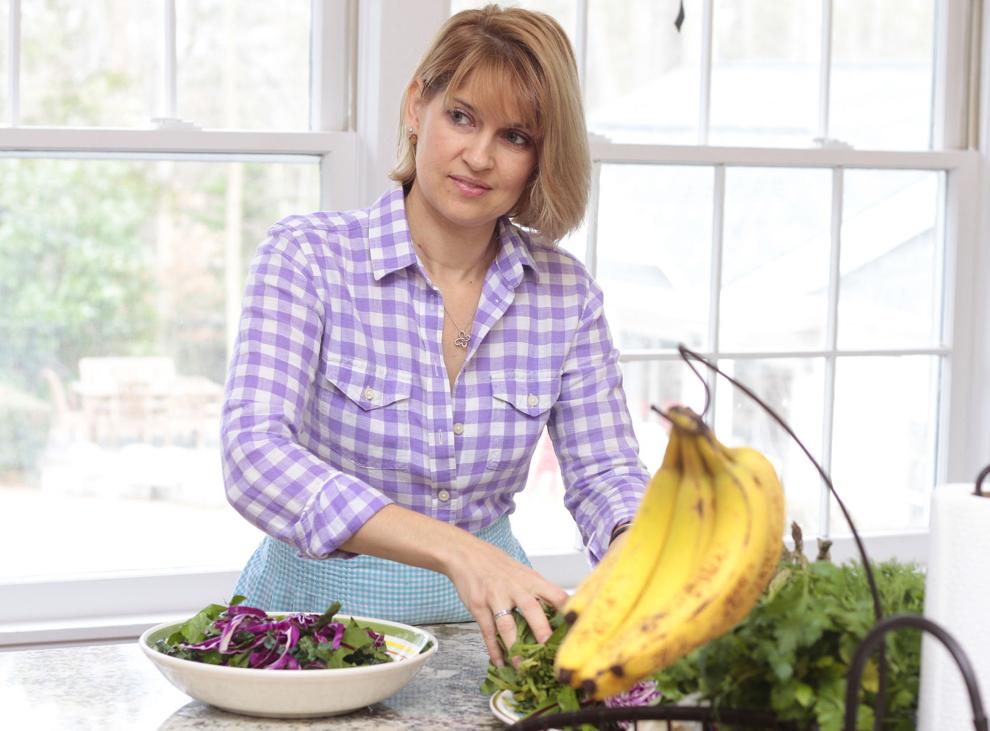 We're going to focus on the preparation and quality of food. Sherry Coleman Collins, a registered dietitian nutritionist, has always had a passion for food and nutrition and is eager to share her knowledge on how we should be more conscious of what we eat.
Sherry began her journey working for the Cystic Fibrosis Foundation and through that organization, she met a dietitian and learned about medical nutrition therapy and the use of nutrition to treat and control disease in a way she had never understood.
"I was blown away by the impact of food and nutrition," she said.
In the midst of her bachelor's at the time, she switched gears to nutrition and completed her degree; went on to get her master's and then completed her registration exam.
Food is healing and nourishing, according to Sherry, and for her, in the decade she's been in this field that has been the constant theme. We broke down some of the myths we've heard about food and also got some feedback from Sherry on ways to increase our food knowledge.
***
We've all heard of meal kits by now. There are those that are locally-owned to the big national brands. They provide easy to follow recipes and fresh ingredients that are mailed weekly, bi-weekly or even monthly straight to your doorstep. They all include recipes, and some include the ingredients in whole form or already chopped up and prepped for you.
"Cooking can be really intimidating," she said. "I have friends who don't' know how to cook without a recipe. But you get better by doing it." And if meal kits are what it takes to get people eating healthier, then she is all for it.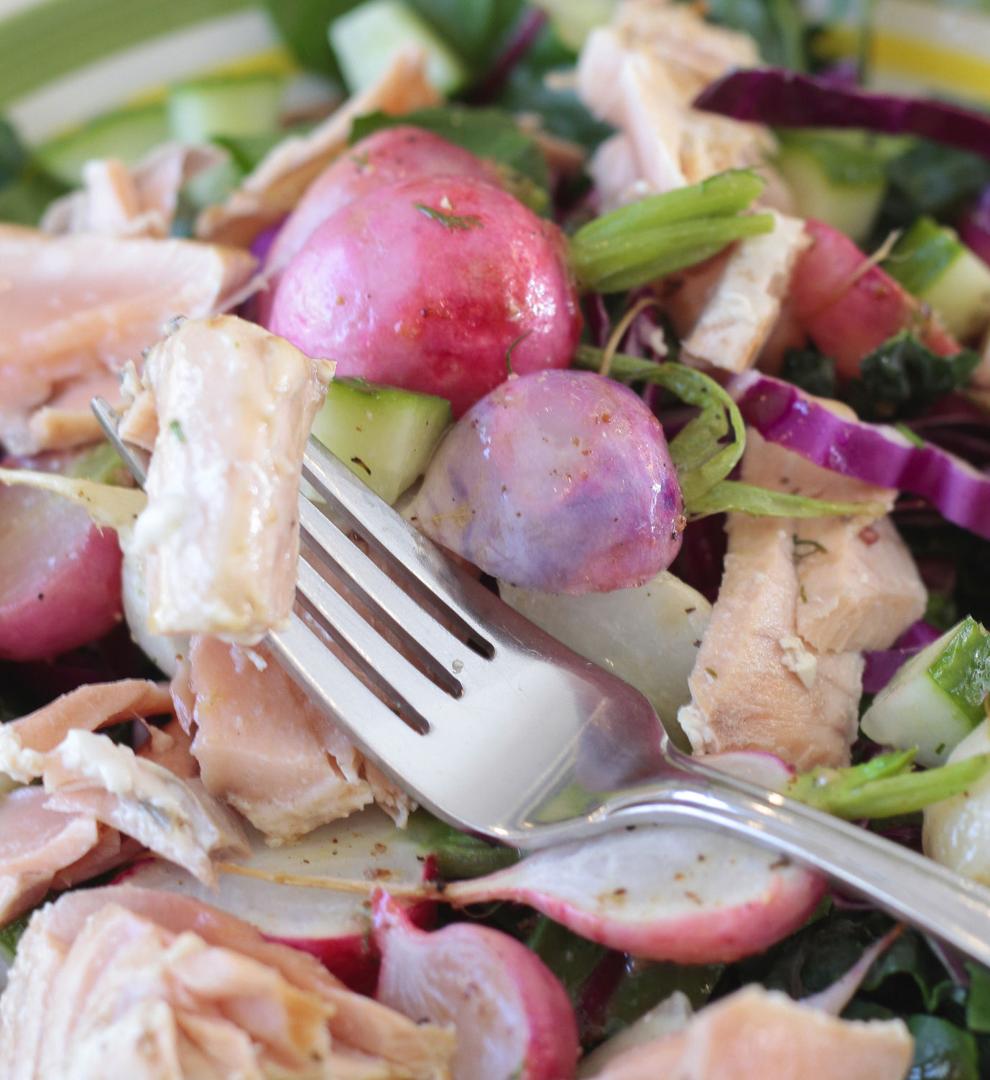 However if meal kits aren't for you, she encourages seeking out a cooking class, if you're a bit terrified of your kitchen skills.
One important tip Sherry has about food and nutrition is that there is no "one way" to eat. There are so many diets and lifestyle changes on the market that can be confusing and nerve-wracking, to say the least.
"You can eat many, many different ways and personally I don't eat everything because I choose not to," she said. "But that doesn't' mean I think people need to eat the way I do. I try to avoid extremes because for most people that's not sustainable"
Fresh is best. A lot of fruits and vegetables (five servings a day) is a great place to start, said Sherry. We get the majority of our vitamins and minerals from plant-based foods. She counsels people to eat as much of those foods as possible for the base of any good lifestyle and dietary change.
An example could be a big salad — if it's full of dark, leafy greens and vegetables, it will be packed with fiber and antioxidants that will go a long way to helping meet that minimum requirement.
Many iterations of diets/nutrition are out there including keto and paleo. The ketogenic diet was designed for intractable epilepsy for children who had seizures that couldn't be controlled with medication, according to Sherry. It's a very high fat, low carb diet, which causes the body to burn fat because there aren't carbs to burn. But as an everyday diet, she insists there's no research to support that it helps with weight loss over time.
"It's not sustainable for most and not something people want to do long term," said Sherry. "If the goal is to be healthy, then you have to think about what is sustainable forever and for most people, this is not."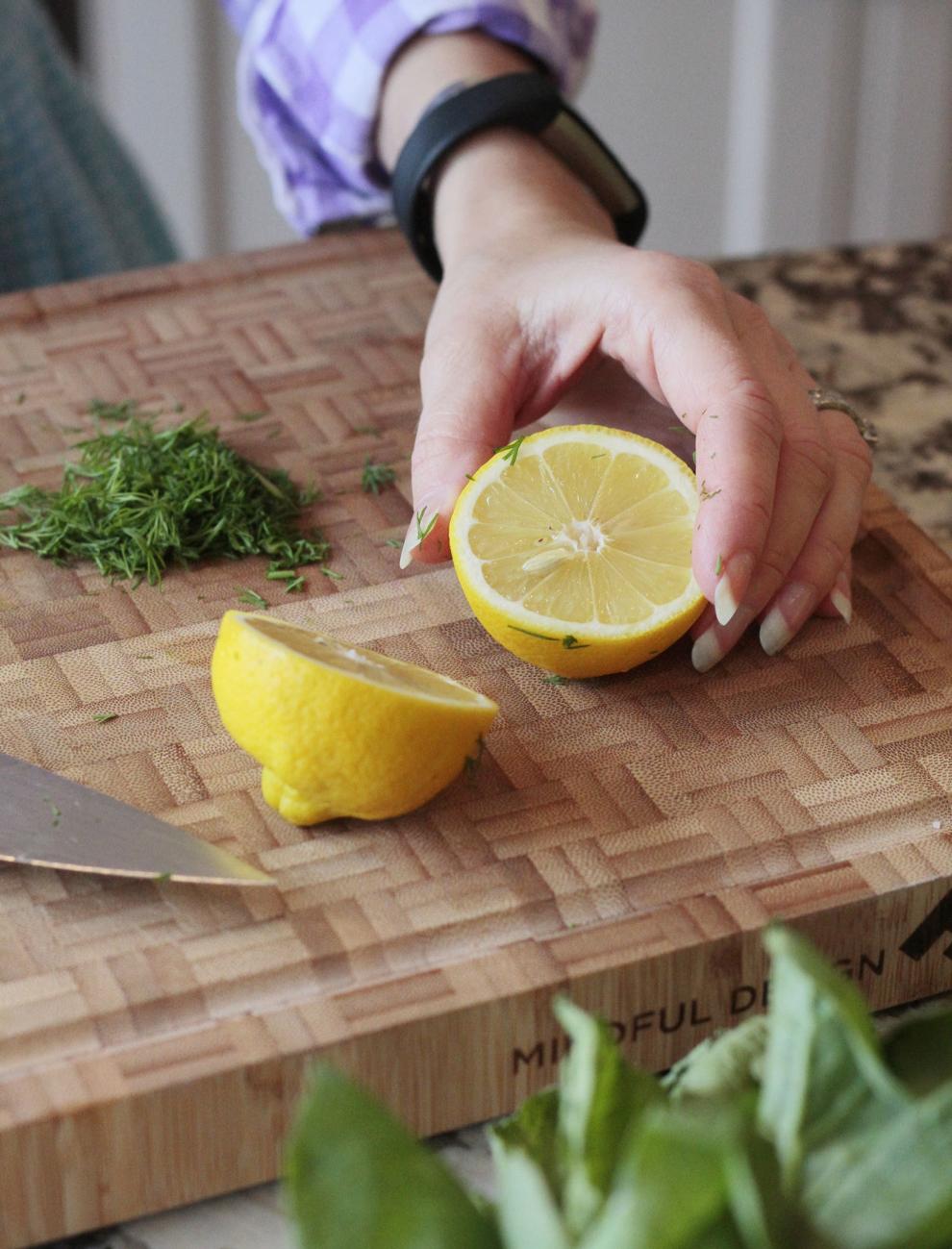 So what about paleo? The paleo diet is based on the idea that humans are meant to be hunters and gatherers. Yet, Sherry said there is no reason to believe that.
"Humans are omnivores — we can eat anything," she said. "We can choose not to eat meat; we don't have to. Our bodies can use anything."
Okay, what about a gluten-free diet? The most pressing reason for going gluten-free is for those who suffer from celiac disease, which is an autoimmune disease where patients have to avoid gluten because it damages the inside of their intestines.
"You can have celiac, but there is some controversy that a gluten sensitivity exists," she said. But for the most part, those with celiac disease have to stay away from wheat, barley and rye.
"This was never meant to be a weight loss diet," said Sherry. "There's no evidence that shows it's healthier, and I don't recommend it for most people."
She added it can be less nutritious because you may end up missing a number of important nutrients.
There are also other illnesses that force people into changing their lifestyle — for instance, diabetes and cancer. Carbs are one area where diabetes patients have to monitor. Plant-based is definitely best for this group, and carbs should be controlled throughout the day to prevent highs and lows as it pertains to insulin creation. A healthy lifestyle change can reverse Type 2 diabetes, said Sherry, but patients with Type 1 will be on insulin for the rest of their life.
For cancer patients, a weakened immune system can prove to be a challenge when it comes to nutrition. Many symptoms come up like nausea, diarrhea and constipation due to medicine and there can be specific strategies with food to help alleviate those, said Sherry. Making sure a patient is getting enough calories, avoiding food with strong smells and balancing high-calorie foods and increasing fiber and water intake could help stave off most symptoms.
***
All in all, Sherry reiterates that fresh is best. And seeking the assistance of a dietitian isn't restricted to those who are battling an illness, many clients are seeking to lose weight and get healthier overall.
But Sherry warns against being solely motivated by weight loss.
"When an individual is only motivated by weight loss, then they're not going to make sustainable changes that will stick with them," she said. "My approach is much more holistic about lifestyle focus."
Weight loss is an outcome, not a goal, she said.
"I like to focus on trying to make the best choices I can with the clients I see and also so that I can help them not waste their time and money."
She recommends doing sufficient research for anyone who has questions or is curious about a certain dietary lifestyle.
"I always tell clients to be a critical consumer," said Sherry. "A lot of people think that because they eat they are experts in food and nutrition. Their experience makes them an expert on their own body but that doesn't mean what they did will work for everybody."
---
RECIPES
Asparagus with Hard-boiled Eggs and Lemon Dill Sauce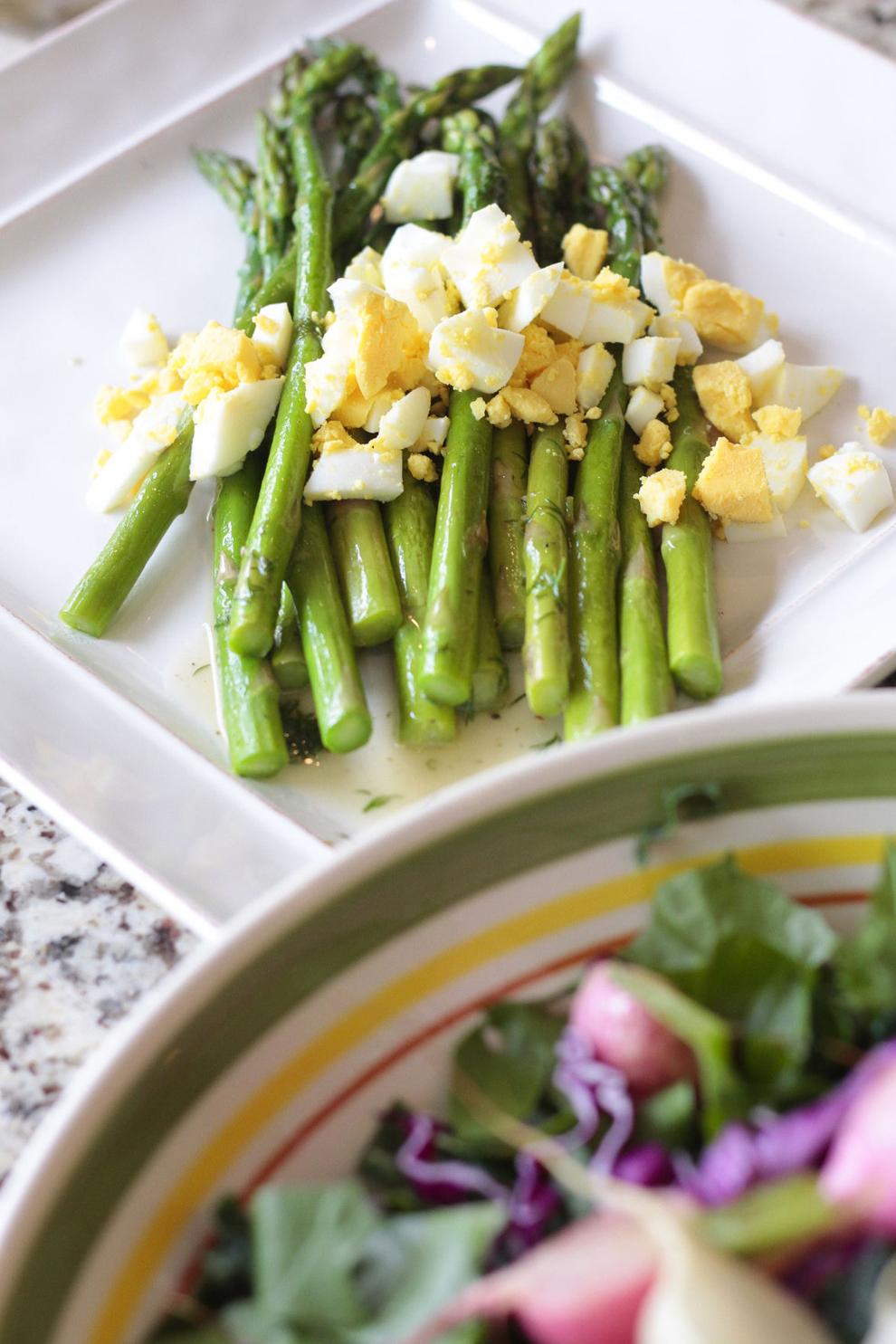 1 teaspoon extra virgin olive oil
1 bunch of asparagus, woody ends removed
2 tablespoons water
pinch each salt and pepper
Juice of 1/2 lemon
1 tablespoon butter
1 tablespoon fresh dill, chopped
2 hard-boiled eggs, chopped
In a pan heat extra virgin olive oil over medium heat. Add asparagus and water and cover for 3-4 minutes.
Uncover and sprinkle with salt and pepper, then remove from the pan and keep warm.
Into the pan add the lemon juice and butter, stirring to melt and combine.
Add the dill, then pour over the asparagus and top with the hard-boiled eggs to serve.
***
Kale and Dandelion Green Salad with Roasted Radishes, Salmon & Lemon Vinaigrette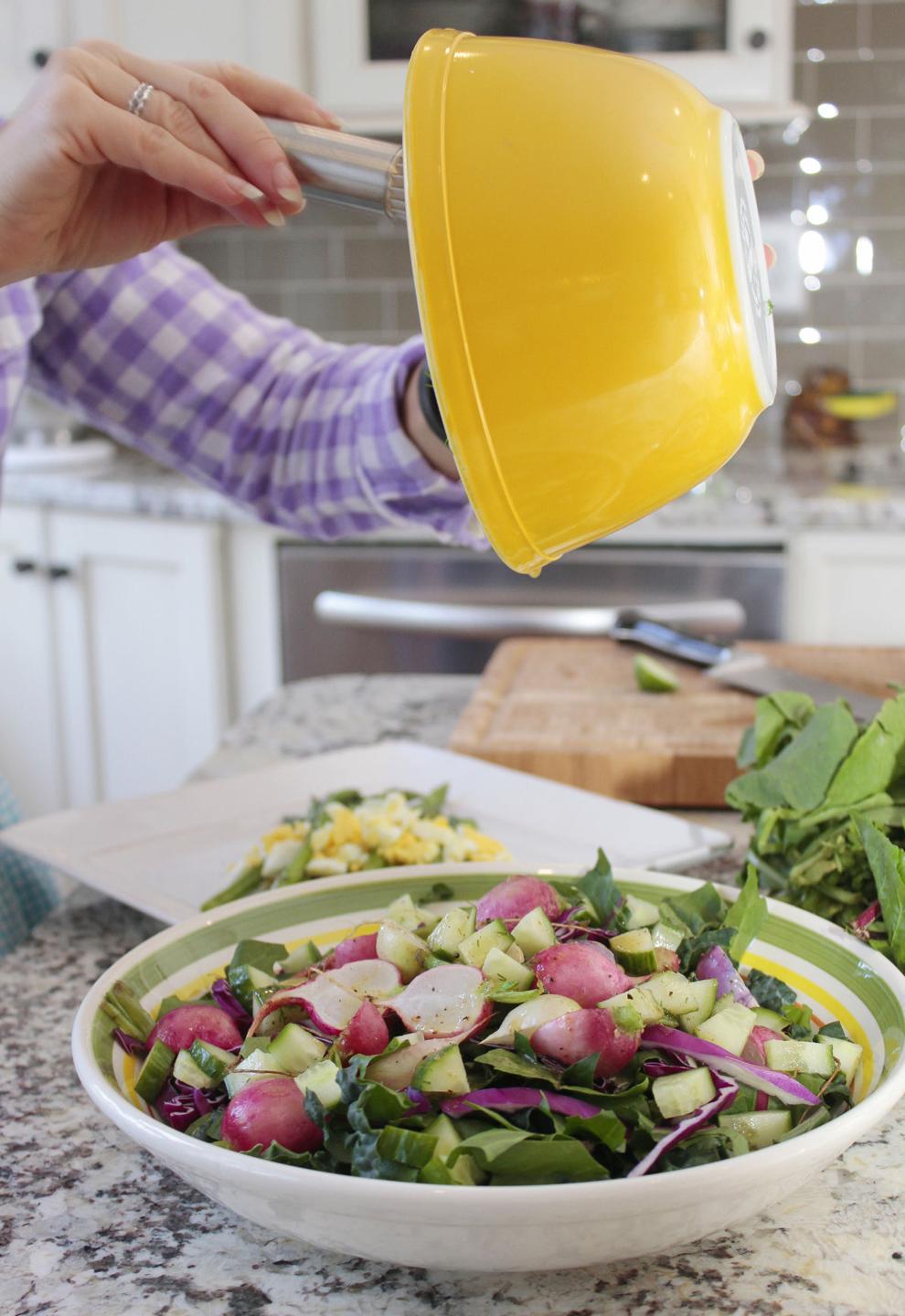 1 bunch radishes, tops removed, washed & halved
1 Tsp extra virgin olive oil
Pinch each salt and pepper
2 cups Lacinato (also called dinosaur) kale, washed, dried and chopped
2 cups dandelion greens, washed, dried and chopped
1/2 English cucumber, chopped
1/4 red cabbage, shredded
Preheat oven to 400 degrees. Toss radish halves with extra virgin olive oil, salt and pepper. Roast radishes for 10 minutes. Meanwhile, combine all other salad ingredients in a large bowl. Top salad with roasted radishes, top with the salmon, and then drizzle with Lemon Vinaigrette.
1 Tbs extra virgin olive oil
4 oz fresh salmon (or thawed from frozen)
salt and pepper
Heat a pan until very hot. Add olive oil and allow to heat for 10 seconds or so before adding the salmon skin side up. After 2 minutes, flip the fish and cover. Cook for 4-5 minutes just until done. Allow to cool slightly, then flake into large pieces to top the salad.
Juice of 1/2 large lemon
3 Tbs extra virgin olive oil
1 teaspoon dijon mustard
1 teaspoon maple syrup
1 teaspoon fresh dill, finely chopped
1/4 teaspoon each salt and pepper
Mix all ingredients well or shake in a small mason jar until combined.
Photography by Erin Gray Cantrell