For the past two years, I've wanted to explore the Marietta Square more — most importantly it's many restaurants — but I haven't quite made it. I've been to a few places, but it only put a dent in the amount of places to visit on the Square.
Enter the Marietta Food Tours. I can't recall how I first heard of this offering but the words 'food' and 'tour' definitely pulled me in. This genius of a business is run by husband and wife team Brian and Cecilie Benefield. After falling in love with food tours in San Francisco a few years ago, they had the grand idea that the Square would be a perfect location for one of its own.
So their wheels began to turn. With the goal of showcasing the Square's best in dining, Brian and Cecilie didn't have a hard sell to the restaurants to participate.
"The restaurants were easily convinced to be on the tour because of what I call a "win, win, win" said Brian. "Meaning, we are bringing people into their place (sometimes for the first time), feeding them tasty food and having them hear the owner/chef's backstory while also offering an exclusive incentive to return another time to try a different food item."
Think coupons!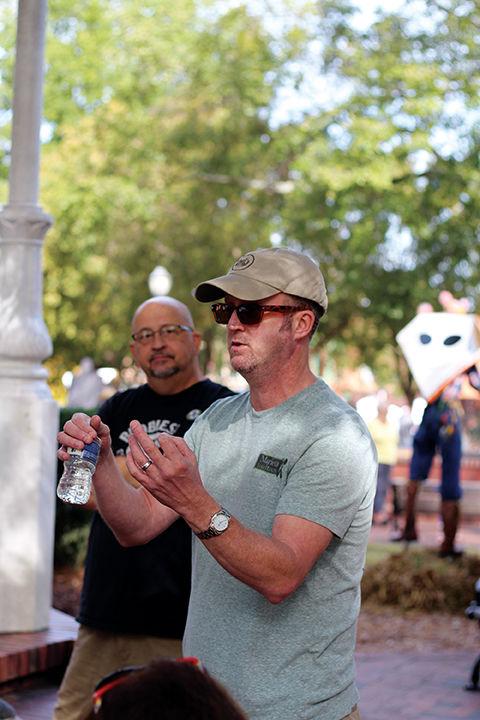 And that is exactly what you'll get on the tour. I happily drove to the Square one Saturday morning to meet Brian and Cecilie and the rest of the curious foodies for a three-hour taste fest of seven restaurants in the city center — Australian Bakery Cafe, WR Social House, Paul's Pot Pies, Cool Beans Coffee Roasters, Kiosco Colombian Restaurant, Marietta Wine Market and Miss Mamie's Cupcakes, Cakes and Such.
In each location we tasted a predetermined item from the menu and were treated to a short history lesson on the business from Cecilie — who is knowledgeable in all things food and dining! Then we were able to meet with a few people at the helm of these businesses who told us more information on their shop.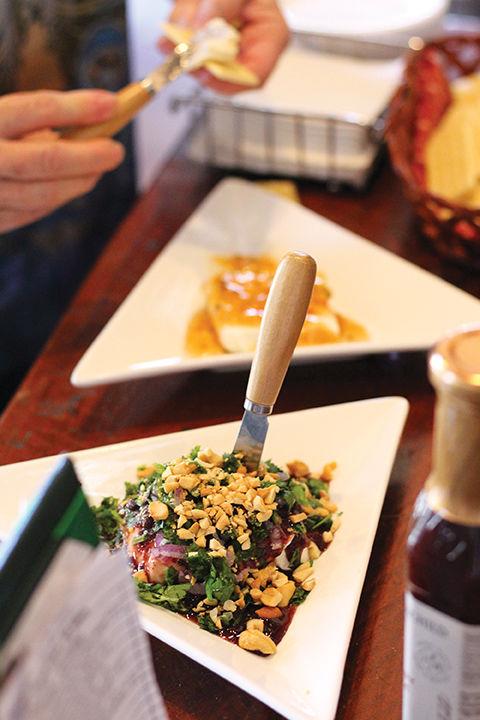 Highlights for me were the mini versions of the original pot pies at Paul's Pot Pies, a new take on an appetizer at the Marietta Wine Market and, of course, dessert — a Guinness cupcake stuffed with salted caramel, topped with cream cheese frosting from Miss Mamie's. Who wouldn't want to end the day with a sweet treat?
Maybe the most impressive note about Brian and Cecilie's food tour is the fact that this is simply a side hustle for the couple. Both still maintain full-time careers — Brian in marketing/advertising and Cecilie in recruiting for an insurance company — yet you'd never know it with the amount of detail they put into the tour.
Being Marietta residents, they are absolutely in love with their city and provide more than just dining facts. We made stops in Glover Park and in front of The Strand for some extra Marietta tidbits along the way. There is a possibility for an expansion of tour offerings with the anticipated Marietta Square Market that is slated to open this summer.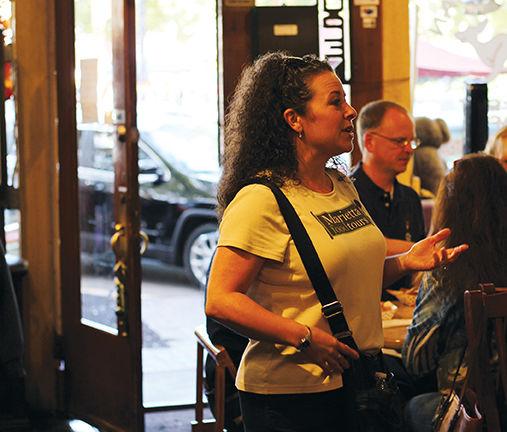 Brian also mentioned possibly expanding into Woodstock or Roswell, both of which have bustling food scenes. But their heart will always be with the Square.
You have two opportunities to experience a food tour, which maxes out at 12 participants. On Saturdays, the tour is $50 per person and is more of a light-hearted, family-friendly occasion. On Wednesdays, the tour is geared towards adults, is $75 per person and features different restaurants along with beer and wine.
Photography by LaTria Garnigan