The coronavirus pandemic changed our lives in many ways, including the ways that we eat. The intermittent closures of restaurants – some of them permanently – forced all of us to find our inner chefs and learn to cook at home. One year later, cooking at home has become a new normal for many.
Marietta's Dana Poor knows all things home – she's the owner of Marietta-based Boxtree Designs, Inc., specializing in residential and commercial remodeling and design. She began her career in New York City in the field of Color Forecasting, spending the majority of her time traveling overseas and consulting large companies worldwide on the trends for home textiles and interiors.
As a full time working mother of two daughters and wife to Hicks Poor, a local custom home builder, Dana is always trying to find ways to save time, energy and money. Cooking for others has always been her lifelong passion so, in 2021, she decided to start her own Instagram page, @feedingpeopleismyfavorite.
"I started it because I do love cooking and, with everyone stuck at home for the most part, it became a necessity to keep it interesting and not spend a fortune," she said. "I loved the idea of building a community around it, too, because I know a lot of folks do not like cooking at all. I try to keep it super low key and very simple."
Dana believes a good meal does not come with a hefty price tag, nor a thousand ingredients.
"You can absolutely feed your family without breaking the bank or losing your sanity and I am very passionate about showing people how," she said. "@feedingpeopleismyfavorite is something I have been wanting to do for years, but COVID-19 pushed me right into it. I had the time and I was mostly home, so I just went for it. It has far exceeded my expectations already. I have been overwhelmed by the impact it has had on both my life and the lives of others just in the last few months. People share with me heartfelt stories of struggles and joyous stories of their successes. I am having an absolute blast putting all of this together."
Although filming herself is something she's had to get used to, her family has adjusted, and even participated.
"My family has just gotten used to the fact that when mom is cooking dinner at night, there is a camera filming it," she said. "I do it all in real time and sometimes they join in. This is truly what I am feeding my people, everyday. I am just letting everyone who wants to see it a chance to watch my life in the kitchen."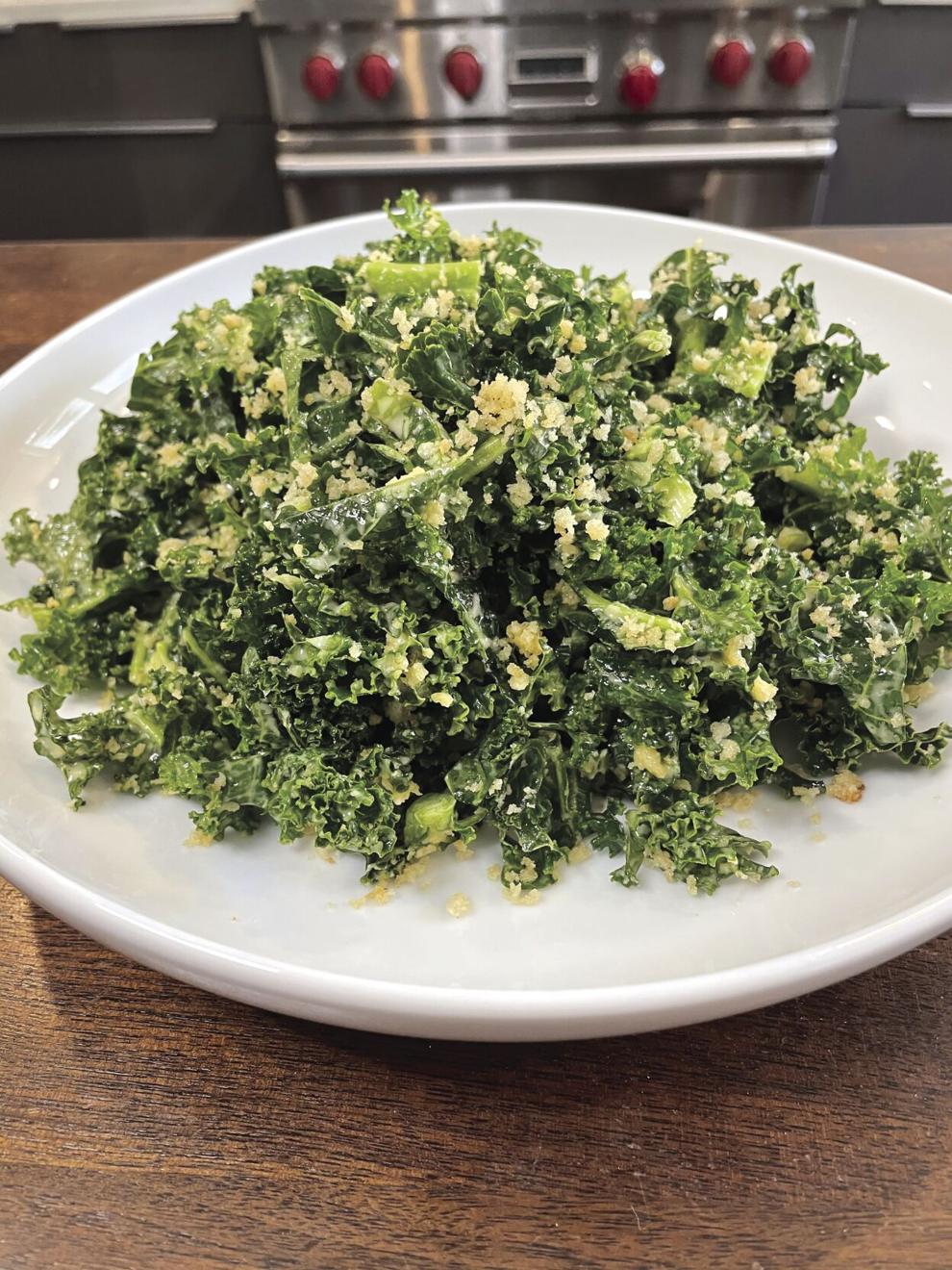 In a small food processor, combine:
1/4 c extra virgin olive oil and add more as needed to reach smooth consistency
1 cup grated pecorino romano
2 anchovies or one squeeze of anchovy paste (you can leave this out if you don't like anchovies or sub a splash of worcestershire sauce )
Blend until creamy. Set aside.
Chop one large bunch of kale as fine as you can into strips, removing any tough ribs. Put kale in a big bowl with a pinch of salt and tiny bit of olive oil and massage the kale with your hands for 2 minutes. This really breaks down the kale and makes this salad easy to eat.
Meanwhile, toast 1/4 cup of breadcrumbs in 1T EVOO, a pinch of salt and 1/2t garlic powder in a pan until browned. I prefer panko breadcrumbs. Let cool.
Combine kale and enough dressing to coat and put it in the fridge for 10 minutes.
Right before serving, toss the dressed greens with the breadcrumbs. Top with more grated pecorino and Enjoy!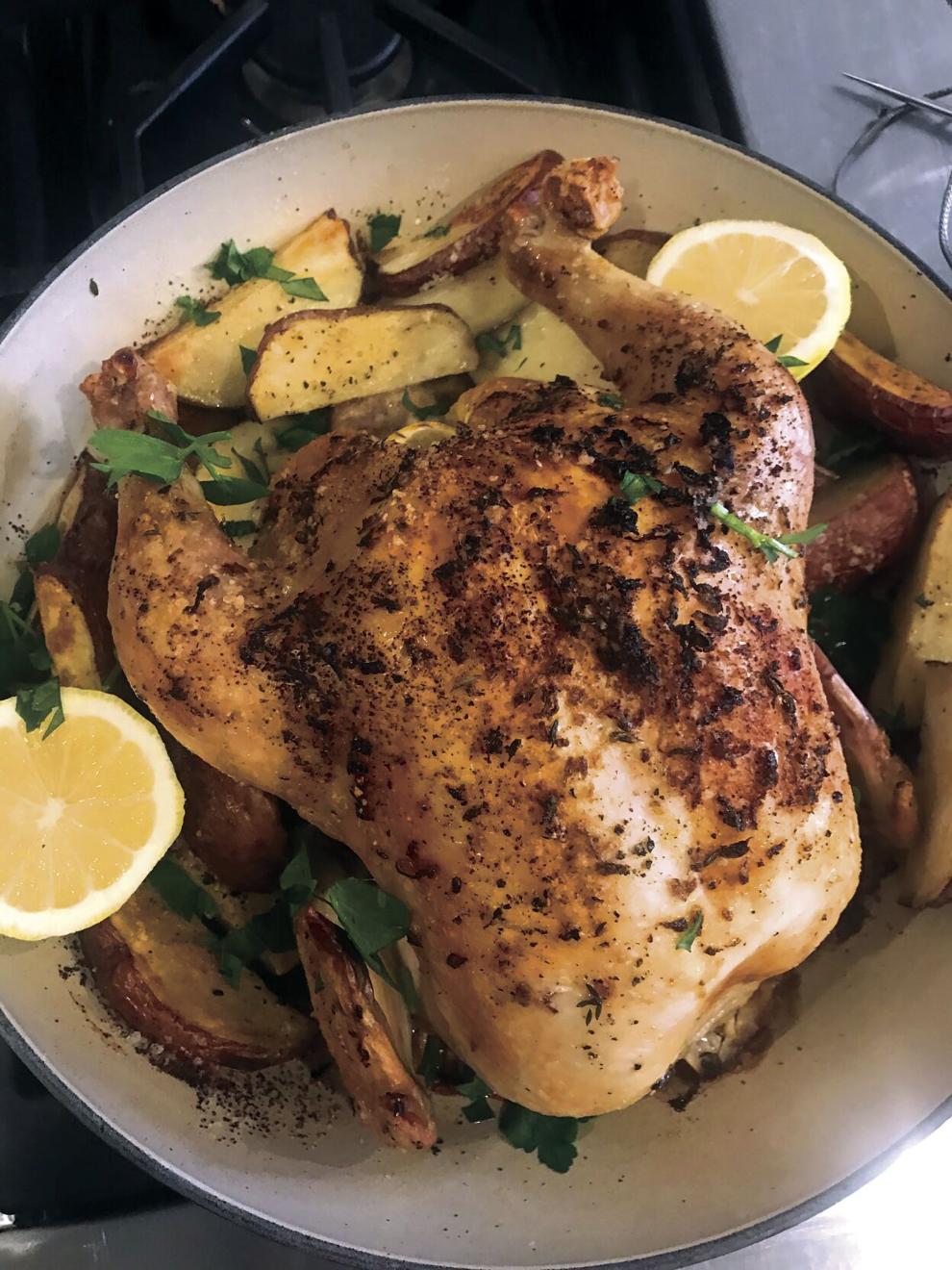 Lemon Roast Chicken with Garlicky Potatoes
Take one whole chicken with insides removed and pat dry. Set on roasting pan. Drizzle it with EVOO, salt, thyme and zest of 2 lemons.
Inside the cavity of the chicken, put a whole head of garlic halved and one lemon sliced in half.
Cut potatoes into wedges and put them in the roasting pan around the chicken. Sprinkle with salt and pepper and garlic powder. Drizzle them with EVOO.
Bake at 425 until internal temperature of the chicken is 165 degrees. Take chicken out and cover with foil, and let rest for 10 minutes before slicing .
If you want to make a pan sauce, take drippings and combine with a little butter and lemon juice and a clove of the roasted garlic from the chicken, and puree all of them in a small food processor.
Don't forget to save your bones for broth!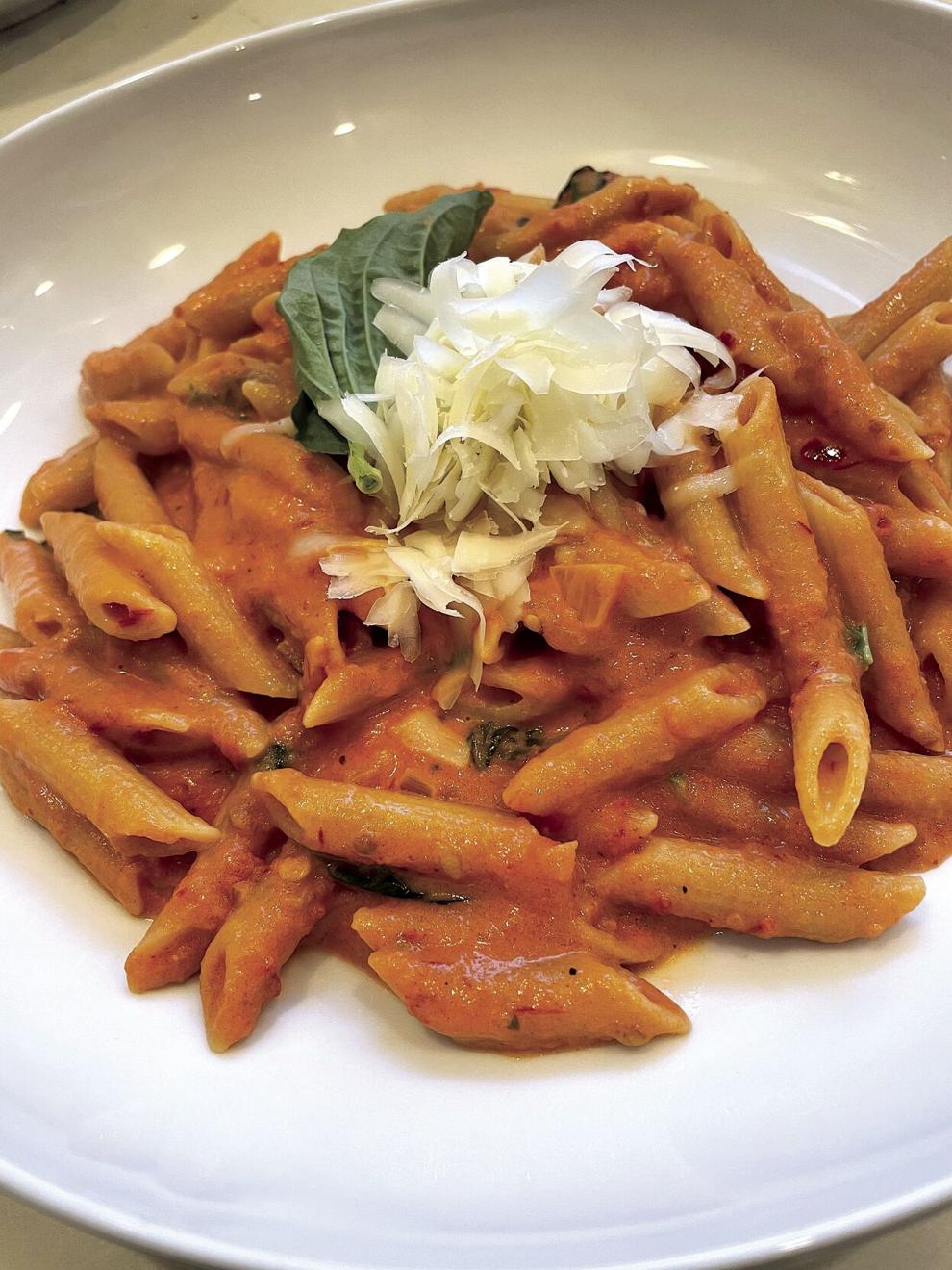 This is a dish that everyone just loves!
Get a big pot of water boiling for 1lb of penne pasta. Cook penne in salted water according to package directions.
In a large, wide sauté pan, melt 4 T butter and sauté 3 shallots minced and three garlic cloves minced until translucent.
Add in 1/2 cup of vodka. Scrape pan to get up any shallot bits and cook on medium for a minute. Then add in one big can (28oz) of crushed tomatoes, one fresh tomato diced, 2T fresh basil, a pinch of salt and 1t sugar. Warm through. Add in 1/2 cup of heavy cream and reduce to a low simmer for 5 minutes. Add in 1T crushed red pepper flakes (if your family doesn't like heat, leave this out). Let simmer another 2 minutes.
Add cooked pasta to sauce and let it simmer in the sauce for several minutes. Top with grated pecorino romano.
I serve mine with baby spinach sautéed in evoo and garlic and a little salt on the side.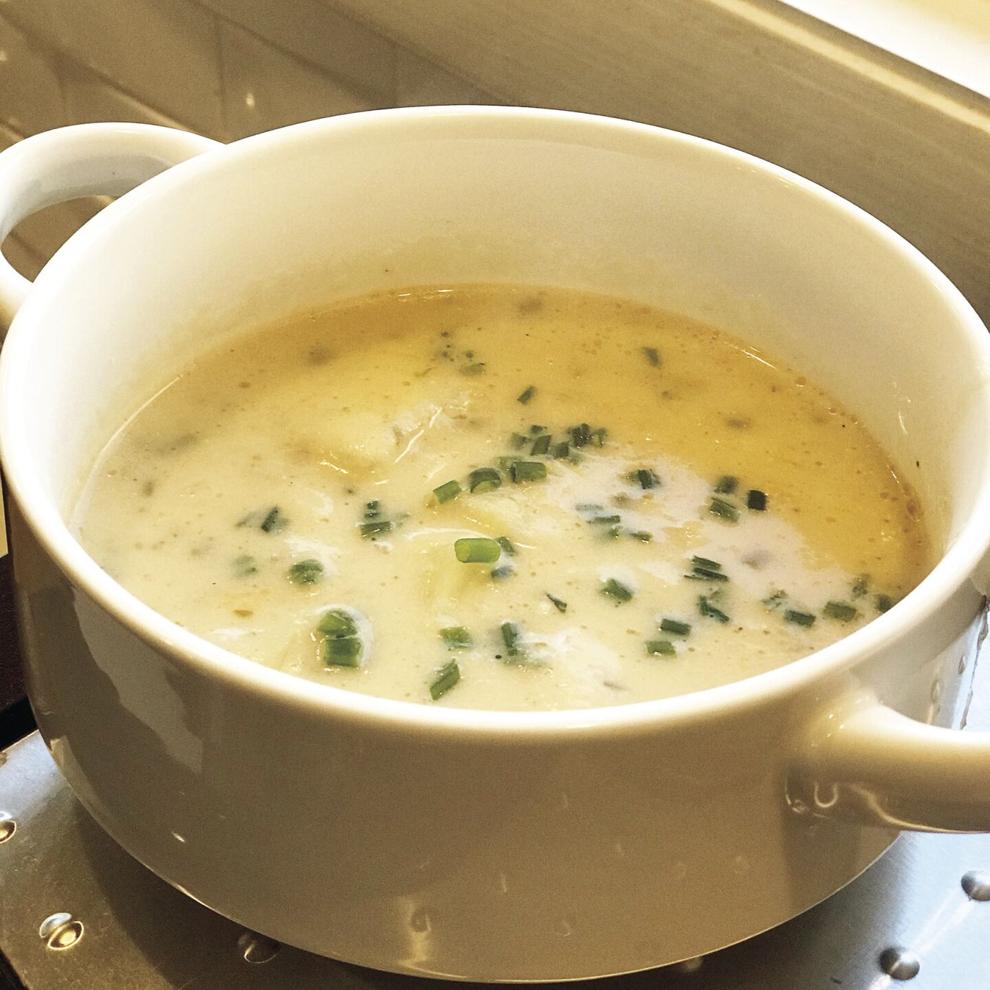 If you have never worked with leeks before, they are sandy/dirty so you need to wash them really well. Cut off the ends with the roots and the dark green parts to where you are just left with the white and light green parts. I like to cut them lengthwise into quarters. Next, fill up a big bowl of water and throw the leeks in, separating the leaves, and agitate them so all the dirt falls to the bottom. Repeat if necessary.
Next, peel 3 pounds of red or Yukon gold potatoes and chop into cubes. Put 4 cups of water in a bowl and put the potatoes in. Let it sit. The potatoes will make the water starchy and we will use it to thicken the soup.
Melt 4T butter in a large stockpot. Cut one large onion into thin slices and chop the leeks into 1-inch pieces. Sauté until tender. Add one diced shallot and 4 cloves of garlic, leaves from 3 sprigs of fresh thyme and a bunch of finely chopped chives. Sauté for 2 minutes.
Add in potatoes and starchy water and 4t of vegetable "better than bullion" stock concentrate. Cook until potatoes are fork tender.
Add 1 cup of cream and lower to simmer. Use an immersion blender to blend to the desired consistency or regular blender, but just let it cool a little if using a blender. Salt and pepper to taste . Enjoy! This will keep several days in the fridge too. It's so delicious.
I think a BLT would be the perfect addition to make this a lovely dinner.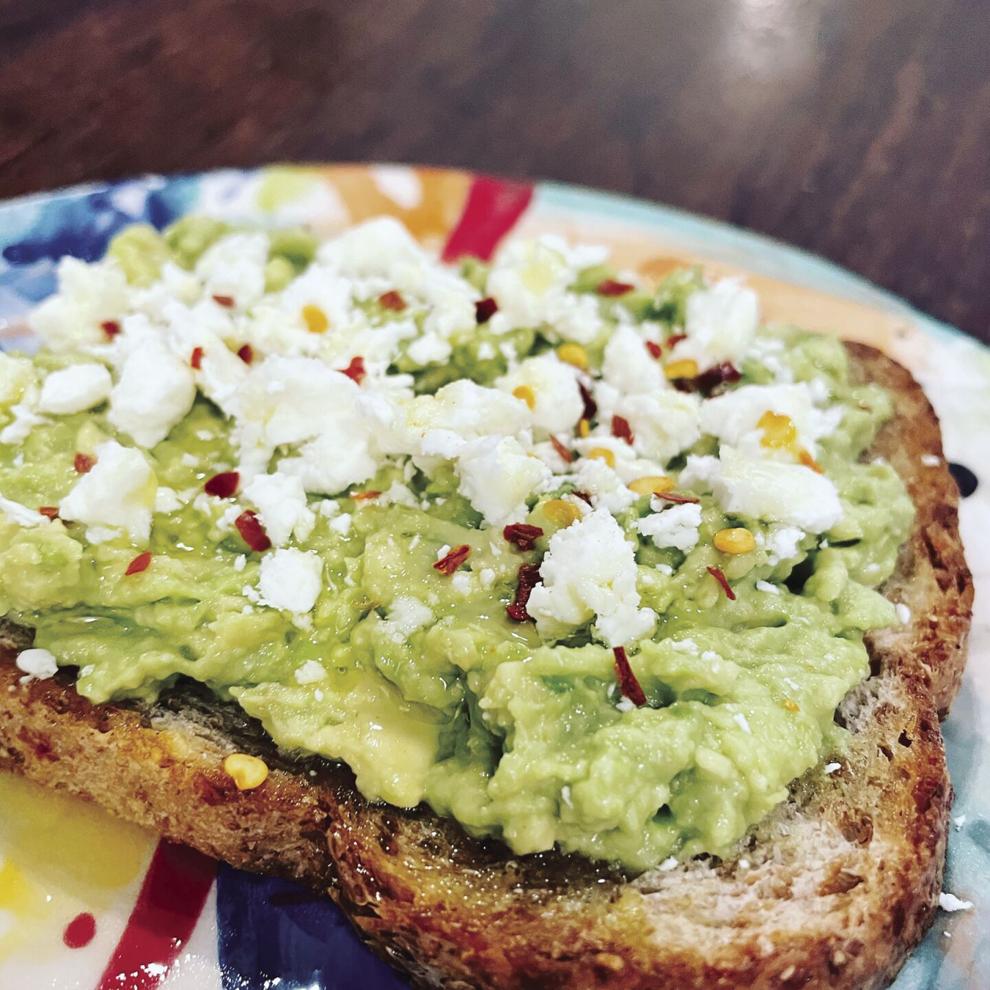 My Favorite Avocado Toast
Toast one slice of Ezekiel Bread or any sprouted grain flourless bread. Smash 1/2 avocado with juice of half a lime, top toast with avo mash, a good sprinkle of feta cheese, Maldon salt , red pepper flakes and a drizzle of EVOO. Enjoy!!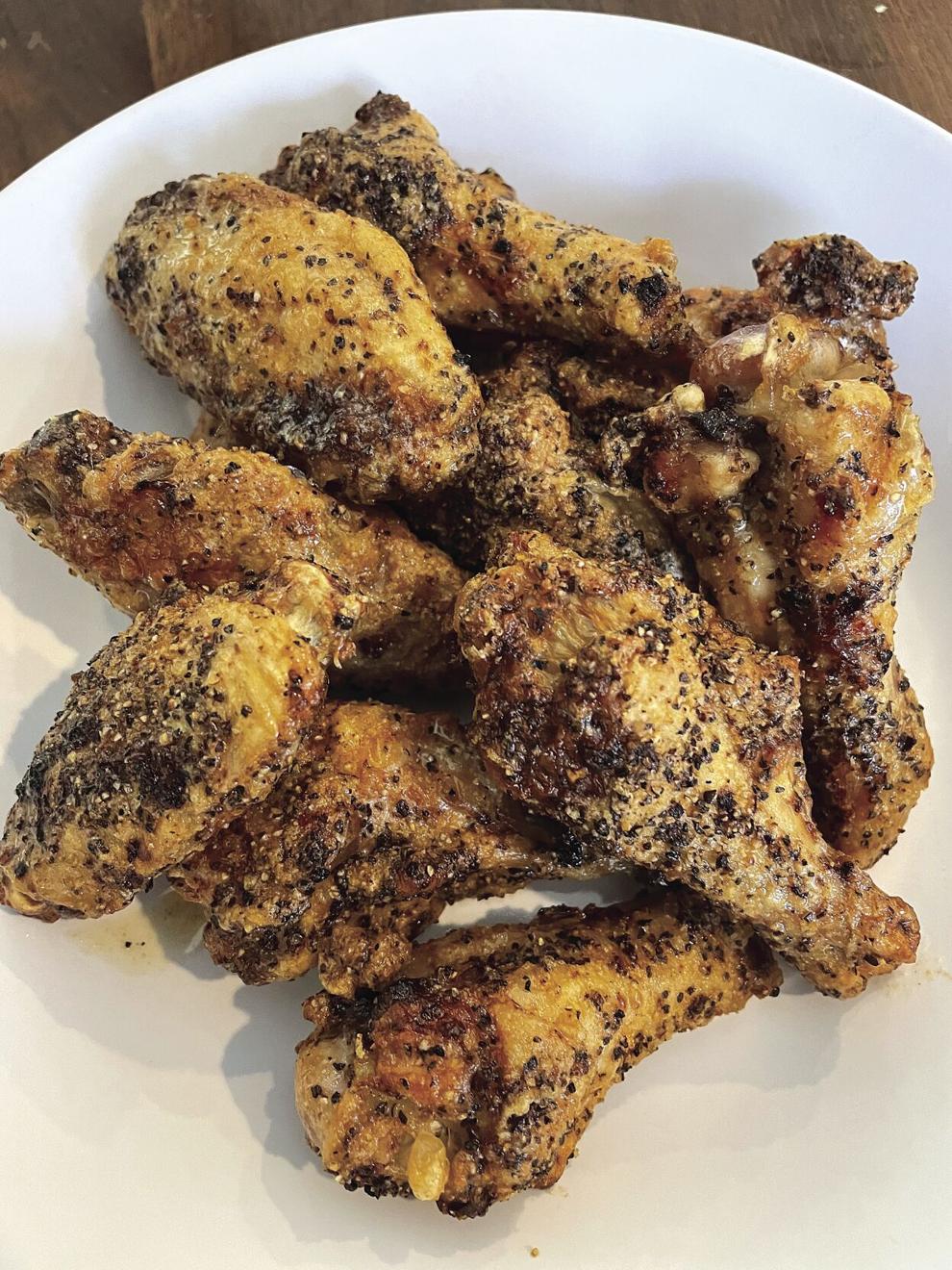 Super Crispy Baked Lemon Pepper Wings
The key to oven baked wings that get super crispy is to dry wings well and toss them in baking powder.
Preheat oven to 450. Line a baking sheet with foil or parchment paper for easy cleanup. Put a metal baking rack on top of the sheet pan and spray with nonstick cooking spray. I made 12 wings for this recipe. Dry wings very well.
In a bowl, combine 2T baking powder with 2T of lemon pepper seasoning. Press each wing into the mixture and then place on the rack.
Bake at 450 for 45 minutes. Wings should be super crispy. Toss wings in 4 T of melted butter. Serve immediately.