Summer leaves us when the leaves fall but that's no reason to hibernate. Autumn ushers in one of the most pleasant times of the year in North Georgia. Whether you want to be laid back, learn something or have fun, autumn activities abound.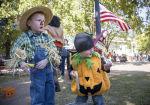 Compiled by Therra C. Gwyn
Go Underground >> Cave in to your curiosity and explore the unique limestone caves of Northwest Georgia. You will walk, wade, climb and crawl underground, accompanied by an experienced guide. You'll get wet and muddy and have an adventure to talk about for a long time to come. There are several Wild Cave Tours, lasting one, two and four hours starting 10 a.m. daily in October. Must be six years or older. Cost is $30 to $60, plus $5 parking fee. Reservations required. Helmets, headlamps, kneepads and gloves provided.
Where: Cloudland Canyon State Park, Rising Fawn, Georgia.
Info: 706.913.7170 or georgiagirlguides.com
Take a Thriftventure >> The family that thrifts together, saves together. Thrift shopping is a fun way to find gently used items from appliances to school clothing at great savings. Kids enjoy the treasure hunt aspect of thrift stores. One benefit of thrifting is it can be a gift to others. Many outlets are also non-profits and the money that comes in goes to community causes.
St. Vincent DePaul Georgia has thrift stores in Kennesaw and Marietta. Funds raised at both locations stay in Cobb to help individuals and families in need.
If you have a soft spot for homeless cats and dogs, your thrifting dollars go far at Fur Kids Thrift Store on Roswell Road in Marietta. Second Life Upscale Resale in Avondale Estates, near the DeKalb Farmers Market, also benefits homeless pets. Second Life's well organized 6,500 square feet stocks merchandise from vintage clothing to furniture. Proceeds go to Georgia animal rescues including PAWSitive Supporters in Cobb.
Info: svdpgeorgia.org | Furkids.org | SecondLifeAtlanta.org
Flicks on the Bricks >> Outdoor movies can be sweat-inducing outings in the summer but perfectly pleasant excursions in autumn. The city of Duluth hosts two outdoor films this fall, "The Jungle Book" on Oct. 7, and "Hocus Pocus" on Oct. 21. Movies start at dusk and are free. | Where: The fountain on Town Green, downtown Duluth.
Info: duluthga.net
Halloween From Harmless To Hair-Raising >> On a scale from not scary to sleeping with the light on, there are choices a-plenty for celebrating All Hallows with the kids or hanging out with adults.
Marietta's Harvest Fest on Oct. 15 includes arts, crafts, carnival games and the annual Scarecrows in the Square contest. Perfect for kids 12 years and under.
Where: Glover Park, Marietta Square | Info: 770.794.5601
Fall-O-Ween Fest >> Fall-O-Ween Fest in Kennesaw makes it easy. All in one place find carnival games, trick or treating and a movie, "The Force Awakens," once the sun sets. Oct. 15 starting at 5 p.m. | Where: Swift-Cantrell Park
Info: 770.422.9714
Owl-O-Ween >> Owl-O-Ween Hot Air Balloon Festival has trick or treating for the kids and beer tents for the adults. Also featured are tethered balloon rides, live music and food trucks. Oct. 21 and 22. Tickets are $5 – $75. | Where: Fifth Third Bank Stadium, Kennesaw
Info: owl-o-ween.com
Capturing the Spirit >> Atlanta's famed Oakland Cemetery invites the living to come in at night on the last two weekends in October for their popular "Capturing the Spirit" tours. All tours are timed, last about an hour and cost $13 – $25. Walk about a mile of history with a costumed docent leading you through eerie and beautifully lit Victorian gardens on a visit with Atlanta's dead. | Where: Oakland Cemetery, Atlanta
Info: oaklandcemetery.com
Netherworld >> Netherworld Haunted House has been scaring Georgians for 20 years. Thrilling and chilling animatronics and actors team up to spook and shock. Gory? Yes. Fun? Yes. Open until early November. Tickets are $23 to $55. Recommended for adults and teens but children five and older are allowed. Not recommended for pregnant women or anyone with a heart condition. There are emergency exits if anyone gets too scared.
Tip: The SpeedPass puts you at the front of the line. | Where: 6624 Dawson Blvd., Norcross | Info: fearworld.com
Great Pumpkin Express, Charlie Brown >> Don't wait for the pumpkin to come to you. Go to the pumpkin. Travel the Blue Ridge Scenic Railway on October 23 for a field trip that literally takes you to a field – one full of pumpkins. Pick one to take home, meet the farmer and enjoy the beauty of the country. The Pumpkin Express takes about an hour total and departs from the historic (built in 1905) depot in Blue Ridge. Choose an open air or closed train car and a 1 or 3 p.m. departure. Tickets run $27 to $42 plus fees.
Longer rides of up to four hours are available during the fall foliage season, ferrying riders to the quaint town of Copperhill, Tennessee, for a two hour strolling, snacking and shopping layover, then back to Blue Ridge. Leaf peeping tours travel most weekdays and twice on Fridays and Saturdays until November 6. Tickets are $32 to $85.
Where: 241 Depot St., Blue Ridge, Ga. | Info: 877.413.8724 or brscenic.com
Sing Out! >> Kennesaw State University's Male Chorus day on Oct. 25 and Women's Choral Day, Oct. 13, are one-day each musical workshop events. High school singers from anywhere in Metro Atlanta are invited to come to campus and work with KSU's voice faculty, learn new music and perform in public at the Bailey Performance Center. Registration is $25 per student and includes lunch, music and a t-shirt. Male singers contact Leslie Blackwell at lblackwe@kennesaw.edu or 470.578.6153. Females contact Alison Mann at amann9@kennesaw.edu or 470.578.6392.
Where: KSU School of Music | Info: arts.kennesaw.edu
Little 5 parade >> The Little 5 Points Halloween Parade happens Oct. 15. Known as one of the top ten Halloween shindigs in the country it's eclectic, diverse and a howling good time. Starts at 4 p.m.
Tip: Go early and enjoy the artists market. Thousands of fans of this unique fest attend so get your parking space and charge your phone.
Where: Little 5 Points, Atlanta | Info: l5phalloween.com
Dam It >> Thrill to the view of water thundering through Tallulah Gorge at 500 to 700 cubic feet per second as extra H2O is released from Tallulah Dam on Nov. 5, 6, 12, 13, 19 and 20. Kayakers hone their skills racing and riding the whitewater as spectators watch from above. Less tumultuous but still enticing is the aesthetic water releases (200 cubic feet per second) earlier in the season on Oct. 5, 7, 12, 14, 19, 21, 29 and 30.
Where: Tallulah Gorge State Park 
Info: 706.754.4318 or info@tallulahfallsgeorgia.org
Kids Biz >> The Kids Business Expo 2016 is a good place for young folks to learn elements of business and perfect for whiz kids who hope to make a million from a start-up in the garage. Geared toward entrepreneurs aged 12 to 18, the expo focuses on networking, opportunities and features workshops for children and parents to attend together. Kids Business Radio will broadcast live from the event on Oct. 15. Free for students, $15 for adults.
Where: Cobb Galleria Centre | Info: kidsbusinessexpo.com
Zip It >> Zip line for over a mile on a dozen lines in an aerial adventure that includes flying over three ponds and the North Oconee River. The three-hour adventure is $89 at North Georgia Canopy Tours but for the less included to zip so far there's a shorter tour for $69. Military, civil servant and group discounts available. Prefer to stay grounded? You can glamp in a tee pee (outfitted with air conditioning, heating and electricity), play disc golf on a professional course or geocache.
Where: Lula, Georgia (about 65 miles from Atlanta)
Info: northgeorgiacanopytours.com
Laughter is the Best Medicine >> Improv comedy bounds into Marietta on the last Friday of every month at 8 p.m. through January. "Comedy Squared" is the name, making you laugh out loud is the game. Tickets are $10 and this one's for the adults, 18 years and over.
Where: Marietta's New Theatre In The Square