One random musing turned into six months of hard work but ended with a wedding and a business.
Austin and Jenna Henderson's relationship started off quiet, yet with a spark of fate.
Jenna had signed up for Tinder, a social networking app, but was half-hearted about following through on any dates.
"I said to my roommate, 'You have to make me go,'" Jenna said. "I had been flaking out. I didn't want to go."
After a long stretch of being single, the idea of meeting up with strangers for dates was not appealing. But, her roommate pushed Jenna out the door and that's when she met Austin.
"I had been on [Tinder] for six months before I met Jenna," Austin said. "I probably had been on 20 dates, but it was different when I met Jenna, for sure."
The relationship grew from there, with them finding out they shared core values.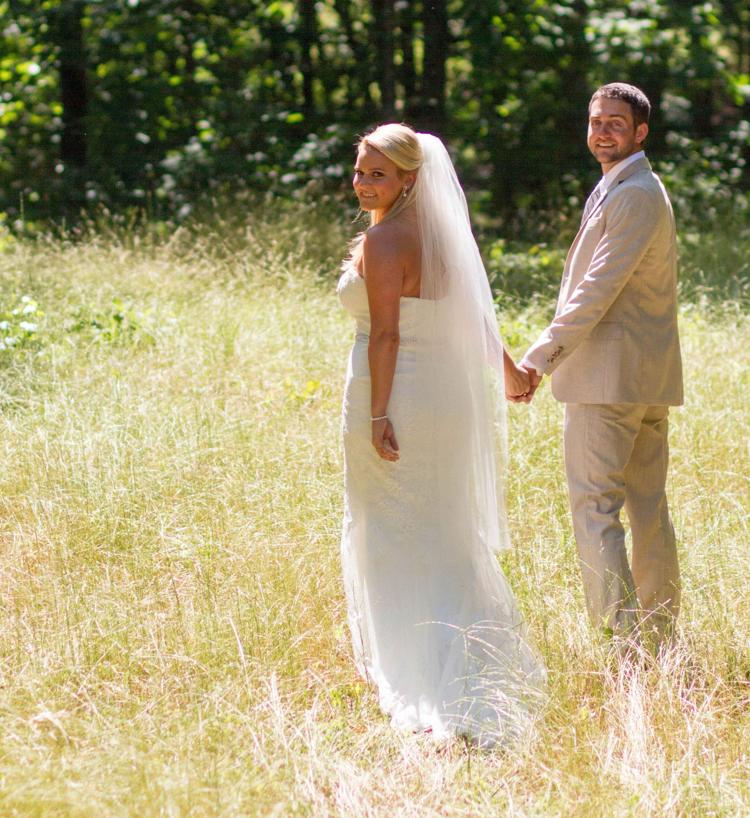 "Me and Jenna are a lot alike," Austin said. "We are both extremely close to our family and family-oriented. We both have a lot of similar things we want to accomplish in life. We both have dreams and goals, even though they don't match up perfectly, we are headed in the same direction."
Which brings us to their wedding business. But first — the engagement.
The two were headed out for a trip to Cancun, which was their first big trip together. Jenna said she had a feeling Austin was going to pop the question. Austin figured she was a little suspicious, so he waited until the night before their last day there to throw her off course.
"We were walking through the property and he got down on one knee and asked," Jenna said.
From there, it was time to plan the wedding, which was May 28, 2016. They decided they would use Austin's family property in Calhoun — Henderson Farms.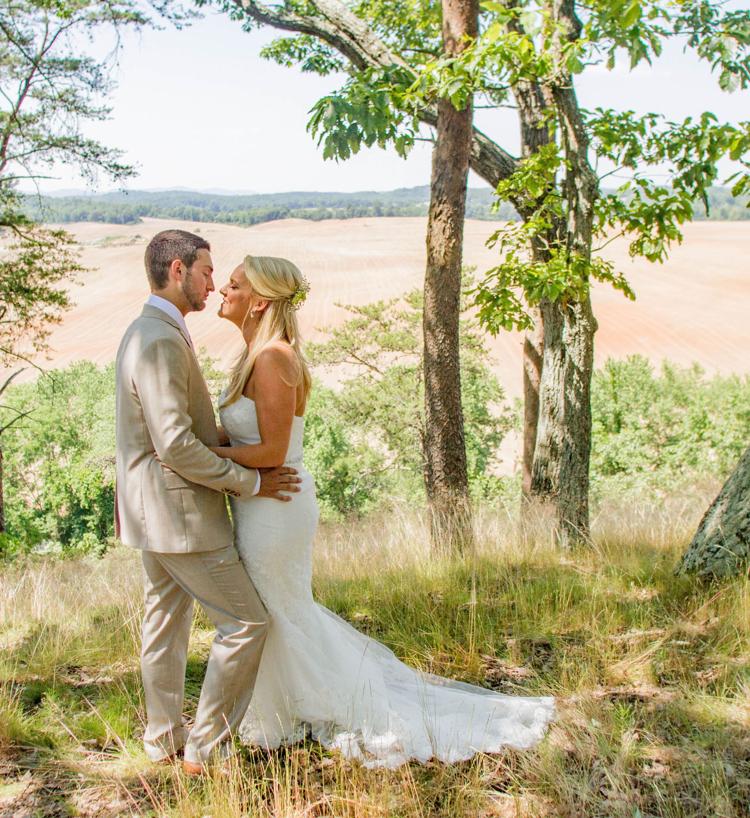 According to Austin, the property has been in the family for six generations, dating back to the late 1800s. The farm land has been used for many purposes through the decades — growing hay, then wheat and then to raising cattle, then chickens.
It was Austin's father who was raising chickens, but a few years ago, retired from the operation. Instead, he decided to build a pavilion and overlook at the highest point of the property, which the family used for reunions and get-togethers.
"When I and Jenna started dating, I took her there," Austin said. "I mentioned we could get married up here."
The two bounced around the idea — having the ceremony at the outlook and the reception in the barn, which at the time housed a tractor and a Bobcat and nothing else. But then the family all collaborated to turn it into a venue.
"It took about six months," Austin said. "We turned the barn into a very formal, nice reception area."
Austin, his dad and Jenna's dad ran electrical wire, added two bathrooms and an outhouse by the pavilion.
"We definitely have invested in it," he said. And while the barn was being built up for the wedding, so was an idea.
"We knew we were going to use it for future weddings," Austin said.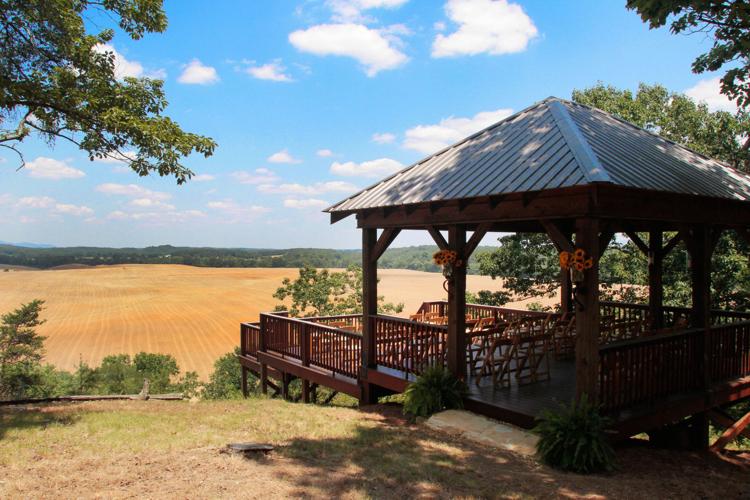 The Henderson's wedding had an upbeat rustic feel, and was mostly DIY.
"Our centerpieces were wildflowers," Jenna said. "We did flowers from Costco. We did everything ourselves but it was worth it."
The reception food was catered by Righteous Cue in Marietta, and Austin said the restaurant is now their preferred caterer.
He said they had large white linen runners and draping, and had a large 'H' cut out to hang at the entrance of the barn.
"That's a theme," he said. "It's included in the packages. We cut out the initial letter of the groom's last name."
The couple gets to keep the initial as a gift from the Henderson family.
For now, the couple have kept their day jobs, Austin working for a fire protection company and Jenna working in property management. But Austin said the venue is doing well. And it turns out, it fits well with their dreams of the future.
"It's been one of my dreams to live on a farm," Jenna said. "[Austin] wants to run his own business."
Their dreams, just like the two of them, are a perfect fit.
---
Q&A: Jenna Henderson
What was one of the most special moments at your wedding? Austin surprised me during our first look with a ring he designed using his granny's diamonds. It was a complete surprise!
What was one of the hardest things about planning? We had to do everything ourselves! Austin worked extremely hard on the barn and getting it complete before the wedding. We had an intimate ceremony (about 60 people) and it was hard to choose who to invite. The little details were the most stressful ... colors, flowers, invites!
Any wedding bloopers you care to mention? I honestly do not think there were any bloopers! DJ, food and guests were great!
What was the most enjoyable part of the evening? Being with friends and family, especially since the wedding took place at Austin's parents' house. It was very intimate and whenever we go back to the house it brings back all the memories!
What song did you use for your first dance? Is there a story behind it? Al Green "Let's Stay Together." My dad actually surprised my mom with a 40th birthday video and used this song in it. I love that it isn't slow and it is a classic. Never gets old!
Any advice for newly engaged couples on planning a wedding? Give yourself enough time to plan! Don't rush the process and enjoy every minute of it! Having a supportive family was a huge help and having a good team to help you on the day of the wedding is key!
Any advice for newlyweds? Marriage is amazing! It is hard at times, and unbelievably enjoyable at others! Make sure you marry someone that has the same ambitions and timeline as you. Austin and I love to travel and want the same future for our future family. Having a partner in life is so great!
---
Q&A: Austin Henderson
What was one of the most special moments at your wedding? It was at the family farm, also the amount of close friends that attended, some I hadn't seen in years.
What was one of the hardest things about planning? Getting everyone on the same page, Moms with lots of ideas and input.
Any wedding bloopers you care to mention? Nothing too crazy, instead of saying 'I do' I said 'I will.'
What was the most enjoyable part of the evening? The first look with Jenna, and giving her my grandmother's ring as the wedding band. She had no idea that I was going to give it to her.
Any advice for newly engaged couples on planning a wedding? Don't stress the small stuff, be very flexible. And too many cooks in the kitchen makes for a bad meal.
Any advice for newlyweds? Try to focus on your spouse's strengths. You'll definitely learn new things about one another so try to stay positive and enjoy the small things. Put the phones down after a certain time each night and just talk.
Photography by Blush Magnolia Photography